2012年12月13日、マサチューセッツ州ボストン-市場調査会社のInfonetics Researchは、第3四半期(3Q12)の Ethernet Switchesの市場シェア、市場予測レポートから抜粋を発表した。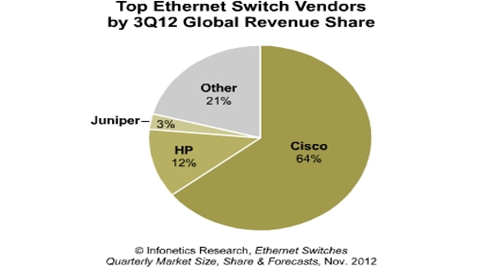 アナリストノート
「今年上半期に見られたような企業向けスイッチの2ケタ成長は、この先続かないだろう。そう以前にコメントしましたが、その予測が今、現実になりつつあります」

Infonetics Researchで企業ネットワーク及び映像担当のディレクティングアナリストを務めるMatthias Machowinskiが説明する。

「欧州の全体的な不振と、EMEAや北米の公共部門における低調さが成長のブレーキになっています」
3Q12のイーサネットスイッチ市場ハイライトのハイライト
イーサネットスイッチの世界的な収入は、3Q12に49億ドルとなり、前期比と前年比ともに3%低下した。
イーサネットスイッチのポート数の成長率は、3Q12に収入の成長率を上回ったが、これは値引きが増え、より安価な製品を販売する傾向へと回帰したことを示している。
40Gのイーサネットポートの出荷数は、3Q12に37%急増した。
市場リーダーのCiscoは、イーサネットスイッチの収入における全世界のシェアを約64%とし、変わらぬ安定ぶりを見せた。
シェア第3位のJuniperは、手堅い四半期結果を収め、イーサネットスイッチの売上が史上2位の高さを記録した。
ETHERNET SWITCH REPORT SYNOPSIS
Infonetics' quarterly Ethernet switches report provides worldwide and regional market size, vendor market share, forecasts, analysis, and trends for Ethernet switches and PoE, including ports, fixed configuration switches, and chassis switches. Companies tracked include ADTRAN, Alaxala, Alcatel-Lucent, Arista, Avaya, Brocade, Cisco, D-Link, Dell, Enterasys, Extreme, Hitachi Cable, HP, Huawei, IBM, Juniper, Linksys, LG Ericsson, NETGEAR, and others
(原文)

Weakness in Europe, softness in public sector braking enterprise switch growth

Boston, MASSACHUSETTS, December 13, 2012-Market research firm Infonetics Research released excerpts its 3rd quarter (3Q12) Ethernet Switches market share and forecast report.
ANALYST NOTE
"As we noted earlier, the double-digit growth rates in enterprise switches during the first half of the year were unlikely to continue, and that is now coming true," notes Matthias Machowinski, directing analyst for enterprise networks and video at Infonetics Research. "Overall weakness in Europe and softness in the public sector vertical in EMEA and North America are acting as a brake on growth."
3Q12 ETHERNET SWITCH MARKET HIGHLIGHTS
Ethernet switch revenue was $4.9 billion worldwide in 3Q12, down 3% both sequentially and year-over-year
Ethernet switch port growth exceeded revenue growth in 3Q12, indicating a return to increased discounting and sales of lower-value products
40G Ethernet port shipments jumped 37% in 3Q12
Market leader Cisco's share of global Ethernet switch revenue held steady in 3Q12 at about 64%
Number-3 player Juniper had a solid quarter, posting its 2nd-highest level of Ethernet switch sales