2012年12月13日-調査会社Infonetics Researchは、2012年第3四半期 (3Q12)のWireless LAN Equipment and WiFi Phones市場規模、市場シェア、予測に関するレポートより、その概要を発表した。このレポートでは、アクセスポイント、無線LAN (WLAN)コントローラー、企業向けのWiFi 電話を取り扱っている。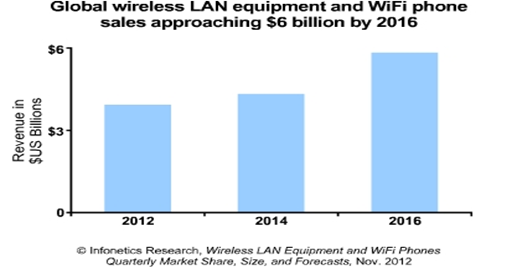 アナリストノート
「WLAN機器の売上は、前期の16%増に続き当期も前期比6%増増加し、初めて10億ドルの大台に乗った」としたうえで、「無線機器、BYOD、移動性といったこれまでの需要促進要因は健在だが、通信キャリアによるWiFi採用が加速しており、前年と比較して屋外でのアクセスポイントからの売上が倍増している」とInfonetics Researchの企業向けネットワークとビデオを担当している上席アナリストMatthias Machowinski は述べている。

Machowinskiの追加コメント。「無線LANはまさにネットワーク産業の輝点だ。経済環境が不安定であるにもかかわらず記録的な売上を達成している。」
3Q12 の無線LAN 市場のハイライト
WLAN機器に対するグローバルな需要は地域間でバランスがとれている。 3つの主要地域 (北米、EMEA、アジア太平洋)の対前年売上増加率はそれぞれ20%程度である。
双方向アクセスポイントからの売上は3Q12に顕著に増加した。企業が集中管理されたWLANアーキテクチャーにシフトしていることによる。
802.11n への移行はまもなく終わろうとしており、アクセスポイント出荷の84%は現在スタンダードをベースとしている。次世代 802.11ac 製品の出荷は2013年夏とみられる。
Cisco は3Q12でも2Q12からの好業績を維持し、前期比2%増加してWLAN機器で業界トップの地位を確保した。Ruckus は前年比で78%増加して業界第4位となった。
Vocera はヘルスケア市場で好調であったこともあり、3Q12でもWiFi電話市場において最大手の地位を維持した。
REPORT SYNOPSIS
Infonetics' quarterly WLAN equipment and WiFi phones report provides worldwide and regional market size, vendor market share, forecasts, analysis, and trends for WLAN infrastructure including access points (interactive, independent, outdoor, 802.11a/b/g, 802.11n, and 802.11ac), WLAN controllers, and enterprise single-mode WiFi phones. Companies tracked include Alcatel-Lucent, Aruba, Brocade, Cisco, D-Link, Enterasys, Extreme, Juniper, Meru, Motorola, NETGEAR, Polycom, HP, Ruckus, Vocera, Xirrus, and others.
(原文)

Wireless LAN gear, star of the networking industry, tops $1 billion per quarter

Boston, MASSACHUSETTS, December 13, 2012-Market research firm Infonetics Research released excerpts from its 3rd quarter 2012 (3Q12) Wireless LAN Equipment and WiFi Phones market size, market share, and forecast report, which tracks access points, wireless LAN (WLAN) controllers, and WiFi phones for the enterprise.
ANALYST NOTE
"Coming on the heels of a 16% jump the previous quarter, WLAN equipment revenue grew another 6% quarter-over-quarter, passing the $1-billion mark for the first time," notes Matthias Machowinski, directing analyst for enterprise networks and video at Infonetics Research. "The usual demand drivers-wireless devices, BYOD, mobility-were in play, but there was also an acceleration of carrier WiFi deployments, with sales of outdoor access points doubling over the past year."

Machowinski adds: "Wireless LAN is a real bright spot in the networking industry, achieving record sales despite ongoing economic uncertainty."
3Q12 WIRELESS LAN MARKET HIGHLIGHTS
Global demand for WLAN gear is well balanced, with 3 major regions (North America, EMEA, and Asia Pacific) seeing ~20% year-over-year revenue growth
Interactive access point revenue grew strongly in 3Q12, as businesses move to centrally managed WLAN architectures
The transition to 802.11n is coming to an end, with 84% of access points shipments now based on the standard; next-generation 802.11ac products will start shipping in the summer of 2013
In 3Q12, Cisco added to its strong 2Q12 performance, growing another 2% sequentially to hold on to 1st place for WLAN equipment; Ruckus grew 78% year-over-year and moved into the #4 spot
Vocera stayed in the lead for WiFi phone market share in 3Q12, thanks to its success in the health care market