2012年12月17日、カリフォルニア州キャンベル-市場調査会社Infonetics Researchは、最新のConvergent Charging Software and Servicesレポートから抜粋を発表した。このレポートでは、コンサルティング、統合化、運用管理などの各関連サービスに加え、支払い方法、サービス種類、アクセスネットワークなどといった、多様な分野における機能の集中化を図るための課金ソフトウェアについて追跡調査している。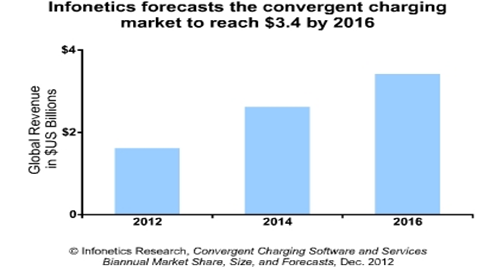 アナリストノート
「統合課金市場は成長を続けています。そして、ティア1の通信事業者は現在、新しいサービスや価格モデルに対応するソリューションの導入をこれまでよりも積極的に進めています。特にLTEのアップグレードに着手している事業者の間ではその動きが顕著です」

このように報告するのは、Infonetics Researchでサービス環境構築および契約者情報を担当するディレクティングアナリストのShira Levine。

そして、次のように続ける。

「このような流れと共に、サプライヤーは自社の課金機能を強化しようとしています。従って、Redkneeが先日、Nokia Siemens NetworksのBSS事業を買収したように、この先ベンダーの間で更なる合併が起こると見られます。そして、通信事業者による従量制サービスの提供を可能とする、ポリシーや課金機能を統合したソリューションの導入も続いて行くでしょう」
統合課金市場のハイライト
世界の統合課金市場は、2011年から2016年にかけて年平均成長率(CAGR)24%で拡大するとInfoneticsは予測している。
統合課金収入の主な成長要因は、新興市場などを中心とした契約者数の増加、そしてライセンスコストへの圧力が低下している先進国市場での通信事業者による投資拡大である。
リアルタイム統合課金機能は、共有データプランにおいて非常に重要である。なぜなら、Verizon Wirelessが使用量管理サービスで実施しているように、この機能によって、契約者による料金の使い過ぎを防ぎ、各契約者の利用に制限を設けることが通信事業者によって可能となるからである。
2012年全体の最終的な数字としては、Ericssonは、同社自身とTelcordiaの契約者数を合計すれば、統合課金市場で更に大きなシェアを獲得すると予想される。Amdocsもシェアを伸ばすと見られる。
統合課金の主な収益機会はモバイルネットワークにあるが、固定線の通信事業者の間でも、マルチサービス統合を中心に幾らか動きが見られる。
REPORT SYNOPSIS
Infonetics' biannual convergent charging report provides worldwide and regional market size, market share, analysis, forecasts, and trends for convergent charging software and services, and includes a convergent charging product roadmap and strategic outlook. Vendors tracked include Alcatel-Lucent, Amdocs, Comverse, CSG Systems, Ericsson, Hewlett-Packard, Huawei, NetCracker, Nokia Siemens Networks, Openet, Oracle, Orga Systems, and others.
(原文)

Convergent charging goes mainstream

CAMPBELL, CALIFORNIA, December 17, 2012-Market research firm Infonetics Research released excerpts from its latest Convergent Charging Software and Services report, which tracks charging software built to handle multiple dimensions of convergence, including convergence across payment methods, service types and access networks, along with related consulting, integration and managed services.
ANALYST NOTE
"The convergent charging market continues to mature, with tier 1 operators now more aggressively deploying solutions to support new services and pricing models, particularly those embarking on LTE upgrades," reports Shira Levine, directing analyst for service enablement and subscriber intelligence at Infonetics Research.

"As this occurs and suppliers look to solidify their charging capabilities," Levine adds, "we expect to see additional consolidation in the vendor community, such as Redknee's recent acquisition of Nokia Siemens Networks' BSS business, as well as ongoing traction for integrated policy/charging solutions that enable operators to introduce consumption-based offerings."
CONVERGENT CHARGING MARKET HIGHLIGHTS
Infonetics forecasts the global convergent charging market to grow at a 24% compound annual growth rate (CAGR) from 2011 to 2016
The primary drivers for convergent charging revenue growth are an increasing number of subscriber licenses, especially in emerging markets, and intensified operator investment in developed markets, where license costs are less pressured
Real-time convergent charging capabilities are critical to shared data plans, as they enable operators to ensure that subscriber credit balances are not exceeded and to place limits on individual plan members, as Verizon Wireless is doing with its Usage Controls service
Once final figures are in for the full 2012 year, Infonetics expects Ericsson to take a much larger share of the convergent charging market, given the size of its own and Telcordia's combined subscriber bases; Amdocs is anticipated to gain share as well
Though the primary opportunity for convergent charging lies in mobile networks, there is some activity among wireline operators, mainly in multiservice convergence