2012年12月18日、マサチューセッツ州ボストン-市場調査会社のInfonetics Researchは、10G/40G/100G Optical Transceiversの市場規模、予測に関するレポートから抜粋を発表した。このレポートでは、光伝送、企業、データセンター、キャリアルーティング、スイッチなどの各市場向けに販売されている10G、40G、100Gの光トランシーバについて詳細な追跡調査を行なっている。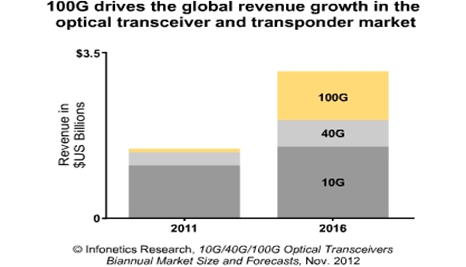 アナリストノート
「100G機器は、我々の最も楽観的な予測さえも上回り続けています」

Infonetics Researchで光学機器担当の主席アナリストを務めるAndrew Schmittが報告する。

「試作品開発、サンプリング、機器の試用などが世界各地で一斉に行われており、中国でも、我々が春に通信事業者らへインタビューして以来、12ヶ月間で100G機器の導入計画が急激に増加しています。我々の強気な予測に同調するように、100Gコヒーレント・トランシーバの世界的な出荷量は2012年に3倍以上となりましたが、2013年は最低でも倍増する結果となるでしょう」

Schmittは続ける。

「光トランシーバ市場におけるその他の大きな動きとしては、チューナブルXFPとノンチューナブルXFPとの価格差が崩壊し、調整可能型XFPの導入が更に加速していることです」
光トランシーバ市場のハイライト
2012年の最終結果としては、光トランシーバ市場は全体で昨年比約7%増を記録すると見込まれ、2013年は2桁の好調な成長ぶりを示し、20億ドル規模に迫ると予測される。
10G、40G、100Gの各トランシーバにおける出荷数は増え続けているが、10Gと40Gの収入は、価格低下と100G機器へのシフトにより圧力にさらされている。
Infonetics が予測したように、100Gコヒーレント・トランシーバの出荷数は2012年に3倍以上となったが、2013年は少なくとも倍増する見込みである。
40Gと100Gのトランシーバによる合計収入は、2015年までに初めて10Gトランシーバの収入に並ぶと見られる。
ネットワーク機器製造業者(NEMs)は、2014年から2015年までに100G長距離ポート全体の3/4以上を供給するようになるとInfoneticsは予測している。
REPORT SYNOPSIS
Infonetics' 10G/40G/100G optical transceivers report provides worldwide market size, forecasts, and analysis for manufacturer revenue and units shipped through 2016. The report analyzes the market by optical transceiver module speed, reach, wavelength, and form factor. Unit volume forecasts are based on Infonetics' 1G/10G/40G/100G Networking Ports forecast, released in October 2012, which aggregates trends from a wide range of enterprise, data center, optical transport, and carrier routing and switching equipment.
(原文)

Optical transceiver market bolstered as 100G arrives in force

BOSTON, Massachusetts, December 18, 2012-Market research firm Infonetics Research released excerpts from its 10G/40G/100G Optical Transceivers market size and forecast report, which tracks in granular detail 10-, 40- and 100-Gigabit optical transceivers sold into the optical transport, enterprise, data center, carrier routing and switching markets.
ANALYST NOTE
"100G continues to surpass even our most optimistic projections," reports Andrew Schmitt, principal analyst for optical at Infonetics Research. "There's been a flurry of prototyping, sampling and trial activity all around the world, including China, where plans for 100G have been bumped up by 12 months since we spoke to operators there last spring. In line with our aggressive forecasts, worldwide shipments of 100G coherent transceivers more than tripled in 2012, and will at least double in 2013."

Schmitt adds, "The other big deal in the transceiver market is that the pricing gap collapsed between tunable and non-tunable XFP, further spurring adoption of tunable XFP technology."
OPTICAL TRANSCEIVER MARKET HIGHLIGHTS
Once final numbers are in for 2012, Infonetics expects the overall optical transceiver market to post about a 7% increase over last year, and to grow in healthy double digits to reach close to $2.0 billion in 2013
Unit shipments of 10G, 40G and 100G transceivers continue to increase, but revenue for 10G and 40G is under pressure from price declines and the shift to 100G
In line with our aggressive forecasts, shipments of 100G coherent transceivers more than tripled in 2012, and will at least double in 2013
By 2015, 40G and 100G transceiver revenue together will match 10G transceiver revenue for the first time
Infonetics anticipates network equipment manufacturers (NEMs) to supply more than 3/4 of all 100G long reach ports by 2014-2015