カリフォルニア州キャンベル、2012年12月20日-市場調査会社 Infonetics Researchは、IP、ケーブル、サテライト、ハイブリット・セットトップボックス (STBs) 及びオーバー・ザ・トップ (OTT)メディアサーバーを調査した最新のビデオ関連調査リポート、Set-Top Boxes and Subscribersからの抜粋を公表した。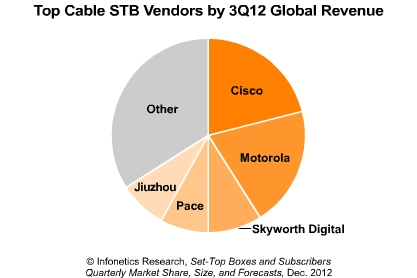 アナリストノート
「我々はアジア太平洋地域、主として中国とインドにおけるケーブル及びサテライトSTB 出荷のペースを根拠として、STB全体の長期的予測を拡大しました。Infonetics は世界的な STB市場が2016年に166億ドル市場になると予測しています」Infonetics Researchにおけるブロードバンド・アクセス及びペイTV担当主任アナリストJeff Heynenは指摘する。
セットトップ・ボックス市場のハイライト
世界的なセットトップ・ボックス収益は、2012年第3四半期において、基本的に横ばいであり、合計37億ドルだった。
Ciscoは、Motorolaを僅かに上回り、2期の連続した四半期にケーブル・セットトップ・ボックスの市場占有率のトップを獲得した。
IPセットトップ・ボックス部門は前四半期から収益が27%上昇し、 2012年第3四半期において最も大きくなった。
現在出荷されている全てのセットトップ・ボックスの45%が HD 能力を備えている。
SET-TOP BOX REPORT SYNOPSIS
Infonetics' quarterly STB and subscribers report provides worldwide and regional market share, size, forecasts, analysis, and trends for IP STBs, cable STBs, satellite STBs, hybrid IP/DTT, and OTT media servers, as well as telco IPTV and cable and satellite video subscribers. Companies tracked include ADB, Changhong, Cisco, Coship, DVN, Echostar, Huawei, Humax, Jiuzhou, Kingvon, Motorola, Netgem, Pace, Samsung, Skyworth Digital, Technicolor, ZTE, and others.
(原文)

Cisco #1 in cable STBs for second straight quarter

Campbell, CALIFORNIA, December 20, 2012-Market research firm Infonetics Research released excerpts from its recent video report, Set-Top Boxes and Subscribers, which tracks IP, cable, satellite, and hybrid set top boxes (STBs) and over-the-top (OTT) media servers.
ANALYST NOTE
"We increased our long-term overall STB forecast, due mainly to a pick up in the pace of cable and satellite STB shipments in the Asia Pacific region, principally in China and India; Infonetics expects the global STB market to grow to $16.6 billion in 2016," notes Jeff Heynen, directing analyst for broadband access and pay TV at Infonetics Research.
SET-TOP BOX MARKET HIGHLIGHTS
Worldwide set-top box revenue was essentially flat in 3Q12, totaling $3.7 billion
Cisco held serve as the cable set-top box market share leader for the second straight quarter, beating out Motorola by a hair
The IP set-top box segment grew the most in 3Q12, with revenue up 27% from the previous quarter
45% of all set-top boxes shipped now have HD capabilities