2013年1月15日、マサチューセッツ州ボストン-市場調査会社のInfonetics Researchは、OTN and Packet Optical Hardwareの市場シェア、規模、予測に関する最新レポートから抜粋を発表した。このレポートでは、光伝達網(OTN)トランスポート機器、OTNスイッチ機器、パケット光トランスポートシステム(P-OTS)について追跡調査している。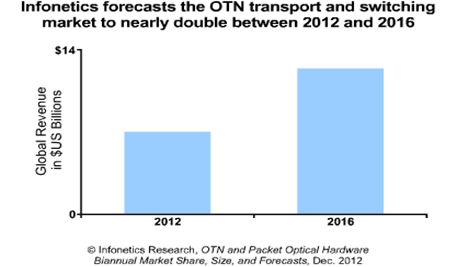 アナリストノート
「現在のOTNスイッチは、OTN市場全体のごく小さな割合を占めるに過ぎず、導入は中国が中心となっています。しかし、EMEAと北米の通信事業者が、地域やコアネットワークに100Gコヒーレント技術を展開する一環として、WDMとOTNスイッチを統合した機器を採用しているため、このセグメントで急成長が起こると見ています」

Infonetics Research社で光学機器担当の主席アナリストであるAndrew Schmittは、このようにコメントしている。

「OTNスイッチセグメントは、2012年から2016年の5年間にかけて年平均成長率が28%になるだろうと我々は予測しています」
OTN及びP-OTS市場のハイライト
OTN機器市場(OTNトランスポート及びスイッチ機器)は、2016年までの年平均成長率が13%になるとInfoneticsは予測している。OTN市場と大きく重なり合い土台となっているWDM市場に比べれば、僅かに速い成長ペースとなる。
2012年全体の数字としては、OTN機器による収入は合計70億ドルとなり、光機器全体に対する支出の65%に上るだろうと予測している。
P-OTS機器市場の収入は、2012年に12億6000万ドルとなり、その内訳はメトロエッジP-OTSが55%、メトロ/リージョナルP-OTSが45%になると見ている。
Tellabs、Alcatel-Lucent、Cisco、Fujitsu、Cienaなどの既存ベンダーはP-OTS市場のリーダーであるが、BTI、Cyan、Transmode、Ericssonなどの新規参入者がP-OTS専用プラットフォームで対抗する姿勢を見せている。
Infonetics' Andrew Schmitt is hosting a 100G webinar on March 5, "100G Optics: Why Operators Are Upgrading Now." To learn more or attend, visit http://bit.ly/W1E83Q.
OTN REPORT SYNOPSIS
Infonetics' biannual OTN and packet optical hardware report provides worldwide and regional market size, vendor market share, forecasts, analysis, and trends for OTN transport and switching hardware, including metro edge and metro regional packet-optical transport systems (P-OTS) and OTN port revenue forecasts by port type and speed. Companies tracked include ADVA, Alcatel-Lucent, Ciena, Cisco, ECI Telecom, Ericsson, Fujitsu, Huawei, Infinera, Nokia Siemens Networks, Tellabs, Transmode, ZTE, and others.
(原文)

OTN switching poised for breakout growth

Boston, MASSACHUSETTS, January 15, 2013-Market research firm Infonetics Research released excerpts from its latest OTN and Packet Optical Hardware market share, size, and forecasts report, which tracks optical transport network (OTN) transport equipment, OTN switching equipment, and packet-optical transport systems (P-OTS).
ANALYST NOTE
"Though OTN switching currently makes up only a small portion of the overall OTN market and deployments have been centered mostly in China, we anticipate breakout growth for this segment as operators in EMEA and North America adopt integrated WDM+OTN switching as part of the roll out of 100G coherent technology in regional and core networks," notes Andrew Schmitt, principal analyst for optical at Infonetics Research. "We're forecasting the OTN switching segment to grow at a 5-year compound annual growth rate of 28% from 2012 to 2016."
OTN AND P-OTS MARKET HIGHLIGHTS
Infonetics expects the OTN market (OTN transport and switching equipment) to grow at 13% CAGR through 2016, slightly faster than the underlying WDM market it mostly overlaps
Once final figures are in for the full year 2012, Infonetics expects OTN revenue to total $7 billion, or 65% of all optical equipment spending
The market for P-OTS equipment is anticipated to be $1.26 billion in 2012, with 55% of revenue coming from metro edge P-OTS and 45% from metro regional P-OTS
Incumbent vendors Tellabs, Alcatel-Lucent, Cisco, Fujitsu, and Ciena are the P-OTS market leaders, but new players including BTI, Cyan, Transmode, and Ericsson are challenging with pure-play P-OTS platforms