2013年2月20日、マサチューセッツ州ボストン-市場調査会社のInfonetics Researchは今日、2012年第4四半期(4Q12)及び年末のOptical Network Hardwareレポート(完全版は2月27日に発表予定)から、ベンダーの市場シェアと予備分析を発表した。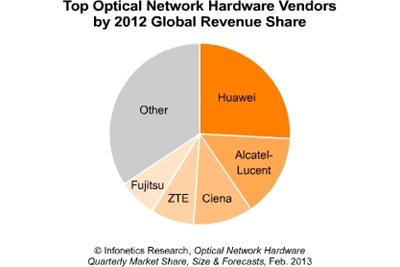 アナリストノート
「2012年を横ばいで終えた光通信機器市場ですが、2013年は状況が好転し始めています」

Infonetics Researchの光通信機器担当主席アナリストであるAndrew Schmittは、このように説明する。

「機器ベンダーとのインタビューでは、特に100G機器への投資が増加しつつある北米で、引き続き前向きな内容が聞かれます。全体的な意見として一致しているのは、コア・ネットワークの機器において、我々が「光通信機器の再起動(optical reboot)」と呼ぶ、光通信機器の更新サイクルが訪れようとしている点です」

「一方、EMEAでは、2012年を派手な投資と共に終え、通信事業者らが配当を削減し、一般的な設備に再投資を行なっていますが、そこかしこで前向きな声が響いています」

Schmittは更に付け加える。
「そして、この春は、2013年の先行きを読むために北京の通信事業者を訪問したいと思っていますが、事前の兆候を見る限り、今年は100G機器が大成長する年になると見られます。中国は現在、世界の40G WDM市場でおよそ半数を占めていますが、2013年は40G機器の売上が世界的にピークの年になるでしょう」
光通信機器市場のハイライト
世界の光通信ネットワーク機器市場は、4Q12に3Q12から2%成長したが、前年同期比では13%減となった。
2012年通期では、光通信機器への投資額は、全世界合わせて10%減となった。
SONET/SDHの光通信機器セグメントは、レガシー機器への投資額が世界で30%減少したため、2012年にはますます状況が悪化し、致命的な打撃を被った。
Alcatel-Lucentは、前四半期に光通信機器の収入で市場最低を記録したが、4Q12は大きな回復を見せ、EMEAの投資急増の波に乗り29%増となった。しかし、WDMの収入は前年比ダウンであった。
Cienaの光通信機器による収入は、前期比、前年比共に減少となったが、40Gと100G機器の出荷数は増え、新たなシングルキャリア100G製品の生産も拡大させている。
Infineraは、OTNスイッチプラットフォーム・DTN-Xの新製品販売が急増したことで、今四半期も力強い成長を見せた。
REPORT SYNOPSIS
Infonetics' quarterly optical hardware report provides worldwide and regional market size, market share, analysis, forecasts, and trends for metro and long haul SONET/SDH and WDM equipment, Ethernet optical ports, SONET/SDH/POS ports, and WDM ports. Companies tracked include Adtran, ADVA, Alcatel-Lucent, Ciena, Cisco, ECI Telecom, Ericsson, Fujitsu, Huawei, Infinera, NEC, Nokia Siemens Networks, Tellabs, Transmode, Tyco Telecom, ZTE, and others.
(原文)

Optical network market poised for growth in 2013

Boston, MASSACHUSETTS, February 20, 2013-Market research firm Infonetics Research today released vendor market share and preliminary analysis from its 4th quarter 2012 (4Q12) and year-end Optical Network Hardware report. (Full report will be published Feb. 27.)
ANALYST NOTE
"After ending 2012 on a flat note, things are looking up for the optical market in 2013," notes Andrew Schmitt, principal analyst for optical at Infonetics Research. "Our conversations with equipment providers continue to trend positive, particularly in North America where 100G spending is about to ramp. The general consensus remains that an optical cycle for equipment in the core is emerging, what we call the 'optical reboot.'"

"Meanwhile, there are positive rumbles in the EMEA region, where 2012 ended with a spending flourish and carriers are cutting dividends to plow capital into general capex," Schmitt adds. "And we are looking forward to our visits with carriers in Beijing this spring to get a good read on the year, but the preliminary indication is it will be a huge year for 100G. China is about half of the global 40G WDM market, and 2013 will be the peak year for 40G worldwide."
OPTICAL MARKET HIGHLIGHTS
The global optical network hardware market rose 2% in 4Q12 from 3Q12, but was down 13% from the year-ago 4th quarter
For the full year 2012, total optical equipment spending was down 10% worldwide
The SONET/SDH optical segment fared much worse, essentially dealt a death blow in 2012 as global legacy capex fell 30%
After posting its lowest-ever optical revenue results a quarter ago, Alcatel-Lucent bounced back in 4Q12, up 29% on the tide of the EMEA capex surge; still, ALU's WDM revenue is down from a year ago
Ciena's optical revenue was down sequentially and year-over-year, but grew shipments of its 40G and 100G equipment and is ramping production of a new single-carrier 100G solution
Infinera had another strong quarter, thanks to a surge in sales of its new DTN-X OTN switching platform