カリフォルニア州―キャンベル 2013年2月21日―市場調査会社のInfonetics Researchは今日、2012年第4四半期(4Q12)及び年末のService Provider Routers and Switchesレポート(完全版は2月25日に発表予定)から、ベンダーの市場シェアと予備分析を発表した。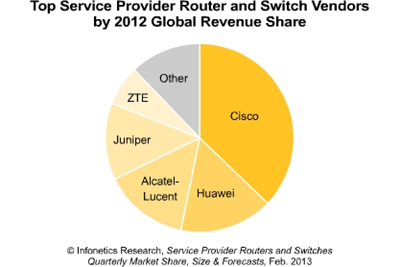 アナリストノート
「世界のキャリアルーターとスイッチ市場は、4%の小幅な減少で2012年を終えましたが、もっと悪化していた可能性もありました」

Infonetics Researchの共同創立者でキャリア・ネットワーク担当主席アナリストであるMichael Howardが説明する。

「欧州、中国、ラテンアメリカの通信事業者が、予算消化のための大規模な駆け込み投資を行ったことで、2012年の最終四半期は市場全体が活気付きました」

Howardは更に付け加える。「今後の見通しですが、サービスプロバイダ向けのスイッチとルーター市場は、2013年に再び成長すると見ています。米経済が好調な状態であり、今年は全世界の通信事業者が設備投資を増やすと予想しています。EMEAでは、中東の活動が活発なようで、アフリカや欧州はある程度、底を打った様子です。欧州のサービスプロバイダに聞いた話が正しければ、同地域のIPルーターとスイッチ市場は、現時点で比較的低調な状態にはあるものの、ここから緩やかな上昇が期待出来ます。通信事業者らは、ネットワークに投資しなければ、競争力が低下することを理解しています」
サービスプロバイダ向けルーター及びスイッチ市場のハイライト
北米を除く全世界の主要地域では、2012年第4四半期に好調な結果を残した。IPエッジ及びコアルーター、キャリアイーサネットスイッチの収入は、全世界で38億ドルに上り、前期比12%増となった。
北米は、4Q12に僅かながら前期比で減少したが、前年同期比では13%増となり、全世界で最大の前年同期比増を記録した。
2012年は、通信事業者らが次世代のより高性能なコアルーターを選び、今後迎える100G機器への移行にますます注意を払うようになって来たため、コアルーターの売上がエッジルーターよりも低下した。
ルーター及びキャリアイーサネットスイッチ部門の4大メーカーは、2012年もまた優位な地位に留まった。1位のCisco、2位のHuaweiは順位が変わらなかったが、Alcatel-Lucentは4位のJuniperを追い越して3位に上がった。
ルーターのみの市場シェアを巡る争いでは、Ciscoが2012年もトップの地位を守ったが、HuaweiとAlcatel-Lucentは、4Q12で大幅に売上を伸ばし、収入の市場シェアを押し上げた。
REPORT SYNOPSIS
Infonetics' quarterly routers and switches report provides worldwide, regional, China, and Japan market share, market size, forecasts, analysis, and trends for IP edge and core routers and carrier Ethernet switches. The report tracks the IP edge market by application (multiservice edge, broadband remote access server (B-RAS), Ethernet access transport, and Ethernet service edge) and covers Alaxala, Alcatel-Lucent, Brocade, Ciena, Cisco, Ericsson, Extreme, Fujitsu, Hitachi Cable, Huawei, Juniper, NEC, Nokia Siemens Networks, Tellabs, ZTE, and others.
(原文)

Infonetics predicts resurgence in 2013 for carrier router and switch market

Campbell, CALIFORNIA, February 21, 2013-Market research firm Infonetics Research today released vendor market share and preliminary analysis from its 4th quarter 2012 (4Q12) and year-end Service Provider Routers and Switches report. (Full report published February 25.)
ANALYST NOTE
"The global carrier router and switch market ended 2012 with a small 4% loss, but it could have been worse," notes Michael Howard, Infonetics Research's co-founder and principal analyst for carrier networks. "Significant budget flushes from operators in Europe, China and Latin America buoyed the overall market in the final quarter of the year."

"Looking ahead," Howard adds, "We expect the service provider switch and router market to grow again in 2013. The US economy is in better shape and we are predicting an increase in worldwide carrier capex this year. In EMEA, activity looks good for the Middle East and, to some degree, Africa, and Europe seems to have hit bottom. If our talks with European service providers prove true, then we can expect a slow climb for the IP router and switch market there, albeit from this lower starting point. Operators know they need to spend on their networks or risk becoming uncompetitive."
SERVICE PROVIDER ROUTER AND SWITCH MARKET HIGHLIGHTS
For all major world regions except North America, the 4th quarter of 2012 was strong, with global IP edge and core router and carrier Ethernet switch revenue rising to $3.8 billion, up 12% from the previous quarter
While North America was down a bit sequentially in 4Q12, the region is up 13% from the year-ago 4th quarter, the highest year-over-year gain of any region
In 2012, sales of core routers slowed more than edge routers, as the coming move to 100G is making carriers increasingly cautious as they choose the next generation of higher-capacity core routers
The top 4 manufacturers in the router and carrier Ethernet switch segment stayed in dominant positions in 2012, with #1 Cisco and #2 Huawei holding steady, while Alcatel-Lucent moved into the #3 spot, bumping Juniper to #4
In the race for router-only market share, Cisco maintained the top position in 2012, but Huawei and Alcatel-Lucent boosted their revenue market share following big gains in 4Q12