2013年2月27日 米国カリフォルニア州Campbell市発-市場調査会社Infonetics Researchは、2012年第4四半期と年末版CMTSおよびエッジQAMハードウェアと加入者の市場規模、市場シェア、予測レポートからの抜粋を公表した。レポートではケーブルブロードバンド機器と加入者について調査している。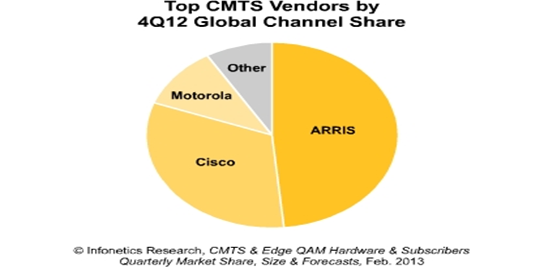 アナリストノート
Infonetics Researchでブロードバンドアクセスと有料TVを担当するJeff Heyhen氏は次のように語る。「2012年はケーブルブロードバンドにとって落ち込み気味の一年でしたが、力強い2013年への準備は整っています。世界のケーブル事業者はすぐにでも使える大量の帯域幅を消費するアプリケーションを数多く持っています。それらは一年を通じてCMTSとエッジQAMチャンネルを成長させる要因となるでしょう。その中にはDOCSIS 3.0や新しいビデオゲートウェイ経由のマルチスクリーンサービス、通信事業者によるWiFiサービスも含まれます。」

Heynen氏はこう付け加える。「当社はCMTSとエッジQAMの収益が2013年に20%以上成長するものと見ています。」
CMTSとエッジQAM市場のハイライト
2012年全体でCMTSとエッジQAMの収益は15%減少して13.9億ドルになった。
2012年第4四半期には、平均販売価格と出荷チャンネル数の下落でCMTSとエッジQAMの世界市場は3期連続の縮小となり、結果として収益は1%減少の2.84億ドルとなった。
北米では世界の流れとは逆に、2012年第3四半期から第4四半期にかけてCTMSとエッジQAMの収益が7%増を記録した。
2012年第4四半期、Ciscoが例年のごとくCMTS収益の市場シェア一位を死守した一方で、チャンネル出荷首位のARRISは二位となり、市場シェアを6%伸ばした。
エッジQAM分野では、2012年第4四半期にCiscoがHarmonicをわずかに追い抜き、初めて首位の座を獲得したが、2012年通年ではHarmonicがエッジQAM分野の首位であることに変わりがなかった。
REPORT SYNOPSIS
Infonetics' quarterly CMTS and edge QAM report provides worldwide and regional market size, vendor market share, forecasts, analysis, and trends for CMTS and edge QAM (linear broadcast, VoD and unicast video, switched digital video, and DOCSIS/M-CMTS) equipment and cable broadband subscribers (standard and wideband), and CCAP. Companies tracked include ARRIS, Casa Systems, Cisco, Ericsson, Harmonic, Motorola, and others.
(原文)

Cable broadband market primed for double-digit recovery in 2013

Campbell, CALIFORNIA, February 27, 2013-Market research firm Infonetics Research released excerpts from its 4th quarter 2012 (4Q12) and year-end CMTS and Edge QAM Hardware and Subscribers market size, market share, and forecast report, which tracks cable broadband equipment and subscribers.
ANALYST NOTE
"Though 2012 was a down year for cable broadband, the stage is set for a strong 2013," notes Jeff Heynen, directing analyst for broadband access and pay TV at Infonetics Research. "Cable operators worldwide have a number of bandwidth-hungry applications on tap that will drive CMTS and edge QAM channel growth throughout the year, including DOCSIS 3.0, multiscreen services via the deployment of new video gateways, and carrier WiFi services."

Heynen adds: "We're expecting CMTS and edge QAM revenue to grow more than 20% in 2013."
CMTS AND EDGE QAM MARKET HIGHLIGHTS
For the full year 2012, CMTS and edge QAM revenue decreased 15%, to $1.39 billion
Declining ASPs and channel shipments edged the global CMTS and edge QAM market down for the 3rd consecutive quarter in 4Q12, as revenue fell 1% sequentially, to $284 million
North America bucked the global trend, notching a 7% increase in CMTS and edge QAM revenue in 4Q12 from 3Q12
Cisco held onto its perennial #1 CMTS revenue market share position in 4Q12, though #2 ARRIS, the leader in channel shipments, grew its share by 6 percentage points
In the edge QAM segment, Cisco edged out Harmonic to claim the top spot for the 1st time ever in 4Q12; even so, Harmonic closed out 2012 as the edge QAM leader