2013年2月27日、カリフォルニア州キャンベル発-市場調査会社Infonetics Researchは、2012年第4四半期(4Q12)のPON, FTTH, and DSL Aggregation Equipment and Subscribersレポートから、ベンダーの市場シェアと分析抜粋を発表した。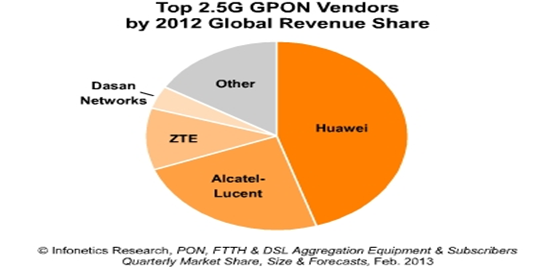 アナリストノート
「2012年は、固定ブロードバンド機器にとって難しい年となり、中国がFTTHへの移行を進めたことでDSLが最大の打撃を被りました」
Infonetics Researchでブロードバンドアクセス及びペイTV担当のディレクティングアナリストを務めるJeff Heynenは、このように説明する。

「DSLには険しい道ですが、VDSLは依然として明るい材料となっており、西欧、北米、ラテンアメリカの通信事業者の間では広がり続けています。ソリューションや長期的な道筋がG.Fastへと向かっていることで、VDSL2に対する関心が継続しています」

Heynenは更に付け加える。「一方、GPON機器は突出した年となり、中国が再び収入の大部分に貢献し、EMEA とラテンアメリカが他と比べて力強さを見せました」
ブロードバンドアグリゲーション市場のハイライト
ブロードバンドアグリゲーション機器(DSL、PON、イーサネットFTTH)の売上は、4Q12に全世界で6%減の15.6億ドルとなった。EMEAではDSL機器が、そしてアジアではEPON機器の支出が落ち込んだのが原因である。
2012年通期では、ブロードバンドアグリゲーション機器への支出は、世界全体で10%減の66.5億ドルとなり、DSLは最大の打撃を被って26%の急減となった。
一方、2.5G GPON機器セグメントは、2012年に30%増となった。China Telecomが採用技術を大きく変更し、China UnicomがFTTH配備に向けてEPONからGPONへの投資転換を進めているため、中国が大きく牽引することになったからである。
VDSLポートの出荷数は、2012年に全世界で約25%成長し、2300万に達した。Belgacom、KPN、British Telecom、France Telecom、Deutsche Telekom、Turk Telecom、Telekom Austriaが、ケーブル通信規格DOCSIS 3.0の展開に合わせてVDSL2を配備していることが理由である。
2012年、ブロードバンドアグリゲーション市場全体では、不動のリーダーHuaweiがトップの競合企業らに収入シェアを幾分か奪われると共に、Alcatel-LucentがZTEの前に躍り出て2位の座に着いた。
市場全体のトップ3ベンダーは、成長を続ける2.5G GPON機器市場でもリードを握り、Dasan Networksが第4位の地位を固めている。
REPORT SYNOPSIS
Infonetics' quarterly broadband aggregation report provides worldwide and regional market size, vendor market share, forecasts, analysis, and trends for 1.25G, 2.5G, and 10G EPON, 2.5G and 10G GPON, FTTH, FTTB, PON, and DSL aggregation equipment. The report also tracks FTTH, FTTB+LAN, and DSL subscribers. Companies tracked include ADTRAN, Alcatel-Lucent, Calix, Dasan, ECI Telecom, Fiberhome, Fujitsu, Genexis, Hitachi, Huawei, Iskratel, Mitsubishi, Motorola, NEC, OF Networks, PacketFront, Sumitomo, Tellabs, Ubiquoss, Zhone, ZTE, ZyXEL, and others.
(原文)

GPON and VDSL bright spots in struggling broadband aggregation market

Campbell, CALIFORNIA, February 27, 2013-Market research firm Infonetics Research released vendor market share and preliminary analysis from its 4th quarter 2012 (4Q12) PON, FTTH, and DSL Aggregation Equipment and Subscribers report. (Full report published Mar. 4.)
ANALYST NOTE
"2012 was a challenging year for fixed broadband equipment, with DSL taking the biggest hit as China continues its transition to FTTH," notes Jeff Heynen, directing analyst for broadband access and pay TV at Infonetics Research. "But despite the difficult road for DSL, VDSL remains a real bright spot, expanding among operators in Western Europe, North America and Latin America. Vectoring solutions and a long-term path to G.Fast are driving sustained interest in VDSL2."

Heynen adds: "Meanwhile, GPON equipment had an outstanding year, with China again contributing the most revenue and EMEA and Latin America providing pockets of strength."
BROADBAND AGGREGATION MARKET HIGHLIGHTS
Global sales of broadband aggregation equipment (DSL, PON, Ethernet FTTH) fell 6% in 4Q12, to $1.56 billion, as a result of declines in spending on DSL equipment in EMEA and EPON gear in Asia
For the full year 2012, worldwide spending on broadband aggregation equipment was down 10% to $6.65 billion, with DSL equipment taking the largest hit, plunging 26%
Meanwhile, the 2.5G GPON equipment segment is up 30% in 2012, led by China, where a dramatic swing in technology choice by China Telecom and China Unicom is shifting investment from EPON to GPON for FTTH deployments
VDSL port shipments grew by almost a quarter in 2012, reaching 23 million worldwide, as Belgacom, KPN, British Telecom, France Telecom, Deutsche Telekom, Turk Telecom, and Telekom Austria deploy VDSL2 to keep pace with cable DOCSIS 3.0 rollouts
In 2012 in the overall broadband aggregation market, perennial leader Huawei lost some revenue share to its top competitors, and Alcatel-Lucent pulled ahead of ZTE for 2nd place
The top 3 overall vendors also lead the growing 2.5G GPON equipment market, with Dasan Networks rounding out the #4 spot