2013年3月4日 米国カリフォルニア州・キャンベル市発―市場調査会社のInfonetics Researchは、2012年第4四半期(4Q12)及び年末のEthernet Switchesレポートから、ベンダーの市場シェアと予備分析を発表した。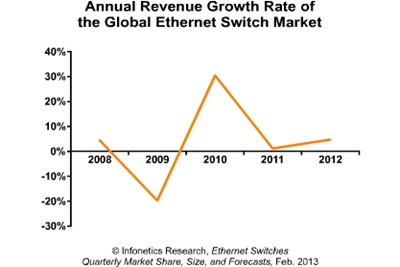 アナリストノート
「欧州の不安定な経済環境や弱さ、そして公共部門による支出が低下していることを考慮すれば、2012年のイーサネットスイッチ市場は手堅い成果を収めたと言えるでしょう」

Infonetics Researchで企業ネットワーク及び映像担当のディレクティングアナリストを務めるMatthias Machowinskiは、このように説明する。

「そして、価格の割引が通常水準に戻り、購買者がレイヤー3スイッチや高速ポートといった更に付加価値の高い製品を求めるなど、更なる成長を指し示す兆候が色々と確認できます」
イーサネットスイッチ市場のハイライト
世界のイーサネットスイッチ市場は、4Q12に前期比5%増の51億ドルに達し、2012年全体では前年比約10億ドル増(+4.7%)の198億ドルとなった。
イーサネットスイッチ市場の5大メーカー- Cisco、HP、Juniper、Dell、Brocade -は、2012年にいずれも収入が前年比増となったが、もっと小規模なベンダーも市場シェアの増加を果たした。
CiscoとHPを合計すると、世界のイーサネットスイッチ市場の4分の3以上に及ぶ。
10Gは、イーサネットスイッチ市場における成長のほぼ全てを独占している。10Gポートの出荷数は2012年に66%成長したが、牽引役となったのはデータセンターの設備更新、10Gサーバの導入、サーバの仮想化、コアネットワークの拡大などである。
40Gイーサネットは急速に拡大しており、小規模だったポート数が2012年には10倍に増加した。
ETHERNET SWITCH REPORT SYNOPSIS
Infonetics' quarterly Ethernet switch report provides worldwide and regional market size, vendor market share, forecasts through 2017, analysis, and trends for Ethernet switches and PoE, including ports, fixed configuration switches, and chassis switches. Companies tracked: ADTRAN, Alaxala, Alcatel-Lucent, Arista, Avaya, Brocade, Cisco, D-Link, Dell, Enterasys, Extreme, Hitachi Cable, HP, Huawei, IBM, Juniper, Linksys, NETGEAR, and others.
(原文)

Solid year behind, better year ahead for Ethernet switch market

Campbell, CALIFORNIA, March 5, 2013-Market research firm Infonetics Research released vendor market share and preliminary analysis from its 4th quarter 2012 (4Q12) and year-end Ethernet Switches report. (Full report published Mar. 7.)
ANALYST NOTE
"Given the finicky economic backdrop, weakness in Europe, and lower spending by public sector customers, Ethernet switches turned in a solid performance in 2012, returning to modest growth," notes Matthias Machowinski, directing analyst for enterprise networks and video at Infonetics Research. "And signs are pointing to a healthier road ahead as discounting returns to normal levels and buyers seek higher-value products like layer 3 switches and higher-speed ports."
ETHERNET SWITCH MARKET HIGHLIGHTS
The global Ethernet switch market totaled $5.1 billion in 4Q12, up 5% sequentially, and $19.8 billion in 2012, up almost $1 billion over 2011 (+4.7%)
All top 5 Ethernet switch revenue leaders - Cisco, HP, Juniper, Dell, Brocade - increased revenue in 2012 over 2011, though smaller vendors managed to gain market share
Together, Cisco and HP capture over ? of the global Ethernet switch market
10G is accounting for almost all Ethernet switch revenue growth: 10G port shipments grew 66% in 2012, driven by data center upgrades, 10G server adoption, server virtualization, and core network buildouts
40G Ethernet is growing rapidly, with port volumes up 10-fold in 2012, from a small base