2013年3月5日、カリフォルニア州キャンベルー市場調査会社のInfonetics Researchは、2012年第4四半期(4Q12)及び年末におけるWireless LAN Equipment and WiFi Phonesのベンダー市場シェア、市場規模、市場予測に関するレポートから抜粋を発表した。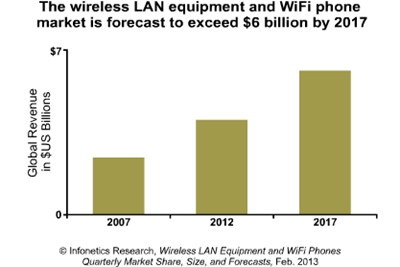 アナリストノート
「ワイヤレスLAN市場は、今年も更に20%以上の成長を記録し、2012年は年間収入が40億ドルの史上最高額に達しました」

Infonetics Researchで企業ネットワーク及び映像担当のディレクティングアナリストを務めるMatthias Machowinskiは、このように説明する。

「ワイヤレスLANは今後も輝き続けるでしょう。というのも、企業が新たな機器やユビキタス接続を活用するために、ワイヤレス機能を拡大しているからです」
ワイヤレスLAN市場のハイライト
エンタープライズアクセスポイント、ワイヤレスLANコントローラ、WiFiフォンを含む、ワイヤレスLANによる全世界の収入は、4Q12に前期比4%増の11億ドルとなった。
ワイヤレスLANは全世界で需要を集めている。主な地域はすべて、問題の多いEMEAでさえも2012年には2桁成長を記録した。
現在、アクセスポイント出荷数の88%は802.11nである。次世代の802.11ac製品は、2013年4月に出荷がスタートし、次なる技術転換の旗振り役となる。
数年に渡って苦しんだアウトドアアクセスポイントの出荷数は、サービスプロバイダがWiFiを展開したことが後押しとなり、2012年に88%の急増となった。
ワイヤレスLAN市場のリーダーであるCiscoは、2012年に収入シェアを1.5ポイント以上伸ばしたが、この規模のベンダーとしては驚くべき成果である。
Arubaは、2桁の収入シェアを持つもう一つのワイヤレスLANベンダーだが、2012年はシェアを約1ポイント伸ばした。
景気が回復し続けているため、企業らがコア通信インフラを更新し、WiFiフォンの成長に火をつけるだろうとInfoneticsは予測している。
WLAN REPORT SYNOPSIS
Infonetics' quarterly WLAN equipment and WiFi phones report provides worldwide and regional market size, vendor market share, forecasts through 2017, analysis, and trends for WLAN infrastructure, including access points by type and technology, WLAN controllers, and enterprise single-mode WiFi phones. Companies tracked: Alcatel-Lucent, Aruba, Brocade, Cisco, D-Link, Enterasys, Extreme, Juniper, Meru, Motorola, NETGEAR, HP, Ruckus, Spectralink, Vocera, Xirrus, and others.
(原文)

New high of $4 billion for wireless LAN market in 2012

Campbell, CALIFORNIA, March 5, 2013-Market research firm Infonetics Research released excerpts from its 4th quarter (4Q12) and year-end Wireless LAN Equipment and WiFi Phones vendor market share, market size and forecast report.
ANALYST NOTE
"The wireless LAN market racked up another year of 20-plus percent growth, topping $4 billion in annual revenue in 2012, a new high," reports Matthias Machowinski, directing analyst for enterprise networks and video at Infonetics Research. "WLAN continues to shine as enterprises build out their wireless capabilities to take advantage of new devices and ubiquitous connectivity."
WLAN MARKET HIGHLIGHTS
Worldwide WLAN revenue, including enterprise access points, WLAN controllers and WiFi phones, grew 4% in 4Q12 from 3Q12, to $1.1 billion
The demand for WLAN is global: All major geographic regions, even beleaguered EMEA, grew by double digits in 2012
88% of access points shipping today are based on 802.11n; next-gen 802.11ac products will start shipping in April 2013, ushering in the next technology transition
After years of languishing, outdoor access point shipments jumped 88% in 2012, propelled by service provider WiFi deployments
WLAN market leader Cisco added over 1.5 points of revenue market share in 2012, a remarkable feat for a vendor this size
Aruba, the only other WLAN vendor with double-digit revenue share, added almost a point of share in 2012
As the economy continues to rebound, Infonetics anticipates that companies will upgrade their core communication infrastructure, sparking growth of WiFi phones