2013年3月6日 米国カリフォルニア州キャンベル発―調査会社Infonetics Researchは、最新のService Delivery Platform Software and Servicesレポートより、その概要を発表した。このレポートでは、オペレータが加入者にサービスを提供する際の無線および有線のサービスデリバリープラットフォーム (SDP) ソフトウェアとサービスを分析対象としている。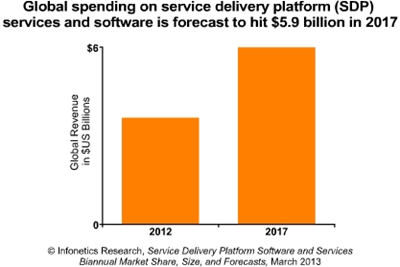 アナリストノート
「SDPのビジネスチャンスは有望であるが、数年前とはずいぶん違ったものになっているようだ」としたうえで、Infonetics Researchでサービス使用・加入者インテリジェンス(Service Enablement and Subscriber Intelligence)を担当している上席アナリスト Shira Levineは「サービスデリバリープラットフォームに一から十まで投資しているオペレータはほとんどいない。その代わり、(ネットワークエクスポージャーやウエブサービス環境といった)SDPの一部分を実施している。これにより、運営コストを削減しつつ新たなサービスを提供することが可能となる」と述べている。

Levine の追加コメント:「このトレンドは、オペレータが個人向け市場を超えていくことでさらに続くとみている。そして、企業のB-to-C戦略をサポートし、machine-to-machine (M2M)市場への進出を後押しすること含め、成長が続く企業向け市場で収益を上げることになるだろう。」
SDP市場のハイライト
2012年にグローバルなSDP ソフトウェアおよびサービス市場は2011年から14%増加して36億ドルの規模となった。
SDP サービスは2017年までにSDP市場全体の75%を占めるとみられる。
モバイルの展開がSDP成長の主要因で、SDP売上のほとんどを占めている。
ごく一握りの大手サプライヤーがSDP市場を支配している。Oracleはソフトウェアセグメントの最大手で、Huaweiが僅差で続いている。サービスセグメントではEricssonがHuaweiに代わって最大手となった。
SDP市場にはこれまでにない事業者も現れている。例えばAPI マネジメントベンダーのMashery, Layer 7, Apigeeなど。Infoneticsでは、既存SDPベンダーはこれら中小サプライヤーと提携もしくは買収すると予想している。
Infoneticsの予測によれば、グローバルなSDP市場は2017年までに59億ドルになる。アジア、中南米、中近東の新興地域の成長が著しく、この地域のオペレータは差別化されたサービスを提供することによりARPU の低下に直面することになるだろう。
REPORT SYNOPSIS
Infonetics' biannual SDP software and services report provides regional and worldwide market size, vendor market share, forecasts through 2017, analysis, and trends for fixed-line and wireless SDP components and services by network and service types. Companies tracked: Accenture, Aepona, Alcatel-Lucent, Ericsson, HP, Huawei, IBM, Nokia Siemens Networks, Oracle, and others.
(原文)

Service delivery platform (SDP) market nearing $6 billion in 2017

Campbell, CALIFORNIA, March 6, 2013-Market research firm Infonetics Research released excerpts from its latest Service Delivery Platform Software and Services report, which tracks the wireless and fixed-line service delivery platform (SDP) software and services that operators use to create and deliver services to their subscribers.
ANALYST NOTE
"The SDP opportunity is alive and well, but looks very different than it did even a few years ago," notes Shira Levine, directing analyst for service enablement and subscriber intelligence at Infonetics Research. "Very few operators are investing in soup-to-nuts service delivery platforms anymore. Instead, they're implementing discrete components of the SDP (like network exposure and web service environments) that allow them to deliver new services while reducing operational costs."

Levine continues: "We believe this trend will continue as operators expand beyond the consumer market and begin capitalizing on the growing enterprise opportunity, including helping businesses support their B-to-C strategies and insert themselves into the machine-to-machine (M2M) space."
SDP MARKET HIGHLIGHTS
In 2012, the global SDP software and services market totaled $3.6 billion, up 14% over 2011
SDP services are expected to make up 75% of the SDP market by 2017
Mobile deployments are the primary driver behind SDP growth, representing the bulk of SDP revenue
A handful of large suppliers continue to dominate the SDP landscape: Oracle leads the software segment, followed closely by Huawei; meanwhile on the services side, Ericsson pulled ahead of Huawei for 1st place
New breeds of players are appearing on the SDP scene, such as API management vendors Mashery, Layer 7, and Apigee, and Infonetics expects the established SDP vendors to partner with or acquire these smaller suppliers
The global SDP market is forecast by Infonetics to reach $5.9 billion in 2017, with the strongest growth coming from developing regions in Asia, Latin America and the Middle East, where operators are looking to counteract low ARPU by offering differentiated services