2013年3月7日 英国ロンドン発―市場調査会社のInfonetics Researchは、第4四半期(4Q12)と2012年末のFemtocell Equipmentレポートから抜粋を発表した。このレポートでは、市場セグメント、技術、フォームファクターに分類してフェムトセルを追跡調査している。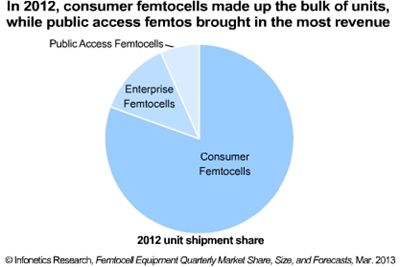 アナリストノート
「フェムトセルの売上は3四半期連続で増加し、前年比でも成長しました。ただ、発展途上の市場としては、ここまでの所控えめな成長となっています」

Infonetics Researchで無線及びキャリアWiFi担当のディレクティングアナリストを務めるRichard Webbは、このように説明する。

「1ユニットあたりの価格が低下し、出荷量も上昇していますが、この2つは本質的に動きがリンクします。現時点では、このどちらの動きも、導入を更に急加速させるほどのスピードはありません」

Webbは付け加える。
「とは言え、フェムトセル市場は、十分な成長要素や通信事業者らのサポートがあり、2013年の急拡大を皮切りに、2017年まで年間収入と出荷数が持続的に拡大していくと見ています。これを後押しするのは、3Gフェムトセルの堅調な売上と4Gフェムトセルの急成長です」
4Q12のフェムトセル機器市場のハイライト
2G、3G、そして4Gを含む世界のフェムトセル市場は、4Q12に前期比66%増となった。
2012年通期では、フェムトセル市場は4億2500万ドルに達し、前年比21%増を記録した。
パブリックスペース用フェムトセルは、2012年に消費者用フェムトセルの収入を僅かに上回った。
4Gフェムトセルの収入は、5年平均成長率(2012年から2017年)165%で増加している。
2012年に出荷されたユニットのうち、僅か3%が統合型フェムトセルである(DSLルーターやゲートウェイなどの様なブロードバンド向けの顧客構内設備に組み込まれたフェムトセル機器、という意味)。しかし、統合型フェムトセルは長期的に幅広く採用され、2017年には全ユニットの約半数を占めると予想される。
4Q12及び2012年通期で、フェムトセル市場のシェアトップ3を占めたのはAirvana、Samsung、 Cisco/ip.accessである。
FEMTOCELL REPORT SYNOPSIS
Infonetics' quarterly femtocell report provides worldwide and regional market size, vendor market share, forecasts through 2017 and analysis for 2G femtocells (CDMA and GSM/GPRS), 3G femtocells (W-CDMA/HSPA, CDMA2000/EV-DO, and TD SCDMA), and 4G femtocells (WiMAX and LTE). Femtocells are tracked by form factor (standalone and integrated) and market segment (consumer, enterprise, public access). Companies tracked: Airvana, Alcatel-Lucent, Argela, Cisco/ip.access, Contela, Huawei, ip.access, NEC/Ubiquisys, Samsung, Ubee Interactive, and others.
(原文)

Femtocells up 66% in 4Q12; big 2013 expected as 4G femtos ramp

London, UK, March 7, 2013-Market research firm Infonetics Research released excerpts from its 4th quarter (4Q12) and year-end Femtocell Equipment report, which tracks femtocells by market segment, technology, and form factor.
ANALYST NOTE
"Femtocell sales are up for the third straight quarter and on a year-over-year basis, though growth to this point is modest for a market that's still in evolution," reports Richard Webb, directing analyst for microwave and carrier WiFi at Infonetics Research. "Price-per-unit is eroding and shipment volumes are rising, but both are intrinsically linked and neither has happened fast enough to drive a more rapid acceleration in adoption to date."

Webb adds: "That said, we believe femtocells have sufficient market drivers and support among operators to sustain continuous annual revenue and unit growth through at least 2017, starting with a very big 2013, driven by strong 3G femto sales and fast-ramping 4G femtos."
4Q12 FEMTOCELL EQUIPMENT MARKET HIGHLIGHTS
Globally, the femtocell equipment market, including 2G, 3G, and 4G femtocells, is up 66% in 4Q12 from 3Q12
For the full year 2012, the femtocell market totaled $425 million, up 21% from a year ago
Public space femtocells accounted for slightly more revenue than consumer femtocells in 2012
4G femtocell revenue is growing at a 165% 5-year compound annual growth rate (2012 to 2017)
While only 3% of units shipped in 2012 were integrated femtocells-meaning femtocell technology built into broadband CPE like DSL routers/gateways-Infonetics anticipates they will be widely adopted over the long term, eventually making up about half of all units by 2017
The top 3 femtocell market share leaders in 4Q12 and for the full year 2012 are Airvana, Samsung, and Cisco/ip.access