2013年3月11日、カリフォルニア州キャンベル-市場調査会社のInfonetics Researchは、第4四半期(4Q12)及び年末におけるContent Security Gateway Appliances, Software, and SaaSの市場シェアと予測に関するレポートから抜粋を発表した。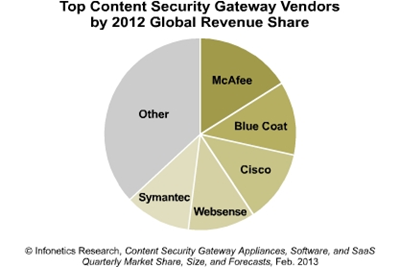 アナリストノート
「機器類の販売に牽引され、第4四半期はコンテンツセキュリティ市場に僅かな回復が見られました。しかし、コンテンツセキュリティゲートウェイ市場は、2012年に初の微減となりました。同市場のベンダーは、2つの難しい転換を導いています。機器類からサービス/Saasへ。そして、単一機能から統合型機能への転換です」

Infonetics Researchのセキュリティ担当主席アナリストを務めるJeff Wilsonはこのように述べている。
コンテンツセキュリティ市場のハイライト
世界のコンテンツセキュリティゲートウェイ機器とソフトウェアの市場は、数四半期に渡って売上が低下していたが、4Q12は4%増の7億4800万ドルとなった。
しかし、コンテンツセキュリティ市場は、同市場が誕生して以来初の収縮を2012年に経験し、29億ドルまで低下した。
機器類は、2012年にコンテンツセキュリティゲートウェイ収入の60%以上を占めた。
4Q12と2012年通期で、コンテンツセキュリティベンダーのトップ3に名を連ねたのは、McAfee、Blue Coat、 Ciscoである。
コンテンツセキュリティ市場は、2013年にほぼ横ばいとなり、一桁台前半の成長になるとInfoneticsは予測している。
CONTENT SECURITY REPORT SYNOPSIS
Infonetics' quarterly content security report provides worldwide and regional market size, vendor market share, forecasts through 2017, analysis, and trends for content security gateway software (messaging, web/malware), gateway appliances (messaging, web/malware, integrated), and SaaS (messaging, web/malware). Vendors tracked: Barracuda, Blue Coat, Cisco, Citrix, McAfee, SonicWALL, Symantec, Trend Micro, Websense, and others.
(原文)

Content security market rebounds in the 4th quarter of 2012

Campbell, CALIFORNIA, March 11, 2013-Market research firm Infonetics Research released excerpts from its 4th quarter (4Q12) and year-end Content Security Gateway Appliances, Software, and SaaS market share and forecast report.
ANALYST NOTE
"Though we finally saw a slight rebound in the content security market in the 4th quarter with appliance products leading the way, the content security gateway market actually contracted slightly in 2012 for the first time ever. Vendors in this space are navigating two tricky transitions: from products to services/SaaS, and from single-function solutions to integrated solutions," notes Jeff Wilson, principal analyst for security at Infonetics Research.
CONTENT SECURITY MARKET HIGHLIGHTS
Following several quarters of declines, global content security gateway appliance and software revenue grew 4% in 4Q12, to $748 million
However, for the 1st time since its inception, the content security market contracted slightly in 2012, falling to $2.9 billion
Appliances accounted for over 60% of content security gateway revenue in 2012
The top 3 content security vendors for 4Q12 and the full year 2012 are McAfee, Blue Coat, and Cisco
Infonetics expects the content security market to be close to flat in 2013, growing in the low single digits