2013年3月11日、カリフォルニア州キャンベル発―市場調査会社のInfonetics Researchは第4四半期(4Q12)と2012年末におけるネットワークセキュリティアプライアンスとソフトウェアの市場シェアと予測レポートから以下の抜粋を公表した。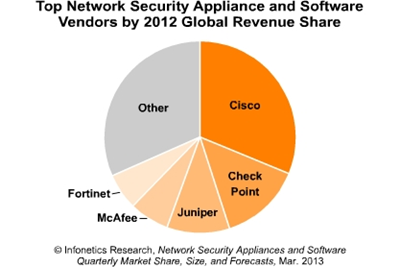 アナリストノート
インフォネティクスリサーチのセキュリティ担当主席アナリストJeff Wilsonは以下の様に語る。「ネットワークセキュリティアプライアンスとソフトウェア市場では、ベンダーが競合他社製品の欠陥に付け込んで積極的に主導権争いをしている。」更に、以下の様に追言する。「Palo Alto、Fortinet、SourcefireやDell SonicWALLを例とする挑戦者は2013年に Cisco、Check PointやJuniperにとって関心の高いものとなるだろう。現在のトップ3ベンダーには製品の価格、効果、性能、機能の種類ついて不満点が挙げられており、そこに彼ら挑戦者の活路が見出されている。」
ネットワークセキュリティ市場のハイライト
2012年は多くのネットワークセキュリティベンダーにとって衝撃的な出来事となり、成長市場の一部分を担うハイエンドアプライアンスが登場した。
全世界において、ネットワークセキュリティアプライアンスとソフトウェアの売上は63億ドルに達し、2012年に10%の成長率を達成した。また、第4四半期の売上は17億ドルと、前年同期と比較し、7%も成長している。
統合セキュリティアアプライアンスは前年第4四半期から毎期においてシェアを増やしている。
2012年では、Cisco、Check Point、Juniper、McAfee、Fortinetがネットワークセキュリティ市場をリードしたが、インフォネティクスは2013年中にそのシェアに変化が見られるだろうと予測する。
NETWORK SECURITY REPORT SYNOPSIS
Infonetics' quarterly network security report provides worldwide and regional market size, vendor market share, forecasts through 2017, analysis, and trends for integrated security appliances, secure routers, SSL VPN gateways, VPN and firewall software, and network-based intrusion detection and prevention (IDS/IPS) products. Vendors tracked: AEP, Alcatel-Lucent, Array Networks, CA, Check Point, Cisco, Citrix, D-Link, Enterasys, eSoft, F5, Fortinet, GTA, HP, Huawei, ISS, Juniper, McAfee, NetASQ, Palo Alto Networks, SonicWALL, Sourcefire, Stonesoft, WatchGuard, ZyXEL, and others.
(原文)

Network security market up 10% in 2012 as competition heats up

Campbell, CALIFORNIA, March 11, 2013-Market research firm Infonetics Research released excerpts from its 4th quarter (4Q12) and year-end Network Security Appliances and Software market share and forecast report.
ANALYST NOTE
"In the network security appliances and software market, vendors are actively jockeying to take advantage of competitor slip-ups," observes Jeff Wilson, principal analyst for security at Infonetics Research. "Challengers like Palo Alto, Fortinet, Sourcefire, and Dell SonicWALL will continue to make life interesting for Cisco, Check Point, and Juniper in 2013. When they find success, it will be because they exploit dis-satisfaction with the pricing, efficacy, performance, and feature breadth of the products from the top 3 vendors."
NETWORK SECURITY MARKET HIGHLIGHTS
2012 ended with a bang for most network security vendors, with high-end appliances driving a good portion of the growth
Worldwide, network security appliance and software revenue grew 10% in 2012 to $6.3 billion, and is up 7% from the year-ago 4th quarter, at $1.7 billion
Integrated security appliances have gained share every quarter since 4Q11
In 2012, Cisco, Check Point, Juniper, McAfee, and Fortinet led the network security market, though Infonetics expects possible share changes in 2013