2013年3月13日 Campbell, CALIFORNIA - 市場調査会社Infonetics Researchは2012年第4四半期 (4Q12) と年度末の2G, 3G, 4G Mobile Infrastructure and Subscribers (2G、3G、4G のモバイルインフラと契約者) レポートの抜粋を公開した。同レポートでは2G、3G、LTE、WiMAXのネットワーク機器および契約者を追跡調査している。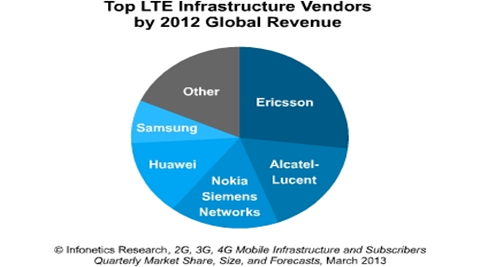 アナリストノート
Infonetics Researchのモバイルインフラと通信事業者エコノミクスの主任アナリストStephane Teralは以下のように述べている。「2012年はアメリカ、日本、韓国がLTEで市場を活性化しているが、BRICs諸国の低迷によりモバイルインフラ市場は全般的な緩やかな伸びになっている。明るいニュースとしては、BRICs諸国では今年、LTEへの多額の支出で盛り返すことが見込まれている」

Teralの説明は続く。「我々の予測では、2013年のLTE市場は初めて100億ドルを悠々と突破し、2倍になる。通信事業者はLTEの展開において第2の波の真っ只中におり、LTE-Advancedは4Gの最高の時期に備えている。NTT DOCOMO、SK telecomに加え、おそらくロシアのYotaも今年中の展開を計画している」
モバイルインフラ市場のハイライト
2G/3G、LTEおよびWiMAXを含む世界のモバイルインフラ市場は、北米、中国における成長やヨーロッパにおける持続的な近代化プロジェクトにより、2012年第4四半期は連続で6%成長して108億ドルに達した。
2012年のLTEの収益は世界各地で新たな導入が急激に進んだことや、日本、北米、韓国という既存の堅調な市場に支えられ、2011年比で115%増加した。
GSAによると、2013年1月時点で世界の66カ国において、145の商用LTEネットワークが導入されている。
LTEインフラ市場ではEricssonがトップを維持しているが、2012年第4四半期の時点でNokia Siemens Networksがその差を詰めている。一方、2012年は通年でAlcatel-Lucentが2位につけており、同社にとって2012年第4四半期はLTEの収益で過去最高の四半期となった。
契約者の伸びがモバイルインフラ市場を牽引している。2012年はモバイル契約者が60億に達し、2017年までにモバイル契約者は70億に到達すると見込まれている。LTEの契約者は5億6900万である。
OECD (経済協力開発機構) によると、韓国では無線ブロードバンドの普及率が世界で初めて100%を超えた。
REPORT SYNOPSIS
Infonetics' quarterly 2G, 3G, 4G (LTE) report provides worldwide and regional market size, vendor market share, analysis, deployment trackers, and forecasts through 2017 for 2G, 3G, 4G (LTE), and WiMAX mobile network equipment and subscribers. The report tracks more than 50 subsegments of the market, including radio access networks (RAN), base transceiver stations (BTSs), mobile softswitching, packet core equipment, and E-UTRAN macrocells. Vendors tracked: Airspan, Alcatel-Lucent, Alvarion, Cisco, Datang Mobile, Ericsson, Fujitsu, GENBAND, HP, Huawei, NEC, NewNet, Nokia Siemens Networks, Proxim, Redline Communications, Samsung, UTStarcom, ZTE, and others.
(原文)

LTE market nearly doubling in 2013

Campbell, CALIFORNIA, March 13, 2013-Market research firm Infonetics Research released excerpts from its 4th quarter 2012 (4Q12) and year-end 2G, 3G, 4G Mobile Infrastructure and Subscribers report, which tracks 2G, 3G, LTE, and WiMAX network equipment and subscribers.
ANALYST NOTE
"The U.S., Japan, and South Korea have been fueling the engine with LTE, but weak activity in BRIC countries dragged the overall mobile infrastructure market in 2012," notes Stephane Teral, principal analyst for mobile infrastructure and carrier economics at Infonetics Research. "The good news, though, is that this year BRIC is coming back with some serious LTE spending."

Teral adds: "We're forecasting the LTE market to almost double in 2013, easily passing the $10-billion mark for the first time. Operators are in the midst of a second wave of LTE deployments, and LTE-Advanced is gearing for true 4G prime time, with NTT DOCOMO, SK telecom, and likely Russia's Yota all planning launches this year."
MOBILE INFRASTRUCTURE MARKET HIGHLIGHTS
The global mobile infrastructure market-including 2G/3G, LTE, and WiMAX-rose 6% sequentially in 4Q12, to $10.8 billion, driven by North America, China, and sustained modernization projects in Europe
LTE revenue grew 115% in 2012 from 2011, fueled by an onslaught of new deployments worldwide paired with the existing strong markets of Japan, North America, and South Korea
The GSA reports that 145 commercial LTE networks have been launched in 66 countries as of January 2013
Ericsson maintains its lead in the LTE infrastructure market, though Nokia Siemens Networks is closing the gap as of the 4th quarter; meanwhile Alcatel-Lucent is #2 for the full year 2012 and posted its best LTE quarter to date in 4Q12
Subscriber growth is driving the mobile infrastructure market: wireless subscribers hit 6 billion in 2012 and are expected to reach 7 billion by 2017, including 569 million LTE subscribers
South Korea became the 1st country in the world to surpass 100% wireless broadband penetration, according to the Organisation for Economic Cooperation and Development