2013年3月21日米国カリフォルニア州キャンベル発―Infonetics Researchが3Gマイクロセル、ピコセル、パブリックアクセス・フェムトセル、そして4G LTE のミニ eNodeBs 及びパブリックアクセス・フェムトセルを追跡したスモールセル機器市場の規模及び展望リポートからの抜粋をリリースした。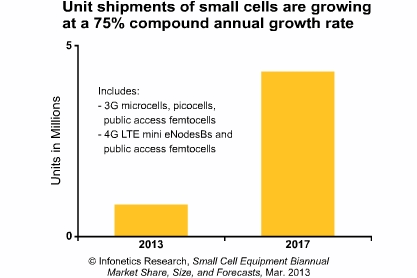 アナリストノート
「2013年は容量アップグレードの為に展開された4Gスモールセルに牽引される、スモールセルにとってのキックオフ・イヤーの様相を呈しています」Infonetics Researchのモバイル・インフラストラクチャ及びキャリアー・エコノミクス担当主任アナリストStephane Teralは予測する。「合衆国のAT&T、Sprint、Verizon Wireless、ヨーロッパのVodafone、韓国のLG U+、日本のNTT DOCOMOは、ハイテク通な住民が密集している都市部に対してよりハイキャパシティなカバレッジを提供する為に飽和したマクロセルラー・ネットワークの能力を強化する必要に迫られ、全社が主要なスモールセル計画を発表しました」."

このリポートの共同執筆者であるInfoneticsのマイクロ波及びキャリアーWiFi 主席アナリストRichard Webbは更に付け加える:「通信事業者がスモールセルの導入計画をまとめる際に重要な鍵となる決断の1つは、どれほどきっちりとWi-Fiの統合をするかでしょう。昨年、我々はピコセルがWi-Fiの統合をするであろうという明確な兆候を見、それは本当に実現しました。両方の技術が類似したレンジと電力必要条件を持っている為、高密度セルオプションが元来のオプションをオフロードにして、マイクロセルにピコセルの利点を与えるかもしれません」
スモールセル市場のハイライト
Infoneticsは世界的なスモールセル市場が、2017年までに現状の非常に小さな規模から27億ドルまでになると予測する 。
世界市場におけるLTE導入が現在のペースで進み、4Gスモールセルの出荷は2013年の終わりまでに3Gの出荷を追い越すと予測される。
韓国のSK Telecomは約40,000台のスモールセルを実装しており、4G パブリック・アクセス・フェムトセルの今日までの主導的採用者である。
バックホールは既にスモールセルの成長を妨げる存在ではなく、それが依然問題となるかどうかはロケーションやモバイル事業者次第である。
Infoneticsの地理別展望では、2013年にスモールセル市場をリードするのは出荷された全ユニットの50%を持つアジア太平洋地区であり、それに次ぐのが34%を持つEMEA、そして14%を持つ北アメリカである。
REPORT SYNOPSIS
Infonetics' biannual small cell report provides worldwide and regional market size, forecasts through 2017, analysis, and trends for 3G microcells, picocells, and public access femtocells and 4G (LTE) mini eNodeB and public access femtocells. The report also includes a small cell strategies tracker. Vendors tracked: Airspan, Airvana, Alcatel-Lucent, Alvarion, Anvaya, Argela, BelAir, BTI, Contela, Datang, Ericsson, Hitachi, Huawei, ip.access, Juni, Minieum, NEC, Nokia Siemens Networks, SAI, Samsung, SK Telesys, SpiderCloud, Ubee, Ubiquisys, ZTE, and others.
(原文)

Small cell market forecast to hit $2.7 billion by 2017

Campbell, CALIFORNIA, March 22, 2013-Infonetics Research released excerpts from its latest Small Cell Equipment market size and forecast report, which tracks 3G microcells, picocells, and public access femtocells and 4G LTE mini eNodeBs and public access femtocells.
ANALYST NOTE
"2013 is shaping up as a kick-off year for small cells, driven by 4G small cells deployed for capacity upgrades," expects Stephane Teral, principal analyst for mobile infrastructure and carrier economics at Infonetics Research. "AT&T, Sprint, and Verizon Wireless in the U.S., Vodafone in Europe, LG U+ in South Korea, and NTT DOCOMO in Japan have all announced major small cell plans, driven by the need to enhance the capacity of saturated macrocellular networks as they seek to deliver denser, higher-capacity coverage to tech-savvy populations in urban areas."

Co-author of the report, Richard Webb, directing analyst for microwave and carrier WiFi at Infonetics, adds: "As operators formulate their plans for small cell rollouts, one of the key decisions will be how tightly to integrate Wi-Fi. Last year, we saw clear indications that picocells would have integrated Wi-Fi, and this has indeed materialized. Both technologies have similar range and power requirements, which may provide an advantage for picocells over microcells, as the dense cell option could have its own in-built offload option."
SMALL CELL MARKET HIGHLIGHTS
Infonetics forecasts the global small cell market to grow from a very small base now to $2.7 billion by 2017
Given the current pace of LTE rollouts worldwide, 4G small cell shipments are anticipated to overtake 3G shipments by the end of 2013
South Korea's SK Telecom has deployed close to 40,000 small cells and is the leading adopter of 4G public access femtocells to date
Backhaul is no longer an inhibitor to small cell growth, but could remain an issue depending on factors such as location or mobile operator
Geographically, Infonetics expects Asia Pacific to lead the small cell market in 2013 with 50% of all units shipped, followed by EMEA with 34%, and North America with 14%