2013年4月10日米国カリフォルニア州キャンベル発―市場調査会社インフォネティクスリサーチは、GSM、W-CDMA、TD-SCDMA、CDMA2000、LTE機器、日本と中国の加入者動向を調査した市場シェアと予測レポートにおいて、「最新の2G、3G、4Gモバイルインフラと日本と中国の加入者」からその抜粋を発表した。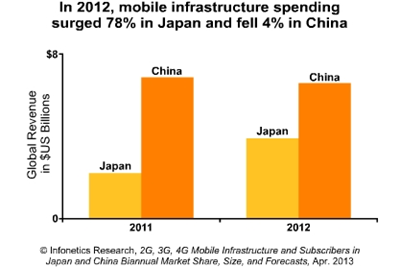 日本のモバイルインフラ市場のハイライト
「我々の予想通り、大災害から3Gによる復興が著しかった日本では、2012年はLTE元年となった。日本のLTE収益は188%増で、この勢いは、今年更に加速し、3Gサービスを衰退させる勢いだ。」と、インフォネティクスリサーチ社モバイルインフラ及び、キャリアエコノミクスの主席アナリストであるStephane Teralは述べる。
日本の総モバイルインフラ(2G、3G、4G)市場は、NTTドコモ、KDDI、ソフトバンクモバイルによる強力なLTE展開により、2012年に78%も増加し、その額は39億ドルに達した。
3Gは、2012年の日本市場で11%の減少となった。
日本のモバイル加入者の100%が3G回線上に存在する。
ノキアシーメンスネットワークスは、日本におけるLTEインフラの収益市場ではシェア第1位で、後に追うのはNECとエリクソンである。
インフォネティクスリサーチは、日本のモバイルインフラ市場は2014年にピークを迎え、最終的には、LTEの導入が下がって行き、2017年までは減少傾向にあると予測している。
データセンターセキュリティ調査結果のハイライト
「中国のモバイルインフラは2012年には減少したが、中国政府が4Gライセンスの獲得に注力し、年末までに潜在的商業サービスで大規模なTD-LTEを展開することが出来れば、上手く立ち直るだろうと予測する。」とTeralは言う。
中国のモバイルインフラ(2G、3G、4G)市場は、2012年に、GSM、W-CDMA、CDMA2000に引きずられる形で、前年比で4%減となった。

4Q12に、20,000のTD-LTEのeNodeBを展開した中国移動通信は市場の落ち込みを防いだ。

中国には、合計で11億人の加入者がおり、世界最大の携帯電話加入者の国である。
Huaweiは中国移動通信の13都市間TD-LTEネットワークプロジェクトの?を獲得し、2012年に、北京市場に初めて参入した。
インフォネティクスは中国市場のLTE成長率は2012年から2017年にかけて、38%の年平均成長率になるだろうと予測している。
2G, 3G, 4G JAPAN AND CHINA REPORT SYNOPSIS
Infonetics' biannual mobile infrastructure and subscribers in Japan and China report provides market size, vendor market share, forecasts through 2017, analysis, and trends for GSM, W-CDMA, TD-SCDMA, CDMA2000, and LTE equipment and subscribers in Japan and China. The report includes an LTE Deployment Tracker and includes customer wins and vendor and operator announcements.
(原文)

Japanese carriers shuttering 3G as LTE accelerates; China mobile subscribers top 1 billion
Campbell, CALIFORNIA, April 10, 2013-Market research firm Infonetics Research released excerpts from its latest 2G, 3G, 4G Mobile Infrastructure and Subscribers in Japan and China market share and forecast report, which tracks GSM, W-CDMA, TD-SCDMA, CDMA2000, and LTE equipment and subscribers in Japan and China.
JAPAN MOBILE INFRASTRUCTURE MARKET HIGHLIGHTS
"As we predicted, 2012 was THE LTE year in Japan following a year marked by 3G reconstruction efforts after the great earthquake and tsunami. LTE revenue in Japan soared 188% and will keep its momentum this year, driven by accelerated rollouts and the increasing willingness of service providers to shut down 3G," notes Stephane Teral, principal analyst for mobile infrastructure and carrier economics at Infonetics Research.
Japan's total mobile infrastructure (2G, 3G, 4G) market surged 78% in 2012, to $3.9 billion, owing to a strong LTE push fueled by NTT DOCOMO, KDDI, and SoftBank Mobile
3G declined 11% in Japan in 2012
100% of Japan's mobile subscribers are on 3G networks
Nokia Siemens Networks is #1 in LTE infrastructure revenue market share in Japan, followed by NEC and Ericsson
Infonetics expects the Japanese mobile infrastructure market to stay positive this year, plateau in 2014, and eventually decline by 2017 as LTE deployments wind down
CHINA MOBILE INFRASTRUCTURE MARKET HIGHLIGHTS
"Mobile infrastructure sagged in China in 2012, but we expect the market to bounce back nicely as the Chinese government gears up to award 4G licenses and China Mobile prepares for a massive TD-LTE rollout with potential commercial service by year's end," says Teral.
The mobile infrastructure (2G, 3G, 4G) market in China fell 4% year-over-year in 2012, dragged down by GSM, W-CDMA, and CDMA2000

China Mobile's rollout of 20,000 TD-LTE eNodeBs during 4Q12 prevented the whole market from falling farther

China is home to the world's largest mobile subscriber base, with a total of 1.1 billion subscribers
Huawei entered the Beijing market for the 1st time in 2012, winning ? of China Mobile's 13-city TD-LTE network project
Infonetics forecasts LTE in China to grow at a 38% CAGR from 2012 to 2017