2013年4月18日米国カリフォルニア州キャンベル発―米国市場調査会社Infonetics Researchは、最新のEthernet Access Devices (EAD)に関する市場シェア、市場規模、予測に関するレポートからその概要を発表した。ここでは、銅線と光ファイバーEthernetアクセスデバイス(EAD)の売上、数量、ポートを追跡調査している。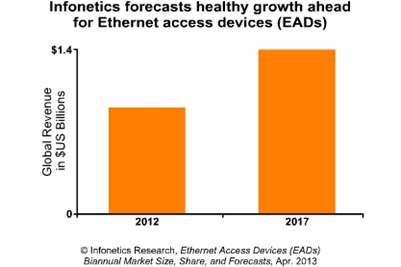 アナリストノート
「銅線の時代は終わったと言われている。しかし、まだ終わっていない。Ethernetサービスで、限定的だが重要な役割がある。これは、EFM (Ethernet in the first mile) 接着銅線の継続的な成長によって明らかとなった」としたうえで、「高いキャパシティとリーチを持つEFMは、光ファイバーがふさわしくない場所での有用かつ効果的な代替手段となっている」と、Infonetics Researchの共同設立者でキャリアネットワークの主席アナリストであるMichael Howardはコメントしている。

「光ファイバーEADはEAD市場の大半を占めているとはいえ、モバイルバックホールネットワークと企業間接続のキャパシティと効率性を改善するにつれて、オペレーターは今後5年間でEFM接着銅線 EADに累積で15億ドルを投資するとみている (全EADの累積は58億ドル) 」とHowardは続けて述べている。
EAD市場のハイライト
2012通年でのグローバルなEthernetアクセスデバイス (EAD)市場は3.5%増加して860百万ドルとなった。ただし、2012年下半期は 経済環境要因およびキャリアによる投資の一時的な落ち込みにより伸び率が鈍化した。
現在、10/100M銅線と1GファイバーがEADポートのほとんどを占めているが、10Gファイバーが急速に成長しており、Infoneticsでは2017年にかけてCAGR(年平均増加率)117%で成長すると予測している。
成長は鈍化しているものの、Ethernet over TDM (EoTDM) 接着サーキットはニッチ市場であり、E1やT1を組み合わせる廉価な手段を提供するだろう。
2年連続でEAD市場の5大企業は(アルファベット順に) Actelis, ADVA, Ciena, Overture, RAD である。
EAD REPORT SYNOPSIS
Infonetics' biannual Ethernet access devices report provides worldwide and regional market size, vendor market share, forecasts through 2017, analysis, and trends for copper and fiber EADs and ports by speed. Companies tracked: Accedian, Actelis, ADTRAN, ADVA, Canoga Perkins, Ciena, FibroLAN, IPITEK, MRV, Omnitron OMS, Overture, RAD, Tellabs, Telco Systems, Zhone, and others
(原文)

Investment in copper Ethernet access devices (EADs) challenges claim that copper is 'dead'
Campbell, CALIFORNIA, April 18, 2013-Market research firm Infonetics Research released excerpts from its latest Ethernet Access Devices market share, market size, and forecasts report, which tracks revenue, units, and ports for copper and fiber Ethernet access devices (EADs).
ANALYST NOTE
"People keep saying that copper's dead, but it's not-it has a limited but important role for Ethernet services, as evidenced by the continued growth of EFM (Ethernet in the first mile) bonded copper," notes Michael Howard, principal analyst for carrier networks and co-founder of Infonetics Research. "EFM's high capacities and reach make it a useful and effective alternative where fiber isn't justified."

Continues Howard, "While fiber EADs represent the majority of the EAD market, we expect operators to spend a cumulative $1.5 billion on EFM bonded copper EADs over the next 5 years (out of a cumulative $5.8 billion total for all EADs) as they increase the capacity and efficiency of mobile backhaul networks and business connections."
EAD MARKET HIGHLIGHTS
For the full year 2012, the global Ethernet access device (EAD) market grew 3.5%, to $860 million, with growth hesitating as a result of economic conditions and a lull in carrier spending in the 2nd half of 2012
10/100M copper and 1G fiber dominate EAD ports today, but 10G fiber is growing fast, forecast by Infonetics to grow at a 117% CAGR through 2017
Though in slow decline, Ethernet over TDM (EoTDM) bonded circuits will remain a niche market, providing an inexpensive way to combine several E1s or T1s
For the second consecutive year, the top 5 revenue share leaders in the EAD market are (in alphabetical order) Actelis, ADVA, Ciena, Overture, and RAD