2013年5月10日米国カリフォルニア州キャンベル発―Infonetics Researchは、Carrier Ethernet Equipment市場の規模と予測に関する最新レポートからの抜粋を公開した。レポートでは、サービスプロバイダーネットワークにおける通信事業者向けイーサネット製品の利用度、普及率、およびそれらへの投資規模を追跡調査している。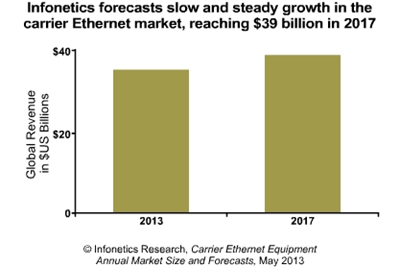 アナリストノート
Infonetics Researchの共同設立者であり、通信事業者ネットワークの主任アナリストを務めるMichael Howard氏は次のように述べる。「通信事業者イーサネットは今やサービスプロバイダーネットワークにとって永続的に必要不可欠なものとなっており、結果として市場への投資は安定期に入っています。SONET/SDHやWDMのような旧来の技術への支出は抑えられていくでしょうが、IPルーター、通信事業者向けイーサネットスイッチ、およびイーサネット接続機器への投資は、IPNGNへの移行、そしてもちろん、トラフィックの増加、特にビデオトラフィックの増加に引っ張られる形でこれからも上昇し続けるでしょう。」

Howardはこう付け加える。「通信事業者イーサネット市場は今後5年間ゆっくりではありますが着実な成長を続け、2017年までにおよそ390億ドル規模に達すると当社は見ています」
通信事業者イーサネット機器市場のハイライト
世界の通信事業者イーサネット機器市場は、2011年に13%におよぶ急上昇を遂げた後、2012年には3%減少して340億ドル規模となった。
IPエッジルータへの支出は、2012年に通信事業者イーサネット機器分野で最大の総額94億ドルとなった 。
現在は通信事業者イーサネット機器の収益でアジア太平洋地域が最大の部分を占め、EMEA (欧州、中東、アフリカ) がそれに続く形だが、Infonetics Researchの予想では、2017年までに北米がEMEAを追い越して第2位の通信事業者イーサネット市場となる 。
Infonetics Researchは、2017年までに1ギガビットから10ギガビットイーサネットへの移行が急速に進み、世界の通信事業者イーサネット機器のポート数が9,500万に達すると見積もっている 。
CARRIER ETHERNET REPORT SYNOPSIS
Infonetics' annual Carrier Ethernet report provides worldwide and regional market size, forecasts through 2017, analysis, and trends for the Ethernet portion of equipment used in carrier networks, including switches, IP core and edge routers, SONET/SDH, WDM, VDSL, Ethernet access device (EAD), EPON, and microwave equipment, as well as ports by speed. Companies tracked: Actelis, ADTRAN, ADVA, Alcatel-Lucent, Brocade, BTI Systems, Calix, Ceragon, Ciena, Cisco, Cyan, DragonWave, Ericsson, Extreme, Fujitsu, Huawei, Infinera, Juniper, NEC, Nokia Siemens Networks, RAD Data, Telco Systems, Tellabs, Transmode, Zhone, ZTE, and others.
(原文)

Carrier Ethernet market to top $39B by 2017
Campbell, CALIFORNIA, May 10, 2013-Market research firm Infonetics Research released excerpts from its latest Carrier Ethernet Equipment market size and forecast report, which tracks investment in, penetration of, and use of carrier Ethernet products in service provider networks.
ANALYST NOTE
"Carrier Ethernet is now a permanent, inseparable part of service provider networks, and the market has reached a steady state of investment as a result," notes Michael Howard, principal analyst for carrier networks and co-founder of Infonetics Research. "Though spending on legacy technologies like SONET/SDH and WDM will decline, investment in IP routers, carrier Ethernet switches, and Ethernet access devices will continue to rise, driven by the move to IP NGN and, of course, growing traffic-particularly video traffic."

Howard adds: "We see the carrier Ethernet market growing slow but steady over the next 5 years, reaching about $39 billion in 2017."
CARRIER ETHERNET EQUIPMENT MARKET HIGHLIGHTS
The global carrier Ethernet equipment market declined 3% to $34 billion in 2012, following a 13% spike in 2011
Spending on IP edge routers totaled $9.4 billion in 2012, the most of any carrier Ethernet equipment segment
Asia Pacific currently accounts for the greatest portion of carrier Ethernet equipment revenue, followed by EMEA (Europe, the Middle East, and Africa); by 2017, Infonetics expects North America will have passed EMEA to become the 2nd largest carrier Ethernet market
Infonetics projects Carrier Ethernet equipment ports will top 95 million worldwide by 2017, with 10 Gigabit Ethernet growing fast to pass 1 Gigabit Ethernet