2013年5月15日米国カリフォルニア州キャンベル発―Infonetics Researchは、最新のResidential Gateway Strategies: Global Service Provider Surveyから抜粋を発表した。この調査では、レジデンシャルゲートウェイに関するサービスプロバイダの導入戦略、導入方法の他、彼らが選ぶレジデンシャルゲートウェイのベンダーやサービス、技術、機能などを取り扱っている。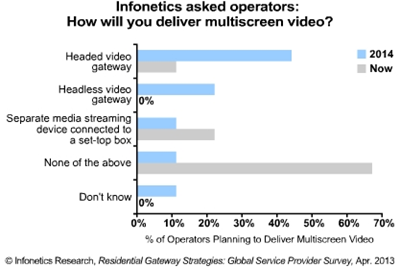 アナリストノート
「サービスプロバイダは、固定ブロードバンド網における戦略を変え続け、契約者の接続規模のみならず、こうしたブロードバンド接続から生み出せるサービスや収入などにも注目しています。レジデンシャルゲートウェイは、家庭内にこのようなサービス、特にビデオサービスを確実に届ける上で必要不可欠です」

Infonetics Research でブロードバンドアクセス及びペイTV担当のディレクティングアナリストを務めるJeff Heynenが説明する。

「我々の最新調査では、レジデンシャルゲートウェイを利用してマルチスクリーンビデオ(無線による携帯、PC、タブレットへのビデオ配信)を提供するサービスプロバイダの割合が急増しており、2014年には現在の僅か6%から50%まで伸びると見られています」

そして、Heynenはこう続ける。

「彼らは、ベーシックなペイTVサービスの差別化を図ると同時に、他社への顧客流出や増え続けるコード・カッティングを防止したい考えです」
レジデンシャルゲートウェイ調査のハイライト
サービスプロバイダが挙げるレジデンシャルゲートウェイの主な利用方法は、ブロードバンドデータ、IPTV、WiFiホットスポット、VoIPであった。
レジデンシャルゲートウェイを通じてホームオートメーションサービスを提供するサービスプロバイダの数は、2014年までに44%へ増加する見込みである。
回答企業の大半が、銅線イーサネットを利用してブロードバンドサービスを提供している。
HuaweiとZTEは、回答企業の33%以上がレジデンシャルゲートウェイのトップベンダーであると認識している。
REPORT SYNOPSIS
For its 24-page residential gateway survey, Infonetics interviewed incumbent and competitive telecom operators in North America, EMEA, Latin America, and Asia Pacific about residential gateway deployment strategies, residential gateway vendors, features, services, technologies (VDSL/VDSL2, GPON, Ethernet, DOCSIS, LTE, etc.), and interfaces (Gigabit Ethernet, 802.11n/ac, USB, HomePlug AV, MoCA, Zigbee, Z-Wave, coaxial, etc.). Vendors named by service providers in response to open-ended questions in the survey include Actiontec, ADB/Pirelli, Alcatel-Lucent, AVM, Calix, Comtrend, D-Link, FiberHome, Huawei, Humax, Motorola, NETGEAR, Pace, Sagemcom, Samsung, Technicolor, TP-Link, Zhone, ZTE, ZyXEL, and others.
(原文)

Multiscreen video delivery via residential gateways a fast-growing trend, shows Infonetics study
Campbell, CALIFORNIA, May 15, 2013-Market research firm Infonetics Research released excerpts from its latest Residential Gateway Strategies: Global Service Provider Survey, which delves into service providers' strategies for deploying residential gateways, the applications driving their deployments, and their top picks for residential gateway vendors, services, technologies, and features.
ANALYST NOTE
"Operators continue to morph their fixed broadband network strategies to focus not only on the size of the connection to the subscriber, but also on the services and revenue these broadband connections can deliver. Residential gateways are critical to ensuring the successful delivery of these services within the home, particularly video services," notes Jeff Heynen, directing analyst for broadband access and pay TV at Infonetics Research.

"Our recent survey shows the percentage of operators offering multiscreen video (wireless delivery of video to mobile phones, PCs, and tablets) using a residential gateway is growing quickly, from just 6% today to 50% by 2014," continues Heynen. "They're looking to differentiate basic pay TV services and keep customers from moving to competitors or, increasingly, cutting the cord entirely."
RESIDENTIAL GATEWAY SURVEY HIGHLIGHTS
Broadband data, IPTV, WiFi hotspot access, and VoIP are the main applications operator respondents are currently offering using a residential gateway
The number of operators offering home automation services using a residential gateway grows to 44% by 2014
Well over half of respondents are using copper Ethernet to deliver broadband services
Huawei and ZTE are perceived as the top residential gateway vendors by over a third of survey respondents