2013年6月5日米国カリフォルニア州キャンベル発―Infonetics Research は第1四半期 (1Q13)の Network Security Appliances and Software 市場シェア・予測レポートからその概要をリリースした。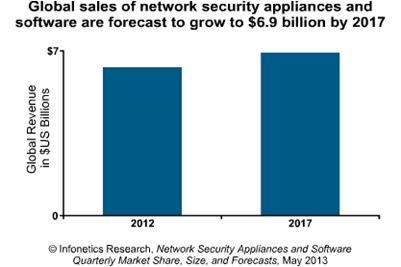 アナリストノート
「顧客はセキュリティ状態の向上に寄与しないソリューションへの投資に疲れており、今は変化を求めている」としたうえで、「ネットワークセキュリティベンダーのトップ3であるCisco、Check Point、Juniperの地位は5年間安泰だったが、有効性への極端なフォーカスや、統合された脅威へのマネジメントや次世代ファイアーウォール機能を備えた製品への移行により、今年のベンダーシェアは変化するだろう」と、Infonetics Researchでセキュリティを担当している主席アナリストJeff Wilsonは述べている。
ネットワークセキュリティ市場のハイライト
世界的なネットワークセキュリティ市場(機器とソフトウェア) は4Q12から1Q13にかけて9.3%減少し15億ドルとなった。
前年の第1四半期との比較ではネットワークセキュリティ機器とソフトウェアの売上は1.7%増加した。
2013 年の最初は多くの主要ネットワークセキュリティベンダーにとって弱いスタートとなったが、Palo Alto Networks とWatchGuard は季節要因的な落ち込みをカバーし1Q13年に売上をわずかに増加させた。
高いセキュリティ有効性と優れた性能を持つ新たなソリューションは少なくとも2017年にかけてネットワークセキュリティ機器とソフトウェアに対する支出を促すことになるだろう。
REPORT SYNOPSIS
Infonetics'quarterly network security report provides worldwide and regional market size, vendor market share, forecasts through 2017, analysis, and trends for integrated security appliances, secure routers, SSL VPN gateways, VPN and firewall software, and network-based intrusion detection and prevention (IDS/IPS) products. Vendors tracked: AEP, Alcatel-Lucent, Array Networks, CA, Check Point, Cisco, Citrix, Dell Sonicwall, D-Link, Enterasys, eSoft, F5, Fortinet, GTA, HP, Huawei, Intrusion, ISS, Juniper, McAfee, Netasq, Palo Alto Networks, Sourcefire, Stonesoft, Watchguard, Zyxel, and others.
(原文)

New network security solutions will stimulate spending, shift vendor standings
Campbell, CALIFORNIA, June 5, 2013-Market research firm Infonetics Research released excerpts from its 1st quarter (1Q13) Network Security Appliances and Software market share and forecast report.
ANALYST NOTE
"Customers are tired of investing in solutions that don't really improve their security posture and are looking to make changes," notes Jeff Wilson, principal analyst for security at Infonetics Research. "Though the top 3 network security vendors -- Cisco, Check Point, and Juniper -- have been fairly steady over the last 5 years, an extreme focus on efficacy and the move towards products with unified threat management or next-gen firewall features will drive vendor share changes this year."
NETWORK SECURITY MARKET HIGHLIGHTS
The global network security market (appliances and software) declined 9.3% in 1Q13 from 4Q12, to $1.5 billion
From the year-ago 1st quarter, network security appliance and software revenue is up 1.7%
2013 began with a whimper for many of the leading network security vendors, but Palo Alto Networks and WatchGuard bucked the seasonal slump, posting slight growth in 1Q13
New solutions that offer improved security efficacy and huge performance increases will stimulate spending on network security appliances and software through at least 2017