2013年6月5日米国カリフォルニア州キャンベル発―Infonetics Research は第1四半期(1Q13)のContent Security Gateway Appliances, Software, and SaaS 市場シェア・予測レポートからその概要をリリースした。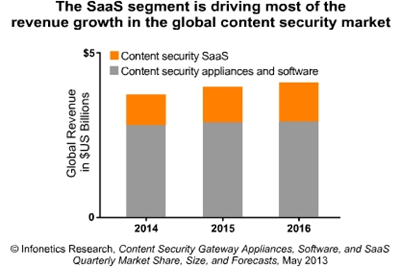 アナリストノート
「コンテンツセキュリティ業界にいるベンダーは主要な事業上の問題を解決し、複数の変化を管理し続けてきた」としたうえで、「Blue Coatはリ・ポジショニングをアナウンスしたところであり、セキュリティに真正面から取り組むものの業務範囲も拡大するという。そして Websenseは最近Vista Partners によって買収されて非上場となり、長期的な成長戦略にフォーカスするだろう。こうした動きは2013年の市場シェアに対して開かれた機会となる」と、Infonetics Researchでセキュリティを担当している主席アナリストJeff Wilsonは述べている。
コンテンツセキュリティ市場のハイライト
世界的なコンテンツセキュリティゲートウェイ機器とソフトウェアの売上は4Q12から1Q13にかけて6%減少し、6億9900万ドルになった。
コンテンツセキュリティ市場での明るい材料はSaaS (ソフトウェア・アズ・ア・サービス)で、世界的な売上は前年の第1四半期から44%増加し、2012年から 2017年にかけてのCAGR(年平均増加率)は17%になると予測されている。
コンテンツセキュリティSaaS市場における当初からの最大手にはMicrosoft、Symantec、McAfee、Cisco、 Proofpoint がある。
REPORT SYNOPSIS
Infonetics' quarterly content security report provides worldwide and regional market size, vendor market share, forecasts through 2017, analysis, and trends for content security gateway software (messaging, web/malware), gateway appliances (messaging, web/malware, integrated), and SaaS (messaging, web/malware). Vendors tracked: Barracuda, Blue Coat, Cisco, Citrix, McAfee, Sonicwall, Symantec, Trend Micro, Websense, and others.
(原文)

Vendor share shakeups expected in content security market in 2013
Campbell, CALIFORNIA, June 5, 2013-Market research firm Infonetics Research released excerpts from its 1st quarter (1Q13) Content Security Gateway Appliances, Software, and SaaS market share and forecast report.
ANALYST NOTE
"Vendors in the content security space continue to sort out major business issues and manage multiple transitions," notes Jeff Wilson, principal analyst for security at Infonetics Research. "Blue Coat just announced its repositioning, which focuses the company squarely on security but broadens its reach. And Websense was recently bought out by Vista Partners, who will take it private and focus on long-term growth strategies. These events open opportunities for serious market share changes in 2013."
CONTENT SECURITY MARKET HIGHLIGHTS
Globally, content security gateway appliance and software revenue was down 6% between 4Q12 and 1Q13, falling to $699 million
The bright spot of the content security market is SaaS (software-as-a-service), with global sales up 44% from the year-ago 1st quarter, and a 17% CAGR forecast from 2012 to 2017
Early leaders in the content security SaaS market include Microsoft, Symantec, McAfee, Cisco and Proofpoint