2013年6月7日米国マサチューセッツ州ボストン発―Infonetics Researchは複数の支払い方法、サービスタイプ、アクセスネットワークの収斂及びコンサルティング、インテグレーション、サービス管理との関連を含む、マルチ決済システムを処理する為に構築された課金ソフトウェアについて調査した、最新の統合課金ソフトウェア及びサービス(Convergent Charging Software and Services)レポートからの抜粋をリリースした。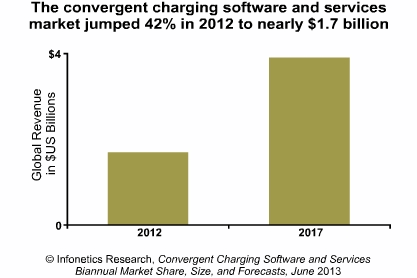 アナリストノート
「急速なデータトラフィックの増加はネットワークに重い負担をかけ続け、事業者は消費されるリソースの数値と請求価格とを、更に密接に関連付けようとしています」Infonetics Researchのサービス機能割賦及び加入者情報担当アナリストShira Levineは指摘する。

「ハイブリッド・アカウント、共有データプラン、コンテンツパッケージ、ロケーションベースの価格設定のような新しいサービス及び支払いモデルは、全てがネットワークから更に多くの収益を生み出しつつ自社を差別化しようとする業者の方策が反映されています」Levineは更に付け加える「しかしながら、しばしばそのボトルネックとなるのは旧態依然の請求書作成及び課金環境にあります」
統合課金市場のハイライト
ソフトウェア及びサービスを含むグローバルな統合課金マーケットは2012年に42%成長して17億ドル市場近くまでになり、2013年まで健全な成長が継続すると予想される。
西ヨーロッパ各地域で進行中の出費減速は、残りのヨーロッパ、ラテンアメリカ、アジア太平洋地域先進国の勢いによって埋め合わされている。
全面的な支払請求の変革プロジェクトは極めてまれであり、大多数はプロジェクトの補助やオーバーレイとして展開されている。
Ericsson (Telcordia)はHuaweiにぴったりと追走されつつも、統合課金マーケットをリードしている。
スワップアウトやシステムによるスペース増大よりも、統合課金の方が機能豊富かつフレキシブルで拡大縮小可能であると通信事業者が既存の解決法を再考するにつれ、置換は活発になるであろうとInfoneticsは予測する。
REPORT SYNOPSIS
Infonetics' biannual convergent charging report provides worldwide and regional market size, market share, forecasts through 2017, analysis, and trends for convergent charging software and services, and includes a convergent charging product roadmap and strategic outlook. Vendors tracked: Alcatel-Lucent, Amdocs, Convergys, Comverse, CSG Systems, Ericsson, Hewlett-Packard, Huawei, Nokia Siemens Networks, Openet, Oracle, Orga Systems, Volubill, and others.
(原文)

Operators investing in convergent charging to bypass the billing bottleneck
Boston, Boston, MASSACHUSETTS, June 7, 2013-Market research firm Infonetics Research released excerpts from its latest Convergent Charging Software and Services report, which tracks charging software built to handle multiple dimensions of convergence, including convergence across payment methods, service types and access networks, along with related consulting, integration, and managed services.
ANALYST NOTE
"As the rapid ramp-up in data traffic continues to strain the network, operators are looking to better correlate the value of resources consumed to the price charged," notes Shira Levine, directing analyst for service enablement and subscriber intelligence at Infonetics Research.

"New service and payment models such as hybrid accounts, shared data plans, content packages, and location-based pricing all represent ways for operators to differentiate themselves while generating more revenue from their networks," Levine adds. "But the bottleneck is frequently their legacy billing and charging environments."
CONVERGENT CHARGING MARKET HIGHLIGHTS
The global convergent charging market, including software and services, grew 42% in 2012 to just under $1.7 billion, with healthy growth expected to continue in 2013
Ongoing spending slowdowns in beleaguered Western Europe are being countered by momentum in the rest of Europe, Latin America, and developed countries in Asia Pacific
Full-scale billing transformation projects are few and far between, with the majority of deployments occurring as a result of adjunct or overlay projects
Ericsson (Telcordia) leads the convergent charging market, followed closely by Huawei
Infonetics anticipates more replacement activity in the convergent charging space as operators rethink their existing solutions, swapping them out or augmenting them with systems that are more feature-rich, flexible, and scalable