2013年6月12日米国カリフォルニア州キャンベル発―Infonetics はその第1四半期2013年の(1Q13)の、ケーブル・ブロードバンド機器と加入者を調査対象とした、CMTS及びEdge QAMハードウェアと加入者の市場規模、市場占有率、市場予測リポートからの抜粋をリリースした。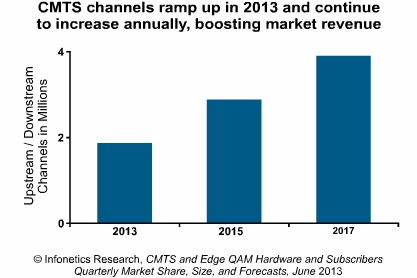 アナリストノート
「CCAP(統合型ケーブル・アクセス・プラットホーム)実装が迫ると共に、2013年を通じてCMTSとエッジQAMチャンネルの出荷と収益に押し上げられたCMTS/CCAP購入のゆるやかな高まりを見る事になると弊社は予測します」Infonetics Researchのブロードバンド・アクセス及びペイTV担当主要アナリストJeff Heynenは指摘する。「更に重要なのは、このステージはCCAP展開が本格的に開始される2014年に、より大きな成長を見せるように準備されているという事です」
2013年第1四半期CMTS及びエッジQAM市場のハイライト
世界的なCMTS及びエッジQAM収益は2013年第1四半期において、2012年第4四半期から9%上昇、前年同期比率では25%下落の、3億2,700万ドルに増加した。
より低コストのCMTSダウンストリーム チャネルの出荷が2013年第1四半期の製品構成比において支配的だった。
西ヨーロッパのケーブル通信事業者がDOCSIS 3.0をアップグレードし復調するにつれ、EMEA(ヨーロッパ、中東及びアフリカ)は不調を脱し、CMTS収益は2013年第1四半期を通じて114%上昇し、 CMTSチャンネルは121%上昇した。

Cableco UPCがtelco FTTX initiativesと競争する為に、そのスピードTierを拡張する大掛かりな取り組みを公表した。

Ciscoは2013年第1四半期に好調に転換し、CMTS収益の市場占有率(前四半期比20%増)、チャンネル出荷(43%増)共にトップに返り咲いた。
REPORT SYNOPSIS
Infonetics' quarterly CMTS and edge QAM report provides worldwide and regional market size, vendor market share, forecasts through 2017, analysis, and trends for CMTS and edge QAM (linear broadcast, VoD and unicast video, switched digital video, and DOCSIS/M-CMTS) equipment and cable broadband subscribers (standard and wideband), and CCAP. Companies tracked: Arris, Big Band Networks, Casa Systems, Cisco, Ericsson, Harmonic, Motorola, and others.
(原文)

CCAP deployments imminent, expected to spark cable broadband market
Campbell, CALIFORNIA, June 12, 2013-Market research firm Infonetics Research released excerpts from its 1st quarter 2013 (1Q13) CMTS and Edge QAM Hardware and Subscribers market size, market share, and forecast report, which tracks cable broadband equipment and subscribers.
ANALYST NOTE
"With CCAP (converged cable access platform) deployments pending, we expect to see a slow boil of CMTS/CCAP purchases throughout 2013, pushing CMTS and edge QAM channel shipments and revenue up," notes Jeff Heynen, principal analyst for broadband access and pay TV at Infonetics Research. "More importantly, the stage is being set for even bigger growth in 2014, when CCAP deployments begin in earnest."
1Q13 CMTS AND EDGE QAM MARKET HIGHLIGHTS
Worldwide CMTS and edge QAM revenue increased to $327 million in 1Q13, up 9% from 4Q12 though down 25% year-over-year
Lower-cost CMTS downstream channel shipments dominated the product mix in 1Q13
EMEA broke out of its slump as cable operators in Western Europe resumed their DOCSIS 3.0 upgrades: CMTS revenue rose 114% sequentially in 1Q13, and CMTS channels grew 121%

Cableco UPC announced major efforts to expand its speed tiers to compete with telco FTTX initiatives

Cisco turned in a strong 1Q13 and is back on top in both CMTS revenue market share (up 20% quarter-over-quarter) and channel shipments (up 43%)