2013年6月14日米国カリフォルニア州キャンベル発―Infonetics Researchは2013年第1四半期(1Q13)における、企業向けセッションボーダー・コントローラ(eSBC)製造業者の収益、システム規模及びビジネス規模毎の販売セッション数を調査対象とした、企業向けセッションボーダー・コントローラ(Session Border Controller)リポートからの抜粋をリリースした。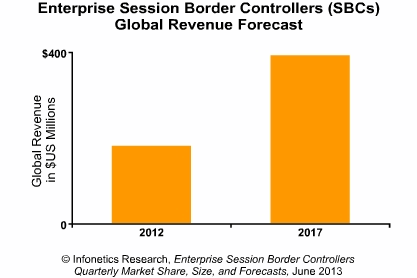 アナリストノート
「企業向けSBC市場では、別のネットワーク要素に統合されたものであれ、スタンドアローンデバイスとしてであれ、20以上のベンダーが何らかの形でSBC機能を提供しているという、非常にダイナミックな競争が行われています」Infonetics Research のVoIP、UC、IMS担当主任アナリストDiane Myersは指摘する。「そしてトップ争いは非常に熾烈であり、Cisco、Acme Packet、Sonus Networksの2013年第1四半期(1Q13)における売上金額の差は1パーセントポイント以内でした」

Myersは更に付け加えた。「一方、より小さな企業向けSBCベンダーの多くがビッグ3のシェアに食い込もうとし続けています」
2013年第1四半期企業向けSBC市場のハイライト
企業向けSBCは、2013年には世界的収益が約30%の増加を見せるとInfonetics は予測する。
北アメリカにおける企業向けSBCに対する需要は非常に強力に続いており、2013年の各期は前年比27%増になると予測される。
従業員101~5,000人規模の企業が2013年第1四半期における出荷の73%という、最も大きな部分を担っていた。
REPORT SYNOPSIS
Infonetics' quarterly enterprise SBC report provides worldwide and regional market size, market share, forecasts through 2017, analysis and trends for enterprise SBC revenue and sessions by system and business size in North America, Asia Pacific, EMEA (Europe, Middle East and Africa) and Latin America. Companies tracked: Acme Packet, Adtran, Audiocodes, Avaya, Cisco, Dialogic, Edgewater, Ingate, Innomedia, Media5, Oneaccess, Sangoma, Siemens Enterprise, Sonus Networks and others.
(原文)

Cisco, Acme Packet, Sonus vie for lead in growing enterprise SBC market
Campbell, CALIFORNIA, June 13, 2013-Market research firm Infonetics Research released excerpts from its 1st quarter 2013 (1Q13) Enterprise Session Border Controllers report, which tracks enterprise session border controller (eSBC) manufacturer revenue and the number of sessions sold by system size and business size.
ANALYST NOTE
"Competition in the enterprise SBC market is very dynamic, with more than 20 vendors offering some form of SBC functionality, either integrated in another network element or as a standalone device," notes Diane Myers, principal analyst for VoIP, UC and IMS at Infonetics Research. "And it's extremely tight at the top, where Cisco, Acme Packet and Sonus Networks were within 1 revenue share percentage point of each other in 1Q13."

Myers adds: "Meanwhile, many of the smaller enterprise SBC vendors continue to make inroads on the big 3."
1Q13 ENTERPRISE SBC MARKET HIGHLIGHTS
Infonetics expects about a 30% jump in global revenue in 2013 for enterprise SBCs
Demand for enterprise SBCs in North America continues to be very strong: sessions are expected to grow 27% year-over-year in 2013
Enterprises with between 101-5,000 employees made up the largest segment of sessions in 1Q13, with 73% of shipments