2013年6月20日米国カリフォルニア州キャンベル発―Infonetics Researchは、2013年第1四半期(1Q13)の3G and 4G Mobile Broadband Devices and Subscribers の市場シェア、規模、予測に関する報告から抜粋を発表した。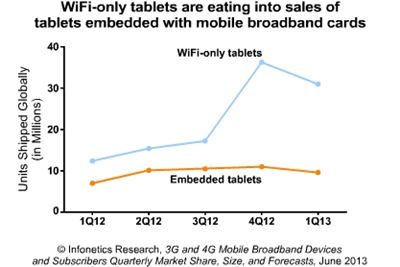 この総合レポートでは、スマートフォン、オペレーティングシステム(OS)、ルータ、カード、USB、組込み型端末(タブレットなど)、契約者などを含む、50を超えるモバイルブロードバンド市場のセグメントとサブセグメントについて、ロング・ターム・エボリューション(LTE)、W-CDMA/HSPA、その他ネットワークを含む接続ネットワークの種類に分類して追跡調査を行なっている。
アナリストノート
「GoogleのNexus 7、AmazonのKindle Fireといった、低価格のWiFi専用タブレットに対する人気の高まりが、組込み型モバイルブロードバンドカードに直接的でネガティブな影響を与えています。というのも、組込み型端末の売上は、大部分がインターネット接続端末によるものだからです。」

Infonetics Researchで無線及びキャリアWiFi担当のディレクティングアナリストを務めるRichard Webbは、そのように説明し、更に次のように付け加えた。
「組込み型カードセグメントの出荷数と収入は、前期比と前年同期比の両方で1Q13に2桁減となりました。」
1Q13のモバイルブロードバンド市場のハイライト
世界の3G/4G対応ブロードバンド端末市場(スマートフォン、組込み型端末、ルータ含む)は、1Q13に930億ドルを記録し、4Q12から6%減となった。
タブレットは、1Q13に組込み型端末における出荷数の89%を占めた。
FDD-LTE対応モバイルブロードバンドタブレットは、2017年までにWiFi専用タブレットを収入シェアで追い越し、インターネット接続タブレットの値上げが重要な鍵を握ることになると、Infoneticsは予測している。
Windows 8は、スマートフォンのオペレーティングシステム(OS)セグメントに食い込もうとしているが、1Q13はブラックベリーを抜き去って3位に浮上し、圧倒的なシェアを誇るAndroidとiOSの背後に付けた。
タブレットは、ネットブックに致命的な打撃を与えている。この影響により、ネットブック製造業者のAcerとAsusは同製品の生産中止に関する計画を発表した。
REPORT SYNOPSIS
Infonetics' quarterly mobile broadband report provides worldwide and regional market size, vendor market share, forecasts through 2017, analysis and trends for smartphones, smartphone OS (Android, Blackberry, iPhone, Linux, Palm, Symbian, Windows Mobile, other), netbook OS (Linux, Mac, Windows, other), tablet OS (Android, iOS, Windows, other), USBs, cards, routers, embedded devices (PCs, netbooks, tablets, mobile internet devices) and subscribers. Companies tracked: Apple, Dell, HTC, Huawei, LG, Motorola, Nokia, Novatel Wireless, Qualcomm, RIM, Samsung, Sierra Wireless, Sony, ZTE and others.
(原文)

WiFi tablets pressuring embedded mobile broadband card market
Campbell, CALIFORNIA, June 21, 2013-Market research firm Infonetics Research released excerpts from its 1st quarter 2013 (1Q13) 3G and 4G Mobile Broadband Devices and Subscribers market share, size and forecasts report.
The comprehensive report tracks over 50 mobile broadband market segments and sub-segments, including smartphones, operating systems (OS), routers, cards, USBs, embedded devices (such as tablets) and subscribers, all by the type of network they connect to, including Long Term Evolution (LTE), W-CDMA/HSPA and other networks.
ANALYST NOTE
"The growing popularity of low-cost, WiFi-only tablets like Google's Nexus 7 and Amazon's Kindle Fire is having a direct and negative impact on embedded mobile broadband cards, as the vast majority of embedded device units come from connected tablets," notes Richard Webb, directing analyst for microwave and carrier WiFi at Infonetics Research.

Richard Webb continues, "Both unit shipments and revenue for the embedded card segment sank by double digits in 1Q13 from the previous quarter and the year-ago quarter."
1Q13 MOBILE BROADBAND MARKET HIGHLIGHTS
The global 3G/4G mobile broadband device market, including smartphones, embedded devices and routers, totaled $93 billion in 1Q13, dropping off 6% from 4Q12
Tablets comprised 89% of embedded device units in 1Q13
By 2017, Infonetics expects FDD-LTE mobile broadband tablets to edge out WiFi-only tablets in revenue share, with the higher selling price of connected tablets playing a key role
Windows 8 is struggling to make a dent in the smartphone operating system (OS) segment, but did pass Blackberry in 1Q13 to take 3rd place behind big gorillas Android and iOS
Tablets have dealt a death blow to the netbook: leading netbook manufacturers Acer and Asus announced plans to cease production of netbooks