2013年8月1日米国マサチューセッツ州ボストン発―Infonetics Researchは、2013年版コンバージェント チャージング戦略とベンダー リーダーシップ : グローバルサービスプロバイダー調査(Convergent Charging Strategies and Vendor Leadership: Global Service Provider Survey)からの抜粋を公表した。内容は、通信事業者のコンバージェント チャージング ソリューションの展開プランとコンバージェント チャージング サプライヤーへの認識について調査するもの。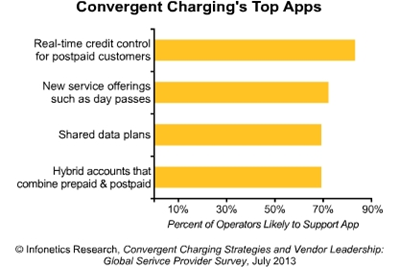 アナリストノート
Infonetics Researchでサービス実施可能性と加入者インテリジェンスを担当するアナリスト、Shira Levine氏は次のように語る。「コンバージェント チャージングはもはや支払いだけに関係するものではありません。通信事業者は、新しいサービスの市場投入までの時間を短縮し、より革新的な製品とバンドルを創り出して提供するための重要な手段だと見ています。そして、サービスプロバイダーがベンダーに求める製品の信頼性の向上、スケーラビリティと豊富なコンフィギュレーションの構築の水準はますます上がっています。」
コンバージェント チャージング調査のハイライト
コンバージェント チャージングへの投資を加速する他の要因として、データサービスの収益化の改善、マーケティング活動のサポート、オーバーザトップ (OTT) ネット配信事業者に対する競争力の強化が挙げられる。
回答者の38%がコンバージェント チャージングの展開が既存のソフトウェアベースのチャージング システムを置き換えつつあるか、置き換えるだろうと答えている。

Infoneticsは、この動きが第一世代コンバージェント チャージング システムの交換サイクルの始まりの兆候だと考えている。

コンバージェント チャージングを「所有」するのはIT部門が最もふさわしいが、回答者の62%がコンバージェント チャージングの購入決定には複数の部門が関与していると答えた。
コンバージェント チャージング ベンダーのトップ3を挙げるように頼むと、通信事業者は圧倒的にEricssonを挙げ、2位にAmdocs、そしてHuaweiが続いた。
ABOUT THE STUDY
Infonetics' 25-page convergent charging survey explores operator plans for deploying convergent charging solutions and features a scorecard with operator ratings of 10 convergent charging suppliers (Alcatel-Lucent, Amdocs, CSG International, Comverse, Ericsson, HP, Huawei, Netcracker/Convergys, Oracle, Redknee/Nokia Siemens Networks) on 9 criteria. Infonetics interviewed purchase-decision makers for convergent charging software and related services at 29 mobile, convergent, cable, and satellite operators in EMEA, Asia, North America, and Latin America.
(原文)

Faster time-to-market driving operator investments in convergent charging
Boston, MASSACHUSETTS, August 1, 2013-Market research firm Infonetics Research released excerpts from its 2013 Convergent Charging Strategies and Vendor Leadership: Global Service Provider Survey, which explores operators' plans for deploying convergent charging solutions and their perceptions of convergent charging suppliers.
ANALYST NOTE
"Convergent charging isn't just about payment anymore. Operators view it as a key tool in shortening the time-to-market for new services and in creating and delivering more innovative products and bundles," relays Shira Levine, directing analyst for service enablement and subscriber intelligence at Infonetics Research. "And increasingly, service providers are pressuring their vendors to up the ante by building improved reliability, scalability and configurability into their products."
CONVERGENT CHARGING SURVEY HIGHLIGHTS
Other leading factors driving convergent charging investments include better monetization of data services, support of marketing initiatives, and countering competition from over-the-top (OTT) players
38% of respondents say their convergent charging deployments are or will be replacing existing software-based charging systems

Infonetics believes this could signal the start of a replacement cycle of 1st-generation convergent charging systems

Though IT departments are most likely to "own" convergent charging, 62% of respondents indicated that multiple departments are involved in convergent charging purchase decisions
When asked to name the top 3 convergent charging vendors, operators overwhelmingly cited Ericsson; coming in at #2 was Amdocs, followed by Huawei