2013年8月20日米国カリフォルニア州キャンベル発―Infonetics Researchは、 Service Provider VoIP and IMS Equipment and Subscribers2013年第2四半期アップデートから、ベンダー市場シェア、予測に関する分析速報をリリースした。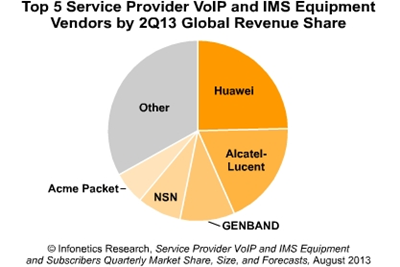 アナリストノート
「IMS機器は公式にはLTEとvoice-over-LTEの世界に移行しており、いま、これが戻ることはないだろう」としたうえで、「第2四半期には、セッションボーダーコントローラーとVoLTE接続向けIMSコア機器、相互接続 (LTEから3Gへ)の発展に対して、こうした影響の支出が見られるだろう」と、Infonetics ResearchでVoIP、UC、IMSを担当している主席アナリストDiane Myersは述べている。

「LTEとVoLTEに関連する機器の売上は伸びているものの、四半期ベースでは増減の波が引き続き大きいだろう」ともMyersは述べている。
2Q13のキャリアVOIP/IMS市場のハイライト
通常第2四半期は取引が大きいが、2Q13の世界的なサービスプロバイダVoIPとIMS機器の市場は前期比30%増加して9億3600万ドルとなった。
全ての主要地域(北米、EMEA (欧州、中東、アフリカ)、アジア太平洋、中南米)は2Q13に前年同期比、前期比ともに増加した。
北米地域はLTEに関連する取引増によりプラスの影響を受け、2Q13に前年同期比で78%増加した。
2Q13に前期比ベースの成長で好調だったベンダーはAlcatel-Lucent, BroadSoft, Genband, Huawei、Sonusである。
一方、Huawei, Alcatel-Lucent、GenbandはVoIPとIMS市場シェアのランキングで引き続き上位にいる。
VOIP AND IMS REPORT SYNOPSIS
Infonetics' quarterly carrier VoIP and IMS report provides worldwide and regional market share, market size, forecasts through 2017, analysis, and trends for trunk media gateways, SBCs, media servers, softswitches, voice application servers, HSS, CSCF, BGCF, MGCF, IM/presence application servers, and subscribers. Vendors tracked: Acme Packet, Alcatel-Lucent, BroadSoft, Ericsson, Genband, Huawei, Metaswitch, NSN, Radisys, Sonus, ZTE and others.
(原文)

Carrier VoIP/IMS market surges 30% in 2Q13, boosted by VoLTE spending in North America
Campbell, CALIFORNIA, August 20, 2013-Market research firm Infonetics Research released vendor market share, forecasts and preliminary analysis from its 2nd quarter 2013 (2Q13) Service Provider VoIP and IMS Equipment and Subscribers report. (Full report published August 29.)
ANALYST NOTE
"IMS equipment has officially moved into an LTE and voice-over-LTE world, and there's no going back now," notes Diane Myers, principal analyst for VoIP, UC and IMS at Infonetics Research. "In the second quarter we saw this impact spending on session border controllers and IMS core equipment for VoLTE access and interconnection (LTE to 3G) buildouts."

Myers adds: "Though LTE- and VoLTE-related equipment sales are growing, the market will continue to be lumpy from quarter to quarter."
2Q13 CARRIER VOIP/IMS MARKET HIGHLIGHTS
Typically a strong quarter, in 2Q13 the global service provider VoIP and IMS equipment market grew 30% sequentially, to $936 million
All major geographical regions - North America, EMEA (Europe, Middle East, Africa), Asia Pacific and Latin America - posted year-over-year and quarter-over-quarter gains in 2Q13
North America continues to be positively impacted by LTE-related activity, growing 78% year-over-year in 2Q13
The standout vendors in 2Q13 in terms of sequential revenue growth are Alcatel-Lucent, BroadSoft, Genband, Huawei and Sonus
Meanwhile, Huawei, Alcatel-Lucent and Genband remain atop the VoIP and IMS market share leaderboard