2013年9月9日米国マサチューセッツ州ボストン発―Infonetics Researchは、2013年第2四半期のEthernet Switches reportよりベンダー別マーケットシェア及び分析を発表しました。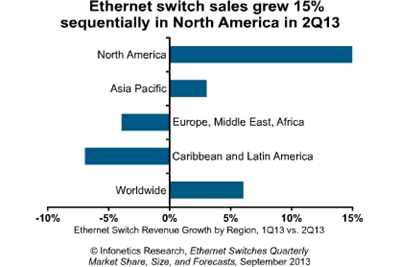 アナリストノート
「2013年の第2四半期、グローバルでのイーサネットスイッチの売上は季節的にスローである第1四半期と比べると成長はしたが、年度比での成長には至っていない。」とInfonetics Researchのエンタープライズネットワーク&ビデオ部門のディレクティング・アナリストのMatthias Machowinskiは述べています。

「イーサネットスイッチ市場最大のマーケットである北米は売上が継続的に15%伸び、明るい兆しを見せているが、EMEAは依然として景気が弱く、中国や日本でも需要が減速しており、それによって全体の成長も足を引っ張られている。」とMachowinskiはコメントしています。
2013年第2四半期イーサネットスイッチ市場のハイライト
グローバルではイーサネットスイッチ市場は2013年第2四半期、6%成長し、500億ドルに到達。
2013年第1四半期に一時的に落ち込んだ10Gポートは1年前の同四半期から39%伸びて回復。
40Gイーサネットは急速に成長:2012年の1,000%以上の成長に続き、2013年第2四半期も40Gポートの出荷は2倍を記録。
新しい100Gイーサネットスイッチは100Gのソリューションの幅が広がったことにより、前四半期から3倍の成長を記録。
Alcatel-Lucent、Enterasys、Juniper3社共に2013年第2四半期も+20%の継続的な成長。
ETHERNET SWITCH REPORT SYNOPSIS
Infonetics' quarterly Ethernet switch report provides worldwide and regional market size, vendor market share, forecasts through 2017, analysis, and trends for Ethernet switches and PoE, including ports, fixed configuration switches, and chassis switches. Vendors tracked: Adtran, Alaxala, Alcatel-Lucent, Arista, Avaya, Brocade, Cisco, D-Link, Dell, Enterasys, Extreme, Hitachi Metal, HP, Huawei, IBM, Juniper, Netgear, Ruby Tech, TP-Link and others.
(原文)

North America salvages Ethernet switch market in 2Q13
Boston, MASSACHUSETTS, September 9, 2013-Market research firm Infonetics Research released vendor market share and analysis from its 2nd quarter (2Q13) Ethernet Switches report.
ANALYST NOTE
"In the second quarter of 2013, global Ethernet switch sales grew from a seasonally slow first quarter, but not enough to drive year-over-year growth," reports Matthias Machowinski, directing analyst for enterprise networks and video at Infonetics Research.

"North America, the largest region for Ethernet switches, was the bright spot, with revenue jumping 15% sequentially," continues Machowinski. "However, weak economic conditions persist in EMEA and demand is slowing in China and Japan, tempering overall growth."
2Q13 ETHERNET SWITCH MARKET HIGHLIGHTS
Globally, the Ethernet switch market was up 6% in 2Q13, to $5 billion
10G ports recovered after a temporary dip in 1Q13, and are up 39% from the year-ago quarter
40G Ethernet is growing rapidly: On the heels of over 1,000% growth in 2012, 40G port shipments doubled again sequentially in 2Q13
The new 100G Ethernet switch segment tripled from the previous quarter, thanks to broader availability of 100G solutions
Alcatel-Lucent, Enterasys and Juniper all posted strong (+20%) sequential revenue gains in 2Q13