2013年9月12日米国カリフォルニア州キャンベル発―Infonetics Researchは、コンテンツセキュリティゲートウェイ機器、ソフトウェア及びSaaSの市場シェアと予測に関する第2四半期(2Q13)のレポートから抜粋を発表した。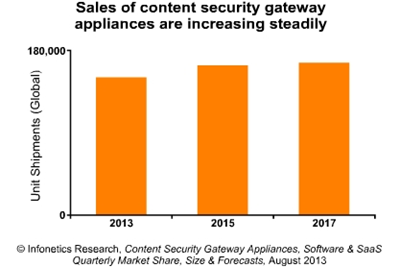 アナリストノート
「コンテンツセキュリティ市場全体としては緩やかに下降しているものの、SaaS(security-as-a-service)は成長を続けており、ファイアウォールやUTM(統合脅威管理)のコンテンツセキュリティ機能も向上しています。」

Infonetics Researchのセキュリティ担当主席アナリストを務めるJeff Wilsonは、このように述べる。
コンテンツセキュリティ市場のハイライト
Infoneticsは、コンテンツセキュリティ市場のSaaSセグメントが今後成長し、2017年までに10億ドルを突破すると予測している。
コンテンツセキュリティゲートウェイの機器・ソフトウェアの市場は、1Q13から2Q13の間に世界全体で1.4%縮小し、6億8900万ドルとなった。
Blue Coatはセキュリティゲートウェイ市場の収入シェアで1位となり、アルファベット順にCisco、McAfee、Symantec、Websenseがその後に続いた。
成長途上にあるSaaSセグメントではMicrosoftが他社に先行し、2Q13はSymantec、McAfee、Cisco、Proofpointも好位置につけている。
コンテンツセキュリティレポートの概要
Infoneticsが四半期ごとに発行するコンテンツセキュリティレポートでは、コンテンツセキュリティゲートウェイのソフトウェア(メッセージング、ウェブ/マルウェア)、ゲートウェイ機器(メッセージング、ウェブ/マルウェア、統合型)、SaaS(メッセージング、ウェブ/マルウェア)について、世界及び各地域の市場規模、ベンダーの市場シェア、2017年までの予測、分析、トレンドを掲載している。[[[Vendors tracked: Barracuda, Blue Coat, Cisco, Citrix, McAfee, Microsoft, Proofpoint, Sonicwall, Symantec, Trend Micro, Websense, and others. ]]]
(原文)

SaaS content security market to top $1 billion by 2017
Campbell, CALIFORNIA, September 12, 2013-Market research firm Infonetics Research released excerpts from its 2nd quarter (2Q13) Content Security Gateway Appliances, Software, and SaaS market share and forecast report.
ANALYST NOTE
"Though the overall content security market has been slowly sliding downhill, SaaS (security-as-a-service) continues to grow, as does content security functionality in firewalls and UTM (unified threat management) appliances," observes Jeff Wilson, principal analyst for security at Infonetics Research.
CONTENT SECURITY MARKET HIGHLIGHTS
Infonetics forecasts the SaaS segment of the content security market to grow to just over $1 billion by 2017
The global content security gateway appliance and software market declined 1.4% between 1Q13 and 2Q13, to $689 million
Blue Coat ranks 1st in content security gateway revenue market share, followed, in alphabetical order, by Cisco, McAfee, Symantec and Websense
In the emerging SaaS segment, Microsoft takes an early lead, with Symantec, McAfee, Cisco and Proofpoint also positioning well in 2Q13
CONTENT SECURITY REPORT SYNOPSIS
Infonetics' quarterly content security report provides worldwide and regional market size, vendor market share, forecasts through 2017, analysis, and trends for content security gateway software (messaging, web/malware), gateway appliances (messaging, web/malware, integrated), and SaaS (messaging, web/malware). Vendors tracked: Barracuda, Blue Coat, Cisco, Citrix, McAfee, Microsoft, Proofpoint, Sonicwall, Symantec, Trend Micro, Websense, and others.