2013年9月12日米国カリフォルニア州キャンベル発―Infonetics Research は2013年第2四半期のNetwork Security Appliances and Software マーケットシェア及び市場予測の報告の抜粋を発表しました。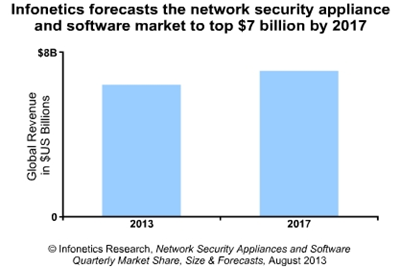 アナリストノート
「世界中がかつてないほど広範なプライバシーやセキュリティの問題に関心を寄せています。そして、NSAの監視プログラムPRISMの存在が先頃明らかにされ、世界の消費者や企業はセキュリティに対する姿勢、推奨ベンダー、展開戦略などについて再評価を行っています。」

Infonetics Researchでセキュリティ担当主席アナリストを務めるJeff Wilsonはこのように指摘し、次のように続ける。

「NSAの大失敗がセキュリティ投資に影響を与えると述べるには時期尚早ですが、セキュリティ部門における1つの方向性は明らかです。つまり、購入者は可能な限りのセキュリティプラットフォーム統合を目指しているということです。結果として生じているスタンドアロン型セキュリティ製品の減少は、直接的には2つの原因に分かれます。1つは、元々あるスタンドアロン型製品の機能を、十分な性能とセキュリティで支援する統合型ソリューションへ顧客が移行していること。そして、製品中心のセキュリティ運用からホスト/SaaS型ソリューションへ移行していることです。」
ネットワークセキュリティ市場のハイライト
ネットワークセキュリティ機器・ソフトウェアの収入は、2Q13に世界全体で16億ドルに達し、前期比4%増となった。
統合型セキュリティ機器は4Q11から毎四半期に渡ってシェアが増加しており、Infoneticsではこの増加が2Q14まで続くと予測している。
Cisco、Check Point、Fortinet、HP、Palo Alto Networksは、2Q13にネットワークセキュリティ市場で好調な収入を記録した。
一方、Juniperの収入は4四半期連続で減少しているものの、2Q13が底になるとInfoneticsは予測している。
NETWORK SECURITY REPORT SYNOPSIS
Infonetics' quarterly network security report provides worldwide and regional market size, vendor market share, forecasts through 2017 and trends for integrated security appliances, secure routers, SSL VPN gateways, VPN and firewall software and IDS/IPS products. Vendors tracked: AEP, Alcatel-Lucent, Array Networks, CA, Check Point, Cisco, Citrix, Dell Sonicwall, D-Link, Enterasys, eSoft, F5, Fortinet, GTA, HP, Huawei, Intrusion, ISS, Juniper, McAfee, Netasq, Palo Alto Networks, Sourcefire, Stonesoft, Watchguard, Zyxel, others.
(原文)

Standalone security markets stalling as integrated security markets grow
Campbell, CALIFORNIA, September 12, 2013-Market research firm Infonetics Research released excerpts from its 2nd quarter (2Q13) Network Security Appliances and Software market share and forecast report.
ANALYST NOTE
"There's never been a time when the world was more tuned-in to broad privacy and security issues, and with the recent revelations about the NSA's PRISM surveillance program, consumers and businesses around the globe are re-evaluating their security posture, preferred vendors, and deployment strategies," notes Jeff Wilson, principal analyst for security at Infonetics Research.

Wilson continues: "While it's too early to say if the NSA debacle will have an impact on security spending, one trend in the security sector is clear: buyers are looking to consolidate security platforms wherever they can. The resulting contraction in standalone security products is directly attributed to 2 things: customers moving to integrated product solutions that support the functions of the original standalone products with adequate performance and security, and customers transitioning away from product-centric security rollouts to hosted/SaaS solutions."
NETWORK SECURITY MARKET HIGHLIGHTS
Worldwide network security appliance and software revenue totaled $1.6 billion in 2Q13, an increase of 4% sequentially
Integrated security appliances have gained share every quarter since 4Q11, and Infonetics is forecasting quarterly share gains through 2Q14
Cisco, Check Point, Fortinet, HP, and Palo Alto Networks all posted strong revenue results in the network security market in 2Q13
Meanwhile, Juniper's revenue declined for the 4th straight quarter; however, Infonetics believes that 2Q13 will be Juniper's bottom quarter