2013年9月18日米国カリフォルニア州キャンベル発―Infonetics Research は、2013年第2四半期の3G and 4G Mobile Broadband Devices and Subscribers market share, size, and forecasts report.の抜粋を発表しました。この包括的リポートは、オペレーティング・システム(OS)、ルータ、カード、USB、(タブレットのような)内蔵デバイスを含む50以上のモバイル・ブロードバンドのマーケット・セグメントとサブ・セグメント、そしてLong Term Evolution (LTE)、W-CDMA/HSPAを含む他のネットワークに接続している全てのネットワーク・タイプの加入者を調査対象としている。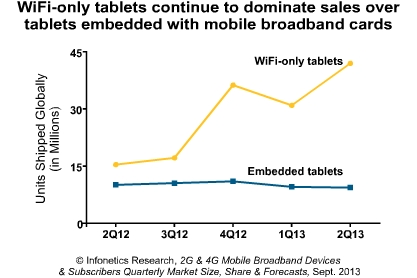 アナリストノート
「世間の話題はLTE ハンドセットに集まっているにもかかわらず、ARPU(月間電気通信事業収入)の下落傾向の結果としてW-CDMA収益が連続的に少し下がっているものの、W-CDMAは第2四半期において、出荷と収益に関してスマートフォン市場で最も重要なドライバーのままであり続けました。」Infonetics Researchのマイクロ波、ルータ、WiFi キャリア担当監督アナリストRichard Webbは指摘する。

「より低コストのW-CDMAをベースとしたくエントリ・レベルのデバイスは、より大きな市場占有率を確立する事に熱心な中国のOEMsによる断固とした攻勢に後押しされ、特に人気が上昇しています。」Webb は続けて言う。「同様に中国とブラジルではAppleとSamsungの主要なOEMからのより強力なひと押しが、スマートフォン・ユニットの成長を促進させ続けています。」
2013年第2四半期、モバイル・ブロードバンドのマーケット・ハイライト
世界的規模でのスマートフォン収益は、2013年第1四半期から5%下がり、2013年第2四半期には合計で740億ドルになった。
FDD-LTEデバイスはスマートフォン部門で現在2番目に大きく、ほんの数年後にはW-CDMAを追い越す事が予測される。
モバイル・ブロードバンドが内蔵されたタブレットの売上高は2013年第2四半期で連続的に10%成長した。
3G USBのモバイル・ブロードバンドのカードに対する消費者需要が、内蔵デバイスの普及率が上昇している先進国において軟化している。
ビジネスがますますWiFiアベイラビリティ(可用性)に頼らずに労働力を動態化しようと努めている為に、3G USBに対する企業需要は健全なままでいる。
Samsungは2013年第2四半期においてスマートフォン収益の市場占有率でリードを維持したが、それはiPhone5 売上高の一時的な下落と結びついた、記録的な数のスマートフォン出荷(7,400万ユニット)に起因している。
REPORT SYNOPSIS
Infonetics' quarterly mobile broadband report provides worldwide and regional market size, vendor market share, forecasts through 2017, analysis, and trends for smartphones, smartphone OS (Android, Blackberry, iPhone, Linux, Palm, Symbian, Windows Mobile, other), netbook OS (Linux, Mac, Windows, other), tablet OS (Android, iOS, Windows, other), USBs, cards, mobile broadband routers, embedded devices (PCs, netbooks, tablets, mobile internet devices), and subscribers. Companies tracked: Acer, Amazon, Apple, Dell, HTC, Huawei, LG, Motorola, Nokia, Novatel Wireless, Qualcomm, RIM, Samsung, Sierra Wireless, Sony, ZTE, and others.
(原文)

W-CDMA driving worldwide smartphone market
Campbell, CALIFORNIA, September 18, 2013-Market research firm Infonetics Research released excerpts from its 2nd quarter 2013 (2Q13) 3G and 4G Mobile Broadband Devices and Subscribers market share, size, and forecasts report.

The comprehensive report tracks over 50 mobile broadband market segments and sub-segments, including smartphones, operating systems (OS), routers, cards, USBs, embedded devices (such as tablets) and subscribers, all by the type of network they connect to, including Long Term Evolution (LTE), W-CDMA/HSPA, and other networks.
ANALYST NOTE
"Despite the noise surrounding LTE handsets, W-CDMA remained the biggest driver in the smartphone market in the second quarter in terms of shipments and revenue, though W-CDMA revenue was down slightly sequentially as a result of declining ARPU," notes Richard Webb, Infonetics Research's directing analyst for microwave and carrier WiFi.

"Lower-cost, entry-level devices based in W-CDMA in particular are growing in popularity, driven by a determined push by Chinese OEMs keen to establish a bigger market share," Webb continues. "Also, a bigger push from leading OEMs Apple and Samsung in China and Brazil continues to drive smartphone unit growth."
2Q13 MOBILE BROADBAND MARKET HIGHLIGHTS
Globally, smartphone revenue totaled $74 billion in 2Q13, down 5% from 1Q13
FDD-LTE devices are now the second largest smartphone segment and are expected to overtake W-CDMA in just a few years
Sales of mobile broadband embedded tablets rose 10% sequentially in 2Q13
Consumer demand for 3G USB mobile broadband cards is softening in developed countries, where embedded device penetration is rising
Enterprise demand for 3G USBs remains healthy as businesses increasingly seek to mobilize their workforces without relying on WiFi availability
Samsung retained its lead in smartphone revenue market share in 2Q13, owing to a record number of smartphone shipments (74 million units) coupled with a dip in iPhone5 sales