2013年10月7日米国カリフォルニア州キャンベル発―Infonetics Researchは2013年のUC Strategies and Vendor Leadership: North American Enterprise Surveyから概要をリリースした。ここでは企業による、クラウド配置、UCベンダーに対する評価を含む統合コミュニケーション(UC)の計画を調査している。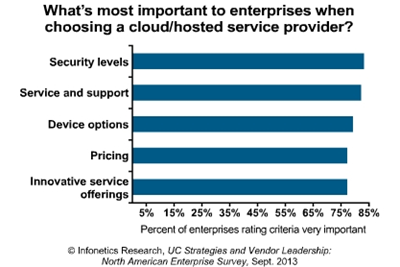 アナリストノート
「統合コミュニケーションの配置で私たちが目にしている最も大きな変化はビデオの配置です」としてうえで、「企業は過去数年間、自社UCのアーキテクチャーの中でモバイルを実践してきましたが、生産性をさらに高めるためにビデオ会議の導入を目指しています」と、Infonetics ResearchでVoIP、UC、IMSを担当している主席アナリストDiane Myersは述べている。

「統合されたビデオとモバイルを自社のUCソリューションに効果的に提供できるベンダー、そしてこれを簡単かつ使いやすい方法で提供できるベンダーは成功に向けてのベストポジションにいます。当社のUC調査に参加していただいた企業によると、インストールされたベースとリーダーポジションとしての認知を理由として、CiscoとMicrosoftは統合コミュニケーションにおけるリーダーとなっています」と、Myersは続けている。
UC戦略サーベイのハイライト
企業は、レスポンス時間の向上、従業員生産性の改善、運営費用の削減を目的として統合コミュニケーションを配置している。
調査対象企業の87%は2014年8月までに自社のUCアーキテクチャーにビデオ会議を追加する予定である。
クラウドの使用も増加している。調査対象の22%はプライベートクラウドでUCアーキテクチャーを一部実施しており、19%はパブリッククラウドで実施しているという。
コラボレーションはクラウド(プライベートもしくはパブリック)で最も一般的に採用されているアプリケーションで、会議やファックスがこれに続いている。
UCを採用していない企業では、採用しない最も大きい障壁は費用である。 
ABOUT THE UC STUDY
For its 29-page enterprise unified communications survey, Infonetics interviewed 140 UC purchase-decision makers at medium and large enterprises in North America that use unified VoIP, e-mail, and instant messaging. The study provides an in-depth look at the state of the UC market, where organizations are unifying various types of communication, why they are doing it, if and how they are utilizing the cloud, what capabilities they need, and which vendors they are likely to use. The report features enterprise ratings of 11 UC vendors (Alcatel-Lucent, AT&T, Avaya, Cisco, IBM, Microsoft, Mitel, NEC, ShoreTel, Siemens Enterprise, Verizon).
(原文)

Infonetics unified communications survey finds video and cloud on the rise in the enterprise
Campbell, CALIFORNIA, October 7, 2013-Market research firm Infonetics Research released excerpts from its 2013 UC Strategies and Vendor Leadership: North American Enterprise Survey, which explores enterprises' plans for unified communications (UC), including cloud deployments, and their perceptions of UC vendors.
ANALYST NOTE
"The biggest change we're seeing in unified communication deployments is the adoption of video," notes Diane Myers, principal analyst for VoIP, UC and IMS at Infonetics Research. "Businesses have been implementing more mobility into their UC architectures over the past year and now are looking toward videoconferencing to help drive further productivity."

"The vendors that can effectively deliver integrated video and mobility into their UC solution and do so in a simple and easy-to-use manner will be best positioned for success," adds Myers. "According enterprises participating in our UC survey, Cisco and Microsoft are the leaders in unified communications thanks to their installed base and perceived positions of leadership."
UC STRATEGIES SURVEY HIGHLIGHTS
Companies are adopting unified communications to improve response times, increase employee productivity, and reduce operational costs
87% of enterprises surveyed plan to add videoconferencing to their UC architecture by August 2014
The use of the cloud is also on the rise: 22% of respondents already have implemented portions of their UC architecture in a private cloud, and 19% have done so in a public cloud
Collaboration is the most common application deployed in the cloud (private or public), followed by conferencing and faxing
For businesses that have not adopted UC, the #1 barrier is cost