2013年10月15日米国カリフォルニア州キャンベル発―インフォネティクスリサーチは新しい「分野別M2M接続とサービス」のレポートから抜粋を公表した。その内容として、分析、技術・分野・地域によるマシン・ツー・マシン(M2M)の接続とサービスの予測、分析、市場規模が記されている。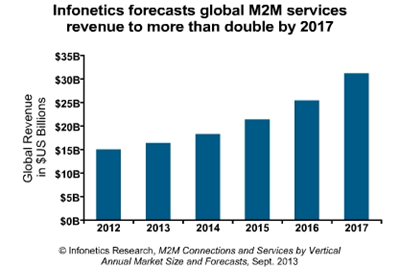 アナリストノート
「M2Mはサービスプロバイダにとって最も早く成長している主要な新しい分野の一つである。」とインフォネティクスリサーチにおけるM2MとConnected World計画を監修しているアナリストのGodfrey Chuaは断言している。「我々は、2012年から2017年にかけてM2Mサービスの収益が倍以上になると見込んでおり、その額は現在の150億ドル弱から310億ドルまでになるとされる。」

「今まで見過ごされてきたM2Mだが、接続技術のポートフォリオにより世界中に届けられるだろう。」とChuaは加える。「セルラーネットワークは事業者にとって最も有意義な収益機会であるが、M2Mサービスへ接続する方法として最も一般的な方法は、PAN(パーソナルエリアネットワーク)の無線技術を介する方法である。例を挙げると、WiFi、Zigbee、Bluetooth、IP500といった接続収益を生み出さない無線技術である。携帯電話事業者は彼らのM2M技術に様々な幅広いM2M接続技術を組み込むことが重要である。」
M2M市場のハイライト
2012年には、世界中に140億近いM2M接続が存在した。その大半はPAN無線技術を使用している。
今日にも1億9千万弱の接続数が増え、携帯電話やその他のWAN無線技術を介するM2M接続は2017年までに3倍近くに増えるだろう。そして、事業者の収益に対して多大に貢献するエンジンとなる。
M2Mサービスの合計収益の16%以上、その額約240億ドルはM2Mの「バックホール」サービスから生み出されている。
自動車、輸送、物流部門が車両追跡、ナビ、配達アプリを利用した結果、2012年にM2Mサービス収益の1/3を占めた。
北米とヨーロッパはM2Mサービス成長の鍵となる地域で、全市場の72%を占めている。
2012年には、China MobileがM2M接続においてAT&Tを抜き、トップとなる。しかし、AT%Tは高いARPC(1接続当たりの平均収益)により収益トップは守っている。
ABOUT THE M2M REPORT
Infonetics' M2M connections and services report analyzes M2M market drivers, M2M ecosystem players, and M2M technologies to help businesses make informed decisions and plans related to the M2M market. The report provides worldwide and regional market size, forecasts through 2017, and trends for M2M connections and services by technology (GSM/GPRS/EDGE, CDMA2000/EV-DO, W-CDMA/HSPA, LTE, TD-SCDMA, cellular, other WAN wireless, PAN, wireless, wireline, backhaul) and vertical (utilities/smart grid, automotive/transport/logistics, security/surveillance, retail/vending, healthcare, other).
The report includes an M2M Strategies Tracker with activity by mobile operators including AT&T, China Mobile, China Telecom, Deutsche Telekom, Everything Everywhere, KDDI, KT, Orange, Sprint, Telecom Italia, Telef?nica, Telenor Group, TeliaSonera, T-Mobile, Verizon, and Vodafone.
(原文)

Infonetics forecasts M2M services to hit $31 billion, M2M connections to top 4 billion by 2017
Infonetics Research released excerpts from its new M2M Connections and Services by Vertical report, which provides market size, analysis, and forecasts for machine-to-machine (M2M) connections and services by technology, vertical, and geographic region.
ANALYST NOTE
"M2M is one of the fastest-growing major new segments for service providers," affirms analyst Godfrey Chua, who directs Infonetics Research's M2M and Connected World program. "We forecast global revenue from M2M services to more than double between 2012 and 2017, from just under $15 billion to $31 billion."

"What's often overlooked about M2M is that it will be delivered to the world by way of a portfolio of access technologies," Chua adds. "Cellular networks represent the most meaningful revenue opportunity for operators, but by far the most popular way to connect to M2M services is via PAN (personal area network) wireless technologies, such as WiFi, Zigbee, Bluetooth, and IP500, which do not generate connection revenue. It's critical that mobile operators incorporate a broader view of the various M2M access technologies into their M2M strategies."
M2M MARKET HIGHLIGHTS
There were nearly 1.4 billion M2M connections worldwide in 2012, with PAN wireless technologies comprising the vast majority
Making up just under 190 million connections today, M2M connections via cellular and other WAN wireless technologies are projected to nearly triple by 2017, becoming the largest growth engine for operator revenue
More than 16% of total M2M service revenue, almost $2.4 billion, is derived from M2M "backhaul" services
The automotive, transport, and logistics sector made up 1/3 of total M2M service revenue in 2012, driven by vehicle tracking, navigation, and delivery applications
North America and Europe are the key centers of M2M service growth, together accounting for 72% of the total market
In 2012, China Mobile overtook AT&T in M2M connections leadership, but AT&T remains the revenue leader due to higher ARPC (average revenue per connection)