2013年10月21日米国カリフォルニア州キャンベル発―Infonetics Research は最新のVoIP および UC サービスと利用者(VoIP and UC Services and Subscribers) レポートからの抜粋を発表した。その中で、サービスプロバイダーの動向やボイスオーバー IP (VoIP)、およびユニファイド・コミュニケーション(UC)・サービスの売上と利用者について詳しく調査している。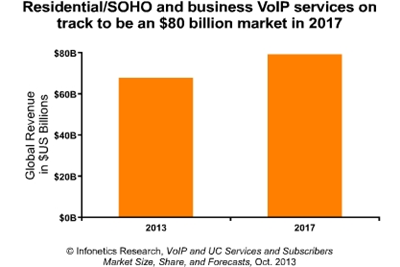 アナリストノート
「VoIP サービス市場は当社の2013年の予測に合致しています」と Infonetics Research の VoIP、UC、IMS 担当主任アナリスト Diane Myers は語っている。「レジデンシャル VoIP サービスが収益の大部分を占めていますが、ビジネス向けサービスが成長を促進しています。これは SIP トランキングやクラウド・ユニファイド・コミュニケーションが拡大を続け、あらゆる規模の企業に幅広く支持されているためです。」
VoIP および UC サービス市場のハイライト
2013年上半期(1H13)、世界のレジデンシャル VoIP および ビジネス VoIP サービスの収益は3%上昇し330億ドル規模に成長した。
2012年から2017年の間に、世界のビジネス VoIP サービスの収益は年平均率(CAGR)で7%成長し、一方、レジデンシャル/SOHO VoIP サービスは3%成長すると Infonetics では予想している。
1H13に最も VoIP サービス の成長に貢献したのはホステッド PBX/UC で、事業者、中でも大企業が敷地内ソリューションの有望な代替策として、ホステッドサービスにシフトを続けているためだ。
SIP トランンキングは北米での活発な成長に支えられ、2H12に対し1H13は23%も急上昇した。
1H13のレジデンシャル VoIP 利用者は、世界中で2億300万に昇った。
VOIP SERVICES REPORT SYNOPSIS
Infonetics' biannual VoIP and unified communication services report features a Hosted PBX/UC Provider Tracker and provides worldwide and regional market share, market size, forecasts through 2017, and analysis for residential and business VoIP and UC services and subscribers. Companies tracked: AT&T, Cablevision, Charter, Comcast, Cox, Embratel, Iliad, J:Com, Kabel Deutschland, KDDI, KPN, KT, LG Uplus, Liberty Global, NTT, ONO, Orange, Rogers, SFR, Shaw Communications, SK Broadband, Sky, SoftBank, TalkTalk, Telecom Italia, Time Warner Cable, Verizon, Vonage, and others.
(原文)

Cloud unified communications, SIP trunking fuel growth in VoIP services market
Campbell, CALIFORNIA, October 21, 2013-Market research firm Infonetics Research released excerpts from its latest VoIP and UC Services and Subscribers report, which tracks service providers and their voice over IP (VoIP) and unified communications (UC) services revenue and subscribers.
ANALYST NOTE
"The VoIP services market is on track with our expectations for 2013," reports Diane Myers, principal analyst for VoIP, UC and IMS at Infonetics Research. "Residential VoIP services make up the majority of revenue, but growth is being fueled by business services as SIP trunking and cloud unified communications continue to expand and find broader adoption with enterprises of all sizes."
VOIP AND UC SERVICES MARKET HIGHLIGHTS
In the first half of 2013 (1H13), global residential and business VoIP services revenue rose 3%, to $33 billion
Worldwide business VoIP service revenue is forecast by Infonetics to grow at a 7% CAGR from 2012 to 2017, compared to a 3% CAGR for residential/SOHO VoIP services
Hosted PBX/UC grew the most of any VoIP service in 1H13 as businesses, particularly larger enterprises, continue to turn to hosted services as a viable alternative to premises-based solutions
Driven by activity in North America, SIP trunking spiked 23% in 1H13 over 2H12
Residential VoIP subscribers topped 203 million worldwide in 1H13