2013年10月31日米国カリフォルニア州キャンベル発―Infonetics Researchは新たなDAS Equipment Market Outlookから概要をリリースした。このレポートは分散アンテナシステム(DAS)機器の数量と売上を地理別、カテゴリー別 (室内、LTE、マルチスタンダード、屋外)に追跡調査・予測している。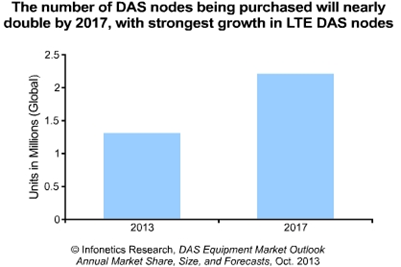 アナリストノート
「DASは、トランスポートメディアとしての光ファイバーの設置とともに1980年代遅くに初めて商業的に実用化されました。それ以降、DAS事業は多くの好不況はありましたが活況を呈し、一連の専門ベンダーがひしめき合う数十億ドルの市場に成長しました」と、Infonetics Researchでモバイルインフラ・キャリア経済を担当している主席アナリストStephane Teral氏は説明している。

「スモールセルを取り巻く様々な誇大宣伝やあらぬ噂とは対照的に、DASに対する必要性は全くなくなっていません! 実際、ほとんどのサービスプロバイダーは、将来の「スモールセル」モバイルネットワーク拡張計画の主要部分にDASを含めてきました」とした上で、「グローバルなDASの売上は今後5年間で衰退する兆候がない中で2012年から2017年にかけてCAGR(年平均増加率)3%で成長していき、特定の場所での範囲と機能の改善の組み合わせでDASノードの出荷数は倍増すると見ています」と、Teral氏は続けて述べている。
DAS機器市場のハイライト
DASをデプロイする基本的要因は、提供範囲、機能、スペクトル効率性、干渉軽減、データサポート、スケーラビリティ、適応性などがある。
スポーツやエンターテインメントスタジアムはDAS事業の多くの部分を占めているほか、室内もしくはインドアDASとして考慮されている。屋外DASはニッチ市場である。
米国とカナダは世界最大のDAS市場であるが、スタジアム、コンベンションセンター、交通駅や港の数、規模からすると2017年までその地位を維持するとみられる。
2012年には100万超のDASノードが出荷され、世界的なDASの売上を19億ドルにした。これは前年比4%増の水準である。

DAS売上はモバイルインフラ市場全体の5%しか占めていない。

米国を拠点とするCommScope は市場シェア17%で世界のDAS市場をリードしており、これに香港に本社を置くCombaが続いている。
DAS REPORT SYNOPSIS
Infonetics' DAS equipment market outlook report provides worldwide and regional market size, market share, forecasts through 2017, analysis, and trends for distributed antenna system (DAS) equipment. The report tracks DAS node units and DAS revenue by category (in-building, LTE, multi-standard, outdoor) and includes a Mobile Operator DAS Strategies Tracker.
The report tracks equipment made by Axell Wireless, Comba Telecom Systems Holdings, CommScope, Corning Mobile Access, Ericsson, Kathrein-Werke KG, NSN, Optiway, PowerWave Technologies, Solid Technologies, TE Connectivity, Zinwave, and many others
(原文)

DAS a big and bumpy - and still growing - $2-billion dollar business
Campbell, CALIFORNIA, October 31, 2013-Market research firm Infonetics Research released excerpts from its new DAS Equipment Market Outlook. The report tracks and forecasts distributed antenna system (DAS) equipment units and revenue by geographic region and category (in-building, LTE, multi-standard, outdoor).
ANALYST NOTE
"DAS first became commercially viable in the late 1980s with the advent of optical fiber installed as a transport medium. Since then, the DAS business has been brisk with its lot of boom and bust, growing into a multi-billion dollar market crowded with a flurry of vendor specialists," explains Stephane Teral, principal analyst for mobile infrastructure and carrier economics at Infonetics Research.

"And contrary to all the hype and buzz surrounding small cells, the need for DAS is not going away anytime soon! In fact, most service providers have already included DAS as a key component of their future 'small cell' mobile network expansion plans," continues Teral. "With no signs of abating over the next 5 years, we believe global DAS revenue will grow at a CAGR of 3% from 2012 to 2017 and DAS node shipments will double, driven by a combination of coverage and capacity improvements in specific venues."
DAS EQUIPMENT MARKET HIGHLIGHTS
Fundamental drivers for deploying DAS include coverage, capacity, spectrum efficiency, interference mitigation, data support, scalability, and adaptability
Sports and entertainment stadiums make up the bulk of the DAS business and are considered in-building or indoor DAS; outdoor DAS is a niche market
The U.S. and China are the world's largest DAS markets and are expected to remain so through at least 2017 due to the number and size of their stadiums, convention centers, and transportation stations and ports
Over 1 million DAS nodes were shipped in 2012, sending worldwide DAS revenue to $1.9 billion-an increase of 4% over 2011

DAS revenue represents just 5% of the total mobile infrastructure market

U.S.-based CommScope leads the global DAS market with 17% market share, followed by Hong Kong-headquartered Comba