2013年11月4日米国カリフォルニア州キャンベル発―Infonetics Researchは、最新のレポート: サービス プロバイダーからベンダーへのアウトソーシングからの抜粋を公表した。レポートでは、通信事業者の顧客に提供するサービスから派生するベンダーの収益について追跡調査している。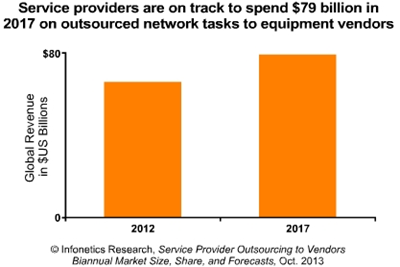 アナリストノート
Infonetics Researchでモバイル インフラと通信事業者の経済状況を担当する主席アナリスト、Stephane Teral氏は次のように報告する。「サービス プロバイダーが軒並みアウトソーシングを進めるペースは衰えることがないと当社は見ていたのですが、2013年上半期の世界の電気通信アウトソーシングにおける収益は前年同期と比べて基本的に変化がありません。これは、forexがEricssonに与えた影響やIBM、HP、NSNが様々な理由から毎年収益を下落させていること、またAlcatel-LucentとHuaweiの成長など、複数の要因が組み合わさった結果です。」

Teral氏はこう続ける。「それでも、当社は通信事業者のアウトソーシング市場に関しては強気のままです。携帯電話会社が運用コストをコントロールしようとすることで、モバイル ネットワークのアウトソーシング契約は増加し、2017年には790億ドルまで収益を引き上げることになると見込んでいます。」
通信事業者アウトソーシングのハイライト
2013年上半期 (1H13)、世界のサービス プロバイダー アウトソーシングの収益は前年同期比 (1H12) で1.4%の減少である。
中国での限られたアウトソーシングの動きにもかかわらず、アジア太平洋地域はアウトソーシングと管理サービス市場で世界第2位 (EMEAに次ぐ)であり、それは、インドにおけるBharti、Idea、Aircel、Hutchison (Vodafone) Essar、Reliance Infocommを巻き込んだ巨大な契約のおかげである。
通信機器ベンダーは現在、わずか6ヶ月前の33%から、世界の加入者ベースの45%を管理している。
運用アウトソーシングは2012年から2017年にかけて他の種類のサービスの中でも最高の複合年間成長率 (CAGR) 8%で成長すると予測されている。
Reliance CommunicationsがAlcatel-LucentとEricssonと結んだ8年間の管理サービス契約、Tele2 NetherlandsがNSNと合意したLTEネットワークの構築契約、duがHuaweiと結んだ5年間の管理サービス契約、T-Mobile PolandがNSNと結んだ3年間の請求システムの開発とメンテナンス契約など、今年の初めから大きな契約が数多く結ばれている。
CARRIER OUTSOURCING REPORT SYNOPSIS
Infonetics' service provider outsourcing report provides worldwide and regional market size, market share, forecasts through 2017, analysis, and trends for service provider fixed-line and mobile network outsourcing to vendors. The report tracks the revenue that vendors derive from performing network planning and design, building, maintenance, operations, application service delivery, service provisioning and activation, and billing services for network operators. Vendors tracked: Alcatel-Lucent, Ciena, Cisco, Ericsson, Fujitsu, Hitachi, HP, Huawei, IBM, Juniper Networks, Microsoft, Motorola, NEC, NSN, Tellabs, UTStarcom, ZTE, and others.
(原文)

Telecom equipment vendors manage 45% of the world's subscribers as outsourcing grows
Campbell, CALIFORNIA, November 4, 2013-Market research firm Infonetics Research released excerpts from its latest Service Provider Outsourcing to Vendors report, which tracks the revenue vendors derive from the services they provide to their carrier customers.
ANALYST NOTE
"Though we looked for service providers across the board to continue outsourcing at an unabated pace, global telecom outsourcing revenue in the first half of 2013 is basically flat from the same time last year, a result of a combination of factors including forex for Ericsson, year-over-year revenue declines at IBM and HP, NSN for various reasons, and growth at Alcatel-Lucent and Huawei," reports Stephane Teral, principal analyst for mobile infrastructure and carrier economics at Infonetics Research.

Continues Teral: "Still, we're remaining bullish on the carrier outsourcing market, anticipating an increase in mobile network outsourcing deals that will drive revenue to $79 billion by 2017 as mobile operators try to keep opex under control."
CARRIER OUTSOURCING HIGHLIGHTS
In the first half of 2013 (1H13), global service provider outsourcing revenue is down 1.4% from a year ago (1H12)
Despite China's limited outsourcing activity, Asia Pacific is the #2 outsourcing and managed services market in the world (behind EMEA) thanks to super deals in India involving Bharti, Idea, Aircel, Hutchison (Vodafone) Essar, and Reliance Infocomm
Telecom equipment vendors are now managing 45% of the world's subscriber base, up from 33% just 6 months ago
Operations outsourcing is projected to grow at an 8% compound annual growth rate (CAGR) from 2012 to 2017, the highest of any service type
Many major deals have been inked since the beginning of the year, including Reliance Communications' 8-year, $2 billion managed services contract with Alcatel-Lucent and Ericsson, Tele2 Netherlands' agreement with NSN to build an LTE network, du's 5-year managed services deal with Huawei, and T-Mobile Poland's 3-year contract with NSN for billing system development and maintenance