2013年12月10日米国マサチューセッツ州ボストン発―Infonetics Researchは、2013年第3四半期(3Q13)のWireless LAN Equipment and WiFi Phonesレポートからその概要をリリースした。ここではアクセスポイント、WLANコントローラー、エンタープライズ向けWiFi電話を追跡調査している。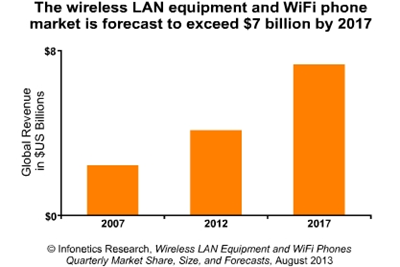 アナリストノート
「WLAN機器の前年同期比で見た成長率は15四半期も2桁が続いていましたが、2013年第3四半期には10%の目安を下回りました。この要因は、802.11nの移行がほぼ完了に近づいていることのほか、802.11acの市場に与える影響がそれほど大きくないことです」と、Infonetics Researchでエンタープライズネットワークとビデオを担当している上席アナリストMatthias Machowinskiはコメントしている。

「それでも、当社ではこれを一時的な動きとみており、今後数年のうちに再び成長が加速すると予想しています。無線機器の成長をサポートし、BYODと従業員の移動性を可能にするため、バイヤーがWLANのインフラにフォーカスするためです」と、Machowinskiは続けて述べている。
3Q13 WLAN市場のハイライト
世界的なエンタープライズ無線LAN (WLAN)機器の売上は3Q13に前期比で1%ほど増加し、12億ドルとなった。
3Q13は、802.11ac製品が広く普及した最初の四半期であった。また、販売アクセスポイントの3%は新たな基準に基づくものであった。
独立したアクセスポイントの売上は3Q13に前年同期比40%減少した。集中管理型WLANへのシフトを反映している。
北米とアジア太平洋でのWLANの成長は3Q13に顕著に減少した。一方、EMEA は相対的に弱い経済環境にもかかわらず好調に推移している。
WLAN売上に関して業界第1位のCiscoのシェアは前期と比較して0.5ポイント上昇、前年同期との比較では4ポイントの上昇であった。
WiFi電話の出荷数はここ数年低迷していたが、前年比ベースでは再び成長している。
ABOUT THE WIRELESS LAN REPORT
Infonetics' quarterly WLAN equipment and WiFi phones report provides worldwide and regional market size, vendor market share, forecasts through 2017, analysis, and trends for WLAN infrastructure, including access points by type and technology, WLAN controllers, and enterprise single-mode WiFi phones. Vendors tracked: Alcatel-Lucent, Aruba, Brocade, Buffalo, Cisco, D-Link, Enterasys, Extreme, Juniper, Meru, Motorola, Netgear, HP, Ruckus, TP-Link, Ubiquiti, Xirrus, others.
(原文)

Wireless LAN growth falls below 10% in Q3
Boston, MASSACHUSETTS, December 10, 2013-Market research firm Infonetics Research released excerpts from its 3rd quarter (3Q13) Wireless LAN Equipment and WiFi Phones report, which tracks access points, WLAN controllers, and WiFi phones for the enterprise.
ANALYST NOTE
"After 15 quarters of double-digit year-over-year growth, WLAN equipment growth fell below the 10% mark in the third quarter of 2013, due to the 802.11n transition nearing completion and 802.11ac not yet having a significant effect on the market," notes Matthias Machowinski, directing analyst for enterprise networks and video at Infonetics Research.

Machowinski adds: "Still, we consider this a temporary slowdown and expect growth to reaccelerate in the coming years as buyers focus on their WLAN infrastructure to support the growth of wireless devices and enable BYOD and employee mobility."
3Q13 WLAN MARKET HIGHLIGHTS
Worldwide enterprise wireless LAN (WLAN) equipment revenue edged up 1% sequentially in 3Q13, to $1.2 billion
3Q13 marks the first full quarter in which 802.11ac products were widely available, and 3% of access points sold were based on this new standard
Independent access point revenue is down 40% year-over-year in 3Q13, reflecting the shift toward centrally-managed WLAN
In North America and Asia Pacific, WLAN growth slowed sharply in 3Q13; meanwhile, EMEA is doing well despite relatively weaker economic conditions
#1 Cisco's WLAN revenue share is up a half-point in 3Q13 from 2Q13, and up over 4 points from 3Q12
After a tough couple of years, WiFi phone shipments are growing again on a year-over-year basis