2013年12月19日米国カリフォルニア州キャンベル発―Infonetics Researchは最新の Pay TV Services and Subscribers レポートからその概要をリリースした。ここでは、ケーブルTV、衛星TV、電話会社によるインターネットプロトコルテレビ (IPTV)サービス市場の予測、分析を行っている。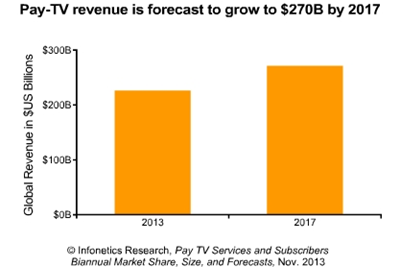 アナリストノート
「電話会社IPTVオペレータであるAT&T、China Telecom、Deutsche Telekomは引き続き新規加入者およびARPUの堅調な増加を享受しています。これは、差別化されたサービスを持つ競争力あるプロバイダーが既存のケーブルオペレーターからシェアをうまく奪っていることを示しています」としたうえで、「改善されたユーザーインターフェース、マルチスクリーンビデオ、さらにはDVRサービスに関わらず、他の事業者ができないときに電話会社がその加入者ベースを増加させることができた点で大きな違いがありました」と、Infonetics ResearchでブロードバンドアクセスとペイTVを担当している主席アナリストJeff Heynenは述べている。
ペイTV市場のハイライト
世界的なビデオサービスの売上(ケーブル、衛星ペイTV、電話会社のIPTVを含む)は2013年上半期(1H13)も増加を続けて1,100億ドルとなり、前年同期比で2%増加した。
電話会社のIPTVと衛星TVの売上が引き続き増加したのは、北米と西欧という重要地域で新たな加入者増があったほか、ARPUが上昇したことによる。
一方、ケーブル売上の市場シェアは1H13にまたもや低下した。その主たる要因は、収益性の高い北米市場において加入者が減少したことにあり、この地域でのビデオ加入者の減少率は年間1.5%~2.5%となっている。
DirecTV は1H13におけるペイTVの業界トップ事業者である。
Infoneticsの予測では、2017年までに世界的なペイTV市場は2,700億ドルに到達し、2012年から2017年にかけての年平均成長率は、5%程度とみている。
PAY-TV REPORT SYNOPSIS
Infonetics' biannual pay-TV services and subscribers report provides worldwide and regional market share, market size, forecasts through 2017, analysis, and trends for telco IPTV, analog and digital cable video, and satellite video service revenue, ARPU, and subscribers. Pay-TV providers tracked: Airtel, America Movil, AT&T, Bell Canada, BSkyB, Cablevision, Canal Digital, CanalSat, Charter, Comcast, Cox, CTC, Deutsche Telekom, DirecTV, DISH Network, France Telecom, Kabel Deutschland, KPN, KT, LG, Oi, Shaw, Sky Mexico, Tata Sky, Telefonica, Time Warner Cable, UPC Broadband, Verizon, Virgin Media, others.
(原文)

Cable's share of pay-TV market continues to shrink as telco IPTV and satellite surge
Campbell, CALIFORNIA, December 19, 2013-Market research firm Infonetics Research released excerpts from its latest Pay TV Services and Subscribers report, which forecasts and analyzes the cable TV, satellite TV, and telco internet protocol television (IPTV) services markets.
ANALYST NOTE
"Telco IPTV operators AT&T, China Telecom, and Deutsche Telekom continue to enjoy strong growth in new subscribers and ARPU, showing that competitive providers with differentiated services can successfully steal share away from incumbent cable operators," notes Jeff Heynen, principal analyst for broadband access and pay TV at Infonetics Research. "Whether it's an improved user interface, multi-screen video, or even DVR services, there are marked differences that have allowed telcos to grow their subscriber bases at a time when others aren't."
PAY-TV MARKET HIGHLIGHTS
Worldwide video service revenue, including cable and satellite pay TV and telco IPTV, grew again in the first half of 2013 (1H13), to $110 billion, a 2% uptick over the second half of 2012
Telco IPTV and satellite revenue continue to rise, thanks to new subscribers and increased ARPU in the critical regions of North America and Western Europe
Meanwhile, cable revenue market share fell another percent in 1H13, primarily due to a slowdown in subscriber growth in the lucrative North American market, where video subscribers are declining at a pace of 1.5% to 2.5% annually
DirecTV remains the pay-TV revenue market share leader in 1H13
By 2017, Infonetics expects the global pay-TV market to hit $270 billion, a 2012-2017 compound annual growth rate (CAGR) of nearly 5%