2014年2月25日米国カリフォルニア州キャンベル発―Infonetics Research は、Enterprise Unified Communications and Voice Equipment での2013年第4四半期の市場アップデートと通年ベースでの市場分析速報をリリースしました。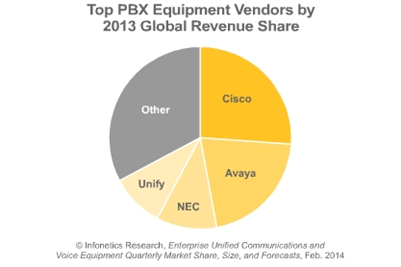 アナリストノート
Infonetics ResearchのVoIP、UCおよびIMSの主席アナリストのDiane Myersは次のように述べている。「エンタープライズテレフォニー市場における大きなニュースは、売上増加やシェアの大きな変化ではなく、ベンダーの再編である。注目すべきはMitelのAastraとの合併で、合併後はトップ5の企業が誕生する。一方、Alcatel-Lucentはついにエンタープライズ事業を、中国の未公開株投資会社China Huaxinに売却することになった。また、Siemensは社名をUnifyに変更して経営刷新をはかっている。2014年はベンダーの再編がさらに進むと予測している。市場の状況は厳しく、現在のベンダー数を維持できない」
エンタープライズテレフォニーおよびUC市場のハイライト
2013年の世界のエンタープライズPBX市場 (TDM、ハイブリッド、純粋なIPを含む) は74億ドルで、2012年比で9%縮小した。前年第4四半期比は9%減。
成長を阻んだのは、クラウドベースのPBXとユニファイドコミュニケーション (UC) への移行。
ユニファイドコミュニケーションは引き続き最も粘りのある市場で、2013年は世界全体で31%増。
2013年通年でPBXの売上が増加した主要地域はないが、カリブ諸国およびラテンアメリカ地域ではメキシコ、アルゼンチン、ブラジルに支えられ、2013年第4四半期は前年同期比28%増となった。 
2013年のPBX市場では、Ciscoが世界シェア26%でトップ、Avayaが21%で続く。
2013年のUC市場では、Microsoftがシェア43%でトップ。
Infonetics forecastの予測では、2014年から2018年までUC市場は年平均成長率7%で成長。
ABOUT THE REPORT
Infonetics' quarterly enterprise telephony report provides global and regional market size, vendor market share, forecasts through 2018, analysis, and trends for TDM PBX and KTS systems, hybrid and pure IP PBXs, IP PBXs by system size, VoIP gateways, unified communications, IP desk phones and softphones. Vendors tracked: Aastra, Alcatel-Lucent, Avaya, Cisco, LG Ericsson, Microsoft, Mitel, NEC, Polycom, ShoreTel, Toshiba, Unify, and others.
(原文)

Mergers and buyouts stir enterprise telephony market;
unified communications revenue climbs 31% in 2013
Campbell, CALIFORNIA, February 25, 2014-Market research firm Infonetics Research released vendor market share and preliminary analysis from its 4th quarter 2013 (4Q13) and year-end Enterprise Unified Communications and Voice Equipment report.
ANALYST NOTE
"It isn't revenue growth or big shifts in market share that are making news in the enterprise telephony market - it's shake-ups in the vendor landscape. Of note is Mitel's merger with Aastra, which will make the joined company a top-5 vendor," says Diane Myers, principal analyst for VoIP, UC, and IMS at Infonetics Research. "Meanwhile, Alcatel-Lucent finally found a buyer for its enterprise business in Chinese private equity firm China Huaxin, and Siemens changed its name to Unify and is going through a complete management overhaul."

Myers continues: "We expect 2014 will bring further vendor shakeups. The market's too tight to maintain the number of vendors in existence right now."
ENTERPRISE TELEPHONY & UC MARKET HIGHLIGHTS
The global enterprise PBX market-including TDM, hybrid, and pure IP-totaled $7.4 billion in 2013, down 9% from 2012, and down 9% from the year-ago 4th quarter
Eating into growth is the move to cloud-based PBX and unified communications (UC) services
Unified communications applications continue to be the most resilient segment, with a combined 31% worldwide revenue increase in 2013
None of the major geographical regions posted full-year 2013 revenue growth for PBX, but CALA (Caribbean and Latin America) is up 28% in 4Q13 from 4Q12, lifted by activity in Mexico, Argentina, and Brazil
Cisco leads the PBX market with 26% worldwide revenue share in 2013, followed by Avaya at 21%
Microsoft leads the unified communications segment with 43% revenue share in 2013
Infonetics forecasts the unified communications segment to grow at a 7% compound annual growth rate (CAGR) from 2014 to 2018