2014年3月7日米国カリフォルニア州キャンベル発―Infonetics Research は、2013年WANオプティマイゼーションコントラやADC (application delivery controllers )を含んだ2013年第4四半期のアップデートと2013年通年のData Center Network機器の市場分析の速報を発表しました。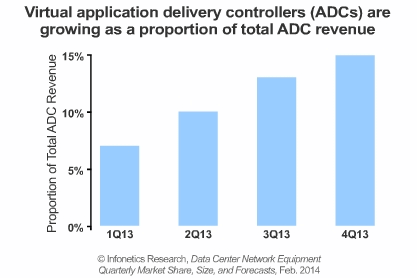 アナリストノート
「Virtual application delivery controller (バーチャルADC) からの売り上げはクラウドサービスやハイブリッドクラウド、そしてクラウド用に設計されたデータセンターがバーチャル機器への需要を増やす中、急速に伸びています」と Infoneticsのデータセンターとクラウドに関するディレクティングアナリストのCliff Grossner, Ph.D. は言います。

「ハードウェアベースのADCはなくなるわけではありません。ラージスケールのデプロイメントにおいて、必要なパフォーマンスを提供しており、各ベンダーはセキュリティー、アプリのトラフィックのモニタリング、予測分析などのほかのサービスも込みで提供しています」とGrossnerは続けます。「それによってハードウェアベースの機器のマーケットは安定を保ちます、一部はバーチャル機器のほうに行くとは言え。」
データセンターマーケットのハイライト
グローバルなapplication delivery controller (ADC)の売り上げは2013年第4四半期に前四半期と比べて10%伸びた。2013年を17.5億ドルで終え、これは過去最高を記録した2012年と比べて4%増だった。
ADCバーチャル機器はメインストリームになり、2013年第4四半期のADCの売り上げの14%を占めた。このセグメントのマーケットシェアのリーダーはCitrixである。
F5は現在もADCマーケット全体をリードし続けている。しかし勝者はCitrixでありCiscoが退場してマーケットシェアを5ポイント伸ばした。
2013年第4四半期においてWAN最適化の売り上げは連続して4%上昇したが、一年前の第4四半期と比べて8%下落し下降傾向が見られた。
各ベンダーは売り上げアップのためWAN最適化製品に機動性の機能を加えており、その間クラウドがポジティブなインパクトを起こすのを待っている。
WAN最適化界のトップ3ベンダーはRiverbed, Cisco, そしてBlue Coatである。
ABOUT THE REPORT
Infonetics' quarterly data center equipment report provides worldwide and regional market size, vendor market share, forecasts through 2018, analysis, and trends for data center network equipment including data center Ethernet switches, application delivery controllers (ADCs), WAN optimization appliances, and Ethernet switches sold in bundles. Vendors tracked: A10, Alcatel-Lucent, Arista, Array Networks, Barracuda, Blue Coat, Brocade, Cisco, Citrix, Dell, F5, HP, Huawei, IBM (BNT), Juniper, Kemp, Radware, Riverbed, and others.
(原文)

Virtual appliances going mainstream in the data center
Campbell, CALIFORNIA, March 7, 2014-Market research firm Infonetics Research released market share and preliminary analysis for application delivery controllers and WAN optimization products from its 4th quarter 2013 (4Q13) and year-end Data Center Network Equipment report.
ANALYST NOTE
"Virtual application delivery controller (ADC) revenue is growing fast as cloud services, hybrid cloud, and the shift to cloud-architected data centers create demand for virtual appliances," notes Cliff Grossner, Ph.D., directing analyst for data center and cloud at Infonetics Research.

"Hardware-based ADCs aren't going away anytime soon. They still provide the performance required by larger-scale deployments, and vendors are working to fold in other services such as security, application traffic monitoring, and predictive analytics," continues Grossner. "This will keep the market for hardware-based appliances healthy even as a portion of the ADC market turns to virtual appliances."
DATA CENTER MARKET HIGHLIGHTS
Global application delivery controller (ADC) revenue grew 10% in 4Q13 from 3Q13, and finished 2013 at $1.75 billion, up 4% over 2012, when the previous record high was set
ADC virtual appliances are going mainstream, accounting for 14% of ADC revenue in 4Q13; Citrix is the market share leader in this segment
F5 continues to lead the overall ADC market, but Citrix was the big winner upon Cisco's exit from the space, gaining 5 points in market share
In 4Q13, WAN optimization revenue is up 4% sequentially, but remains on an overall downward trajectory, down 8% from the year-ago 4th quarter
Vendors are adding mobility functionality to WAN optimization products to drive new revenue while waiting for the cloud to have a positive impact
The top 3 vendors in the WAN optimization space are Riverbed, Cisco, and Blue Coat