2014年3月14日米国カリフォルニア州キャンベル発―CInfonetics Researchは2013年第4四半期(4Q13)および通年のSet-Top Boxes and Pay TV Subscribersレポートからその概要をリリースした。ここではIP、ケーブル、衛星、地上デジタル(DTT)セットトップボックス(STB)、オーバーザトップ(OTT)メディアサーバを追跡調査している。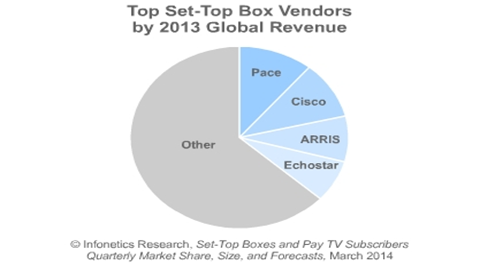 アナリストノート
「2013年の全般的なセットトップボックス(STB)市場は落ち込みましたが、ケーブルと衛星ビデオゲートウェイには力強さがみられました。それぞれの出荷数量は333%、98%増加しました」と、Infonetics Researchでブロードバンドとペイテレビを担当している主席アナリストJeff Heynen氏は述べている。

Heynen氏は続けて、「ビデオゲートウェイはSTBとブロードバンドCPEを単一の機器に押しつぶしてしまいます。だからこそ、少なくとも北米では複数のテレビセットホームへの資本支出を減らすために、長期的にこうした機器へのシフトがみられると予想しています」と述べている。
セットトップボックス市場のハイライト
世界的なセットトップボックス(STB)市場(これにはIP/ケーブル/衛星/DTT STBおよびOTTメディアサーバを含む)は2013年に前年比10%減の180億ドルとなった。
PaceはSTBの売上と数量のトップの座を維持して2013年を終えた。ただしArrisは4Q13に限れば売上シェアのトップであったという。
電話会社IPのSTB売上の好調なCiscoは、2013年におけるSTBの売上で第2位であった。
OTTメディアサーバの利用は増加している。これは自宅での消費者によるマルチメディア利用だけでなく、ブロードバンド接続するアプリとしてのペイテレビサービスを配信するサービスプロバイダーにとっても当てはまる。
Infoneticsでは、世界的なIPビデオゲートウェイの売上は2013年から2018年にかけての年平均成長率(CAGR)79%で増加すると予測している。
STB REPORT SYNOPSIS
Infonetics' quarterly STB report provides worldwide and regional market size, vendor market share, forecasts through 2018, analysis, and trends for IP STBs; cable and satellite STBs (digital, hybrid, video gateways, media players); DTT STBs; and OTT media servers. The report also tracks telco IPTV and cable and satellite video subscribers. Vendors tracked: ADB, Apple, Arris, Changhong, Cisco, Coship, DVN, Echostar, Huawei, Humax, Jiuzhou, Kingvon, Netgem, Pace, Roku, Sagemcom, Samsung, Skyworth Digital, Technicolor, ZTE, and others.
(原文)

Video gateways a bright spot in slumping STB market
Campbell, CALIFORNIA, March 14, 2014-Market research firm Infonetics Research released excerpts from its 4th quarter 2013 (4Q13) and year-end Set-Top Boxes and Pay TV Subscribers report, which tracks IP, cable, satellite, and digital terrestrial (DTT) set-top boxes (STBs), and over-the-top (OTT) media servers.
ANALYST NOTE
"The overall set-top box (STB) market declined in 2013, but cable and satellite video gateways had a very strong year, with shipments growing 333% and 98%, respectively," says Jeff Heynen, principal analyst for broadband access and pay TV at Infonetics Research.

Heynen continues: "Video gateways collapse the STB and broadband CPE into a single device, and it's for this reason we expect to see a long-term shift to these devices, at least in North America, to reduce capex in multiple TV set homes."
SET-TOP BOX MARKET HIGHLIGHTS
The global set-top box (STB) market-including IP/cable/satellite/DTT STBs and OTT media servers-totaled $18 billion in 2013, a decline of 10% from the previous year
Pace closed out 2013 as the worldwide STB revenue and unit share leader, though Arris claimed the revenue share lead in 4Q13
Cisco, on the strength of its telco IP STB sales, finished 2nd in STB revenue in 2013
The use of OTT media servers is growing, not only for consumer multimedia use in the home, but also for service providers delivering pay-TV services as an app over a broadband connection
Infonetics expects global IP video gateway revenue to grow at a 79% compound annual growth rate (CAGR) from 2013 to 2018