2014年5月1日米国カリフォルニア州キャンべル発―米国市場調査会社インフォネティクスリサーチ社は最新のDAS装置に関する報告から抄本を発表し、DAS装置ユニットおよび地域ならびに分野 (屋内、屋外、LTE、マルチスタンダード) ごとの収益について経過予測をおこなった。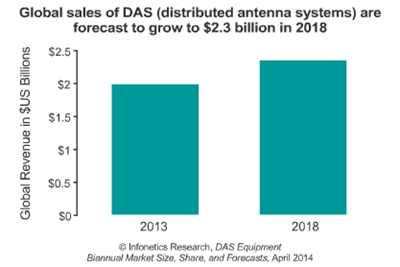 DASに関するアナリストノート
「中国のモバイル動向はTD-LTEへ再びシフトしており、全体的なDAS市場は停滞している。他の主要地域では非常に成長しているが、2013年のアジア太平洋地域におけるDASの収益は12%も減少した」とインフォネティクスリサーチ社モバイルインフラ、キャリアエコノミクス主席アナリストStéphane Téralは述べた。

「しかし、中国でのDASの低迷は底打ちし、様々な国でいくつかDASプロジェクトが存在し市場は安定してきていると考えている。ブラジルの主要モバイル通信事業者Vivo、Claro、Oi、TIMとNextelは、6月にFIFAワールドカップ開催にむけサッカースタジアムにDASを設立するコンソーシアムを立ち上げた。アメリカでは新しい傾向としてDASの設置はLTE性能向上のための小規模セルの配置とともにおこなわれる。この傾向はAT&Tの数千のピコセルや、それよりは多少少ないがベライゾン・ワイヤレスのマイクロセルとRRH (remote radio head) ともに昨年始まったばかりである。この場合、DASは小規模セルが対応できないギャップを穴埋めし、補完的関係となる」とTéralは続けた。
DAS装置市場のハイライト
数年前は100万ドルだったのに対し、現在は通常DASの費用はハードウェア(ハブ、ノード、RRH、アンテナ等) だけで500万から1000万ドルである。
2013年世界的なDASの収益は20億ドルに達し、2012年から2%の上昇であり、全DASノード数は120万であった。

北米で成長が加速し、収益は前年度比10%増であった。

DAS市場の上位4社中3社は北米の企業で、CommScope、Corning MobileとTE Connectivityである。
インフォネティクスリサーチ社は、2013年から2018年の世界的なDAS市場の年平均成長率 (CAGR) は3%に上昇し最大23億ドル、ノード装置出荷数は200万を超えるであろうと予測している。
DAS EQUIPMENT REPORT SYNOPSIS
Infonetics' biannual DAS equipment report provides worldwide and regional market size, market share, forecasts through 2018, analysis, and trends for distributed antenna system (DAS) equipment. The report tracks DAS node units and DAS revenue by category (in-building, outdoor, LTE, multistandard) and includes a Mobile Operator DAS Strategies Tracker.

The report tracks equipment made by Axell Wireless, Comba Telecom Systems Holdings, CommScope, Corning Mobile Access, Ericsson, JMA Wireless, Kathrein-Werke KG, Optiway, SOLiD Technologies, TE Connectivity, Zinwave, and many others.
(原文)

DAS (distributed antenna system) market growth in N. America and Brazil offsets China slowdown
Campbell, CALIFORNIA, May 1, 2014-Market research firm Infonetics Research released excerpts from its latest DAS Equipment report, which tracks and forecasts distributed antenna system (DAS) equipment units and revenue by geographic region and category (in-building, outdoor, LTE, multistandard).
DAS ANALYST NOTE
"China Mobile's shift to TD-LTE again slowed the overall distributed antenna system (DAS) market. At a time when all other major regions were growing significantly, DAS revenue in Asia Pacific declined a steep 12% in 2013," notes Stéphane Téral, principal analyst for mobile infrastructure and carrier economics at Infonetics Research.

"But," continues Téral, "We believe DAS has reached the bottom in China, and there are several DAS projects in various countries that are sustaining the market. Brazil's largest mobile operators-Vivo, Claro, Oi, TIM, and Nextel-have formed a consortium that's building DAS in the soccer stadiums that will host the FIFA World Cup in June. And in the U.S., the next wave of DAS installations will be combined with small cell deployments for LTE capacity upgrades. This wave just started last year with a few thousands picocells at AT&T and even fewer microcells and remote radio heads at Verizon Wireless. In both cases, DAS will fill whatever gaps small cells do not address and, therefore, will be complementary."
DAS EQUIPMENT MARKET HIGHLIGHTS
Typical DAS contracts for hardware only (hubs, nodes, remote radio heads, antennas, etc.) now range from $5 to $10 million, compared to just $1 million a few years ago
Worldwide distributed antenna system (DAS) revenue reached $2 billion in 2013, up 2% over 2012, with a total of 1.2 million DAS nodes shipped

Growth was driven by North America, where revenue grew 10% year-over-year

3 of the 4 DAS market share leaders-CommScope, Corning Mobile, and TE Connectivity-are based in the U.S.
The global DAS market is forecast by Infonetics to grow at a 3% CAGR from 2013 to 2018, when it will top $2.3 billion, and node unit shipments will pass the 2-million mark