2014年5月22日米国カリフォルニア州キャンベル発―Infonetics Research2014年第1四半期の市場規模、市場シェアを俯瞰したPON, FTTH, and DSL Aggregation Equipment and Subscribers レポートをリリースしました。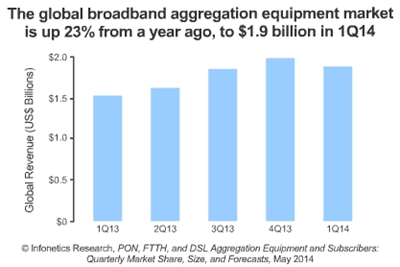 アナリストノート
Infonetics Researchでブロードバンドアクセスおよび有料テレビ放送を担当する主席アナリスト、Jeff Heynen氏は次のように指摘する。「前年同期と比較して、GPON機器の収益は2014年第1四半期に44%という堅調な伸びを見せています。これは中国とEMEAで家庭向け光ファイバーデータ通信 (FTTH) への支出が継続している結果です。」

Heynen氏はこう続ける。「北米では通常、第1四半期は一年で最も成長の鈍い時期で、それは今年もまったく同じでした。しかし、2013年に見られた10%の収益増加が今年に持ち越されているのは良い兆候です。AT&T、CenturyLink、Windstream、および大手事業者3社はすべて、Googleのような新興企業からのケーブル通信規格DOCSIS 3.0の発表や光ファイバーの提供に歩調を合わせるため、自社のVDSLおよびGPONの導入を拡大する計画に専念しています。」
ブロードバンド市場のハイライト
世界のブロードバンド集約機器市場 (DSL、PON、イーサネットFTTH) は2013年第4四半期から2014年第1四半期にかけて5%減少したが、前年比では23%上昇と好調で、総額18.9億ドル規模となった。
2014年第1四半期に連続して成長した機器部門はPON (+0.1%) だけである。
第1四半期の動きの鈍さにもかかわらず、EMEAでは、KPN、Belgacom、Turk Telecom、およびDeutsche Telekomなど大手主導のVDSL2プロジェクトから利益を上げ、ロシアや中東ではFTTHへの支出が上昇を続けている。
一方、中国ではChina TelecomとChina UnicomがLTE運用開始に専念するためFTTHへの支出を鈍化させつつあり、China MobileはChina Tietongの代わりに2008年に引き継いだ固定ブロードバンド網の拡大に努めている。
業界2位のAlcatel-Lucentはわずか100万ドル程度の差でトップのHuaweiの後塵を拝する形で2014年第1四半期を終えた。
BROADBAND REPORT SYNOPSIS
Infonetics' quarterly broadband aggregation report provides worldwide and regional market size, market share, forecasts through 2018, analysis, and trends for EPON, GPON, FTTH, FTTB, PON, and DSL aggregation equipment and subscribers. Vendors tracked: Adtran, Alcatel Lucent, Alphion, Arris, Calix, Cisco, Dasan Networks, ECI, Fiberhome, Fujitsu, Genexis, Hitachi, Huawei, Iskratel, Mitsubishi, NEC, OF Networks, PacketFront, Sagemcom, Sumitomo, Tellabs, Tilgin, Ubiquoss, UTStarcom, Zhone, ZTE, ZyXel, and others.
(原文)

Gigabit PON spending climbs 44% YoY in 1Q14; Huawei and Alcatel-Lucent neck-and-neck
Campbell, CALIFORNIA, May 22, 2014-Market research firm Infonetics Research released vendor market share and preliminary analysis from its 1st quarter 2014 (1Q14) PON, FTTH, and DSL Aggregation Equipment and Subscribers report.
ANALYST NOTE
"Compared to the year-ago quarter, GPON equipment revenue is up a solid 44% in the first quarter of 2014, a result of continued fiber-to-the-home spending in China and EMEA," notes Jeff Heynen, principal analyst for broadband access and pay TV at Infonetics Research.

"And while the first quarter is typically the slowest of the year in North America, and this one was no different, it's a good sign that the 10% revenue boost we saw in 2013 is carrying over into this year," continues Heynen. "AT&T, CenturyLink, Windstream, and tier 3 operators all have dedicated plans in place to expand their VDSL and GPON deployments in an effort to keep pace with cable DOCSIS 3.0 rollouts and fiber offerings from upstarts like Google."
BROADBAND MARKET HIGHLIGHTS
The global broadband aggregation equipment market (DSL, PON, and Ethernet FTTH) is down 5% in 1Q14 from 4Q13, but up a healthy 23% year-over-year, totaling $1.89 billion
The only equipment category that grew sequentially in 1Q14 is PON (+0.1%)
Despite a slow 1st quarter, EMEA continues to reap major vectored VDSL2 projects at KPN, Belgacom, Turk Telecom, and Deutsche Telekom, among others, and see a ramp in FTTH spending in Russia and the Middle East
In China, meanwhile, China Telecom and China Unicom are slowing their FTTH investments to focus on LTE rollouts, while China Mobile picks up the slack,
#2 Alcatel-Lucent finished 1Q14 only around $1 million behind top dog Huawei