2014年5月27日米国カリフォルニア州キャンベル発―米国市場調査会社Infonetics Researchは最新のホームネットワーク機器レポートからの抜粋を公表した。レポートでは、家庭用ゲートウェイ、セットトップ ボックス (STB)、同軸ケーブル マルチメディア (MoCA)、光ネットワーク端末 (ONT)、ブロードバンド ルーターおよび、ホームプラグ パワーライン (家庭内電力線ネットワーク)、MoCA同軸ケーブル イーサネット、HPNA (家庭内電話線ネットワーク)、G.hn (家庭内有線ネットワーク) アダプターについて追跡調査している。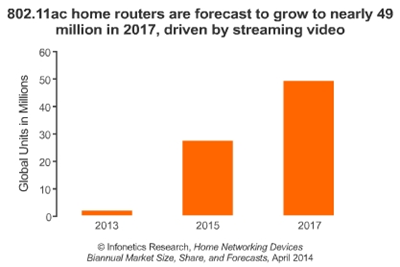 アナリストノート
Infonetics Researchでブロードバンド?アクセスおよび有料テレビ放送を担当する主席アナリスト、Jeff Heynen氏は次のように指摘する。「802.11ac対応で出荷されるモバイル機器はますます増加しており、ルーターメーカーはacベースの製品ラインの拡大を迫られています。2013年には802.11acルーターは世界で出荷された全WiFi対応ルーターのわずか2%を占めているに過ぎませんでしたが、当社の予想では、主にビデオ ストリーミングの利用に後押しされる形で、今年は14%、来年は32%と出荷数が増加する見込みです。」
ホームネットワーク機器市場のハイライト
世界のホームネットワーク機器の2013年下半期 (2H13) 総収益は、同年上半期 (1H13) から13%増の59億ドルとなった。
ブロードバンド ルーターの収益も2013年上半期から下半期にかけて13%増加している。
通常相反して動くはずの家庭用ゲートウェイとブロードバンド ルーターの販売が2013年下半期には共に増加したが、これには、中国や他の新興市場におけるルーターの伸びと、北米における、特にDOCSIS 3.0対応のWiFiゲートウェイの伸びが貢献している。
世界のホームネットワーク機器の収益は2013年から2018年まで6%の複合年間成長率 (CAGR) で成長して2018年に154億ドルに達し、その収益への最大の貢献者は引き続き家庭用ゲートウェイとMoCAセットトップ ボックスであるとInfoneticsは予測している。
HOME NETWORKING REPORT SYNOPSIS
Infonetics' biannual home networking report provides worldwide and regional market size, vendor market share, forecasts through 2018, analysis, and trends for home networking devices including residential gateways; STBs (MoCA, HomePlug AV2); MoCA ONTs; wired and WiFi (HomePlug Powerline, MoCA, HPNA, G.hn) broadband routers; and adapters (HomePlug Powerline AV/AV2, MoCA coax-Ethernet, HPNA, G.hn). Vendors tracked: Actiontec, Alcatel Lucent, Arris, AVM, Belkin, Cisco, Comtrend, Devolo, D-Link, Fiberhome, Hitron, Huawei, Netgear, Pace, Sagemcom, SMC Networks, Technicolor, TP-Link, TrendNet, Ubee Interactive, ZTE, ZyXel, and others.
(原文)

802.11ac routers to make up nearly a third of WiFi-enabled router shipments by 2015
Campbell, CALIFORNIA, May 27, 2014-Market research firm Infonetics Research released excerpts from its latest Home Networking Devices report, which tracks residential gateways; set-top boxes (STBs); multimedia over coax (MoCA) optical network terminals (ONTs); broadband routers; and HomePlug Powerline, MoCA coax-Ethernet, HPNA, and G.hn adapters.
ANALYST NOTE
"More mobile devices are shipping with 802.11ac, pressing router vendors to expand their ac-based product lines. While 802.11ac routers represented just 2% of all WiFi-enabled routers shipped globally in 2013, we look for shipments to grow to 14% this year and 32% the following year, driven primarily by streaming video," notes Jeff Heynen, principal analyst for broadband access and pay TV at Infonetics Research.
HOME NETWORKING DEVICES MARKET HIGHLIGHTS
Worldwide home networking device revenue totaled $5.9 billion in the second half of 2013 (2H13), an increase of 13% from the first half of 2013 (1H13)
Broadband router revenue is also up 13% in 2H13 from 1H13
Normally moving in opposite directions, sales of residential gateways and broadband routers both rose in 2H13, owing to the growth of routers in China and other emerging markets and residential gateways, particularly DOCSIS 3.0 WiFi gateways, in North America
Infonetics forecasts global home networking device revenue to grow to $15.4 billion in 2018, a 2013-2018 CAGR of 6%, with residential gateways and MoCA set-top boxes continuing as the largest contributors to revenue