2014年5月30日米国カリフォルニア州キャンベル発―米国市場調査会社 Infonetics Research は、2014年第1四半期Enterprise Unified Communications and Voice Equipment アップデートリポートをリリースしました。このレポートは, PBX電話システム、IPゲートウェイ利用の音声、ユニファイドコミュニケーション、IP電話を継続的に調査分析しています。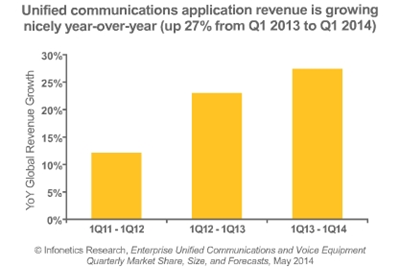 アナリストノート
「企業が新規PBXの購入を控え、その代わりにユニファイドコミュニケーション(UC)アプリケーションへの投資をしているため、企業向けの電話市場は苦戦が続いています。購買サイクルが長くなっているほか競争の動きが激しく、至るところで価格に下方圧力がかかっています」と、Infonetics ResearchでVoIP、UC、IMSを担当している主席アナリストのDiane Myers氏は述べている。
企業向け電話及びUC市場のハイライト
世界的なPBXの売上 (TDM、ハイブリッド、ピュアIP)は1Q14に前年同期比8%減、前期比でも8%減であった。
欧州及び南米の一部では成長しているところがあり、大衆向け市場も堅調であるが、いずれも全体的なPBX市場を上向かせるには至らなかった。
ユニファイドコミュニケーション(UC)セグメントは唯一の明るい材料で、1Q14の世界的な売上は前年同期比27%増であった。
CALA (カリブ海及び中南米)は1Q14にPBXの売上が前年を上回った唯一の地域である。ワールドカップへの期待もあり、経済活動が上向いたのが要因。
Cisco、Avaya、NEC の3社はPBX市場で多くのシェアを占めている。MitelはAastraとの合併で4位に浮上した。
UC市場をリードしているMicrosoftは企業向け電話市場における唯一のベンダーで、1Q14の売上は前年同期比で増加した。
ENTERPRISE TELEPHONY AND UC REPORT SYNOPSIS
Infonetics' quarterly enterprise telephony report provides global and regional market size, vendor market share, forecasts through 2018, analysis, and trends for TDM PBXs, hybrid and pure IP PBXs, IP PBXs by system size, VoIP gateways, unified communications, and IP desk phones and softphones. Vendors tracked: Alcatel-Lucent, Audiocodes, Avaya, Cisco, LG Ericsson, Microsoft, Mitel, NEC, Polycom, Samsung, ShoreTel, Toshiba, Unify, Yealink, and others.
(原文)

Unified communications market up 27% from a year ago; PBX market continues to take hits
[[[Campbell, CALIFORNIA, May 30, 2014-Market research firm Infonetics Research released its 1st quarter 2014 (1Q14) Enterprise Unified Communications and Voice Equipment report, which tracks PBX phone systems, voice over IP gateways, unified communications (UC) applications, and IP phones. ]]]
ANALYST NOTE
"The enterprise telephony market continues to struggle as businesses hold off new PBX purchases and invest instead in unified communications (UC) applications. Purchase cycles are getting longer, and competitive activity is putting pressure on the market with pricing all over the map," notes Diane Myers, principal analyst for VoIP, UC, and IMS at Infonetics Research.
ENTERPRISE TELEPHONY AND UC MARKET HIGHLIGHTS
Worldwide PBX revenue (TDM, hybrid, and pure IP) is down 8% in 1Q14 from 1Q13, and down 8% from 4Q13
Although there are pockets of growth in parts of Europe and South America, along with strength down market, none of it is large enough to lift the overall PBX market
The unified communications (UC) segment is the lone bright spot, racking up a 27% worldwide revenue increase in 1Q14 from the same period a year ago
CALA (the Caribbean and Latin America) is the only region to notch positive year-over-year PBX revenue growth in 1Q14, as economic activity picked up in anticipation of the World Cup
Cisco, Avaya, and NEC are the PBX market share leaders; Mitel cracked the top 4 as a result of its merger with Aastra
Microsoft, who leads the UC market, is the only vendor in the enterprise telephony segment to post year-over-year revenue growth in 1Q14