2014年6月9日米国マサチューセッツ州ボストン発―Infonetics Research は、企業向けWLAN controllersや WiFi phones を継続的に調査分析しているWireless LAN Equipment and WiFi Phones (2014年第1四半期)レポートの抄録をリリースしました。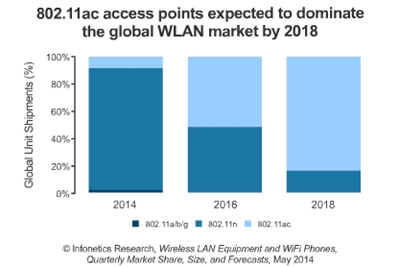 アナリストノート
「前四半期におけるWLANの成長は緩やかになった一方で、あらゆるタイプのアクセスポイント価格はこの3四半期で初めて上昇しました。これは、802.11acが徐々に市場のトレンドを変えつつあり、今後の新たな収益源になるという好ましい兆候の表れとなっています」と、Infonetics Researchで企業向けネットワークとビデオを担当している上席アナリストのMatthias Machowinski氏は述べている。
WLAN市場のハイライト
世界的な無線LAN機器市場は2012年末以降で初めて前期比で減少となり、1Q14に前期比10.8%減、金額では11億ドルとなった。
同市場は前年同期比では3.3%増。
2013年通年でみるとWLAN機器市場は11%拡大して44億7000万ドルであった。
2014年第1四半期に出荷された802.11acアクセスポイントの数は2013年通期と同水準であった (30万をやや下回る水準)。
独立したアクセスポイントは数年間減少した後に底打ちし、現在ではインタラクティブなアクセスポイントを上回っている。
Ruckusは上位WLANベンダーの中でも成長が著しく、1Q14年における前年同期比の成長率は30%ほどであった。
WiFi電話にとっての2014年のスタートは芳しいものではなく、収入は前期比で15%減少した。
より多くの無線機器、BYOD、モビリティをサポートするためのWLANに対してプラスの影響をもたらすインフラへの投資が行われるほか、企業が自社ネットワークを最新技術にアップグレードするにつれて、WLANの成長が加速するとInfoneticsでは予想している。
WLANレポート概要
Infoneticsが四半期毎に発表しているWLAN機器レポートは、WLANインフラを対象として、世界的・地域的な市場規模、ベンダーの市場シェア、2018年にかけての予測、分析、トレンドを取り扱っている。これには、タイプ・技術毎のアクセスポイント、WLANコントローラー、企業のシングルモードWiFi電話も含まれる。追跡対象となっているベンダーは、Aerohive, Alcatel-Lucent, Aruba, Brocade, Buffalo, Cisco, D-Link, Enterasys, Extreme, Juniper, Meru, Motorola, Netgear, HP, Ruckus, TP-Link, Ubiquiti, Xirrus等である。
(原文)

Wireless LAN access point ASPs on the rise, sparked by 802.11ac
Boston, MASSACHUSETTS, June 9, 2014-Market research firm Infonetics Research released vendor and market analysis from its 1st quarter 2014 (1Q14) Wireless LAN Equipment and WiFi Phones report, which tracks access points, WLAN controllers, and WiFi phones for the enterprise.
ANALYST NOTE
"While WLAN growth slowed last quarter, pricing across all access point types rose for the first time in three quarters. This is an emerging positive sign that 802.11ac is slowly starting to change the trajectory of the market and will drive renewed revenue growth over the coming quarters," notes Matthias Machowinski, directing analyst for enterprise networks and video at Infonetics Research.
WLAN MARKET HIGHLIGHTS
The global wireless LAN equipment market saw its first down quarter since the end of 2012, with revenue shrinking 10.8% sequentially in 1Q14, to $1.1 billion
The market is up 3.3% from the same period a year ago
For the full year, the WLAN equipment market grew 11% to $4.47 billion worldwide in 2013
About as many 802.11ac access points shipped in the first quarter of 2014 as did in all of 2013 (just under 300,000)
After a multi-year decline, independent access points have finally found a bottom and are now outpacing interactive access points
Ruckus turned in the highest growth rate among the top tier WLAN vendors, up a third year over-year (YoY) in 1Q14
WiFi phones are off to a bad start in 2014, with revenue down 15% sequentially
Infonetics expects WLAN growth to accelerate in the coming quarters as infrastructure investments continue to favor WLAN to support more wireless devices, BYOD, and mobility, and as companies upgrade their networks to the latest technology
WLAN REPORT SYNOPSIS
Infonetics' quarterly WLAN equipment report provides worldwide and regional market size, vendor market share, forecasts through 2018, analysis, and trends for WLAN infrastructure, including access points by type and technology, WLAN controllers, and enterprise single-mode WiFi phones. Vendors tracked: Aerohive, Alcatel-Lucent, Aruba, Brocade, Buffalo, Cisco, D-Link, Enterasys, Extreme, Juniper, Meru, Motorola, Netgear, HP, Ruckus, TP-Link, Ubiquiti, Xirrus, others.