2014年6月19日米国カリフォルニア州Campbell,発―市場調査会社Infonetics Researchは、最新の3G and LTE Mobile Broadband Devices and Subscribers Market Share and Forecast レポート(2014年第1四半期版)の抄録をリリースしました。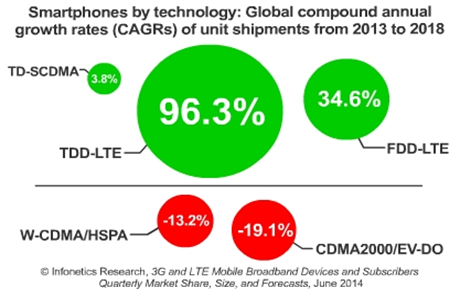 この包括的なレポートでは、スマートフォン、オペレーティング システム (OS)、ルーター、カード、USB、組み込み機器 (タブレットなど)、および加入者を含む50を超えるブロードバンド市場の分野と副分野を、LTE、W-CDMA/HSPAなど、接続するネットワークのタイプによって分けて追跡調査している。
アナリストノート
Infonetics ResearchでM2Mとモノのインターネットを担当するアナリスト、Godfrey Chua氏は次のように指摘する。「中国で起こっている驚異的なLTEネットワークの構築は、結果的にLTE対応スマートフォンやタブレットにとって大きな利点となるでしょう。特に、TDD-LTE機器は、中国市場がLTEスマートフォン革命に参入したことで、世界で最も急成長する分野となる態勢が整っています。」
優良モバイルブロードバンド市場のハイライト
ホリデーシーズン後の落ち込みが大きく影響し、通常は活発なFDD-LTEスマートフォン分野では、2014年第1四半期に前期比14%で収益が下落し、430億ドルとなった。

2014年第1四半期に連続して成長を見せたスマートフォン技術はTD-SCDMAおよびTDD-LTEだけだった。

2014年第1四半期、モバイル ルーターの収益は前年第1四半期から連続して24%増加した。
一方、携帯電子書籍リーダーの売上高は、2014年第1四半期に前年同期比で46%急落した。
USBカード分野では、FDD-LTEカードがW-CDMAを追い越し、収益の44%を占めるようになった。
W-CDMAをベースとした低価格エントリーレベルの機器は、市場シェアを熱望している中国のOEMからの決定的な後押しがきっかけとなり、人気が高まっている。
ベンダーの最前線では、LenovoによるMotorolaの買収で、同社は市場プレイヤーの上位層 (Apple、Huawei、LG、Nokia、Samsung、Sony) の一員となる。
Infoneticsの予測では、TDD-LTEの組み込みタブレットは、2013年から2018年にかけて155%の複合年間成長率 (CAGR) で成長する。
REPORT SYNOPSIS
Infonetics' quarterly mobile broadband device report provides worldwide and regional market size, vendor market share, forecasts through 2018, analysis, and trends for smartphones; embedded mobile broadband devices (tablets, PCs, netbooks, mobile internet devices) and modems; mobile broadband USBs, routers, and mobile hotspots; operating systems (Android, iOS, Windows, Blackberry, etc.); and subscribers. Companies tracked: Amazon, Apple, Blackberry, Dell, Ericsson, Google, HTC, Huawei, LG, Motorola, Nokia, Novatel, Qualcomm, RIM, Samsung, Sierra Wireless, Sony, ZTE, and others.
(原文)

China joins the LTE smartphone revolution
Campbell, CALIFORNIA, June 19, 2014-Market research firm Infonetics Research released excerpts from its 1st quarter 2014 (1Q14) 3G and LTE Mobile Broadband Devices and Subscribers market share, size, and forecasts report.

The comprehensive report tracks over 50 mobile broadband market segments and sub-segments, including smartphones, operating systems (OS), routers, cards, USBs, embedded devices (such as tablets) and subscribers, all by the type of network they connect to, including LTE, W-CDMA/HSPA, and other networks.
ANALYST NOTE
"The tremendous LTE network build taking place in China is going to result in a significant upside for LTE-enabled smartphones and tablets. Specifically, TDD-LTE devices are poised to be the world's fastest-growing segment as the Chinese market joins the LTE smartphone revolution," notes Godfrey Chua, directing analyst for M2M and The Internet of Things at Infonetics Research.
SELECT MOBILE BROADBAND MARKET HIGHLIGHTS
The hangover from the holiday season impacted the usually-dynamic FDD-LTE smartphone segment in 1Q14, with revenue dipping 14% quarter-over-quarter, to $43 billion

The only smartphone technologies to grow sequentially in 1Q14 were TD-SCDMA and TDD-LTE

In 1Q14, mobile router revenue grew 24% sequentially and from the year-ago 1st quarter
Meanwhile, mobile e-reader sales nose-dived 46% in 1Q14 from a year ago
In the USB card segment, FDD-LTE cards made up 44% of revenue, overtaking W CDMA
Lower-cost, entry-level devices based on W-CDMA are growing in popularity, sparked by a determined push by Chinese OEMs keen to grab market share
On the vendor front, the acquisition of Motorola by Lenovo positions the company among the tier of top players (Apple, Huawei, LG, Nokia, Samsung, Sony)
TDD-LTE embedded tablets are forecast by Infonetics to grow at a 155% compound annual growth rate (CAGR) from 2013 to 2018